---
SAPFA Fun Rally Virginia 3 March 2018
By Brian Spurr
with permission from Pilot's Post.
The SAPFA Fun Rally team hit Virginia on Friday 2 March 2018 for another of the series of rally events that are held throughout South Africa. As usual Mary de Klerk was the driving force and she spearheaded the organisation of the rally. As happened last year, the afternoon was used to introduce new pilots to the concept of rally flying and equip them with the tools to successfully complete the event. More experienced pilots, used the session to refresh their skills. These events are a unique way for upcoming pilots to mix with some of the best and most experienced in the country. The training and plotting session was once again held in the DAC (Durban Aviation Centre) training room.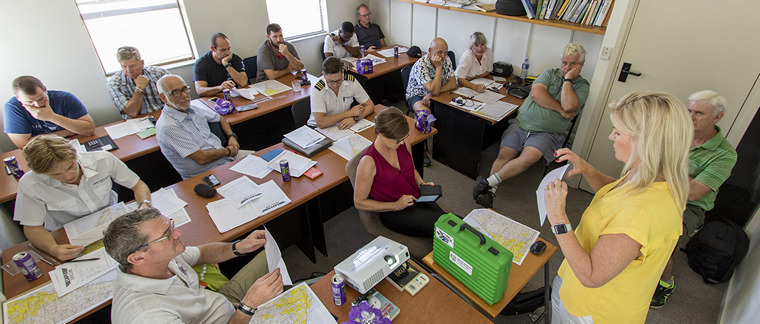 Durban Wings Club's committee member responsible for flying events, Brendan Adams, welcomed the pilots and outlined the housekeeping and advised that the club would sponsor two rounds of drinks and boerewors rolls on Friday night, breakfast on Saturday and student subsidies for half of their event entry fees. Cost of entry was R200 per person. In addition, the DWC put up R1000 in prize money and Mike Wright also donated flying magazines and annuals as prizes.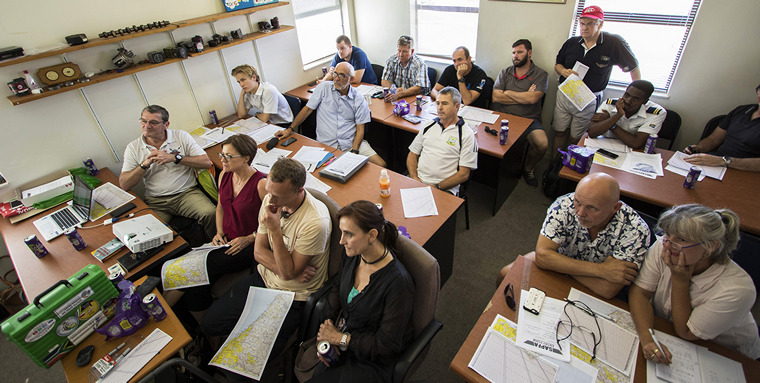 This year a pleasing total of fifteen crews entered and if this growth continues at other SAPFA rallies at Virginia, a larger training room will need to be found. For this round it was pleasing to see many entries from Gauteng pilots as well as crews from Scottburgh and Ballito. Several aircraft made the trip down from the reef including the tiny Ikarus of Marie Reddy. It is hoped that this outside participation will inspire more locally based pilots to take part next time around.

Mary also explained the different classifications in rally flying. The advanced section is restricted to pilots who have been given Protea colours and who have competed in a Word Championship competition. The sportsman class is where either the pilot or the navigator is a Protea who has competed in a world competition event. They fly with a new rally pilot with the aim of grooming them and bringing them up to the level of a Protea, to maintain continuity of the high standards South Africans have previously attained. The fun section is for all where the aim is to give them exposure to this type of flying, to have fun but also to provide candidates who could represent the country in the future.

Mary took the participants through the various procedures that the crews would need to follow and advised them how to plot their tracks and add minute markers etc. She also explained many of the tips and tricks that would enable them to do well. After this, time was allocated for the teams to begin plotting their routes. Thereafter there was a flurry of concentrated activity, with maps, markers, rulers, dividers, minute marker sheets (among other tools) being used to mark their maps. On completion Mary took everyone through part of the course using Google Maps, so that they could see a preview of what to expect the following day.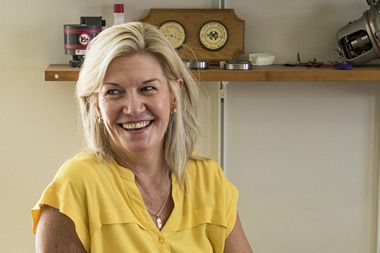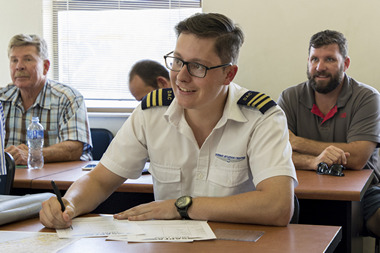 Mary de Klerk…..Fergus Snow, last year's winner in the fun section.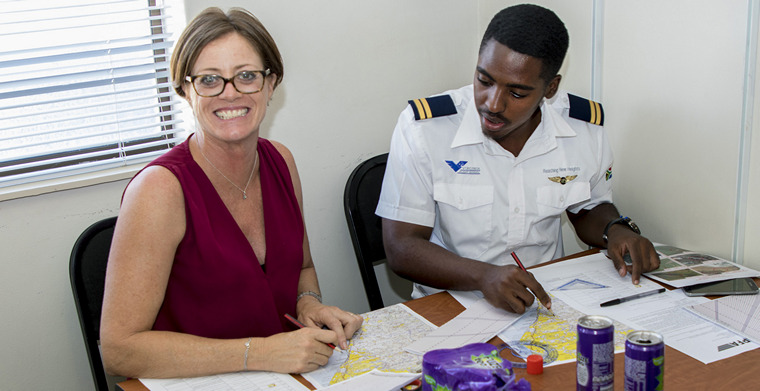 Chareen Shillaw and Brian Laurean.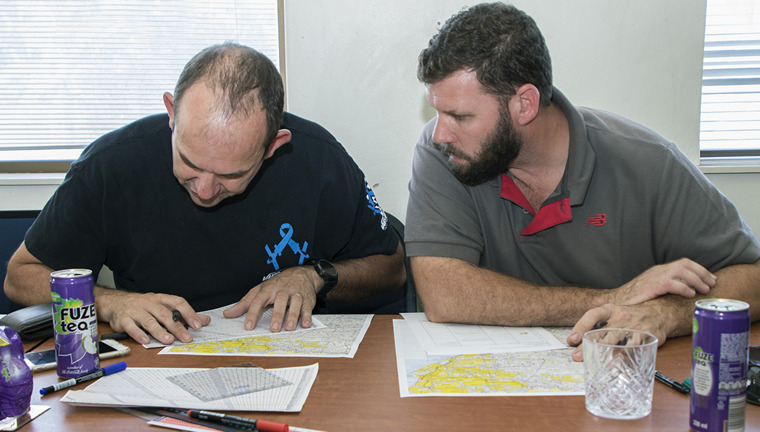 Dirk Grobler and Russell Mann.


Enthusiastic as ever Mary encouraged everyone to raise their sights and to try and win a coveted green Protea blazer prior the World Rally Championships which are to be held in South Africa in 2020. After the session ended and entry forms and indemnities had been completed and signed and entry fees had been paid, all involved headed for the Durban Wings Club for well-earned refreshments. There was much teasing and psyching out of the opposition teams. All in jest of course and a fun time was had by all. While the entrants relaxed and discussed the day ahead Mary and her helpers were busy at the computer entering the entry data and the elected speeds. In her normal unflappable way, amidst a sea of people in the club (regulars and visitors), she managed to produce and print the lists of the competitors start and finish times. These were handed to the teams.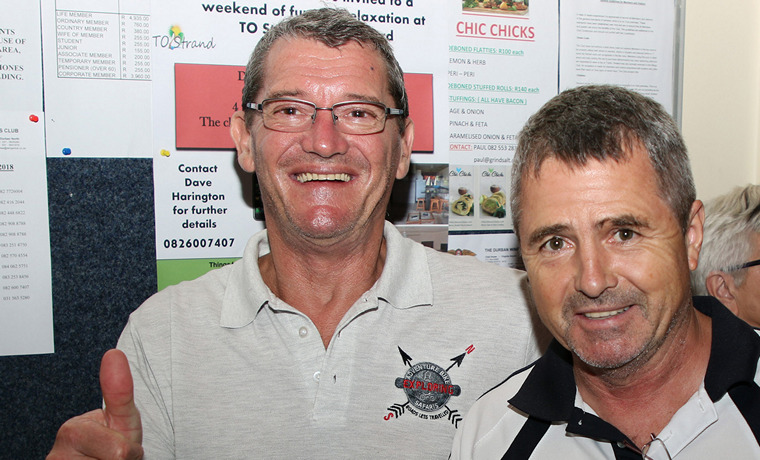 Steve McCurrach and Mark Warren in the Wings Club,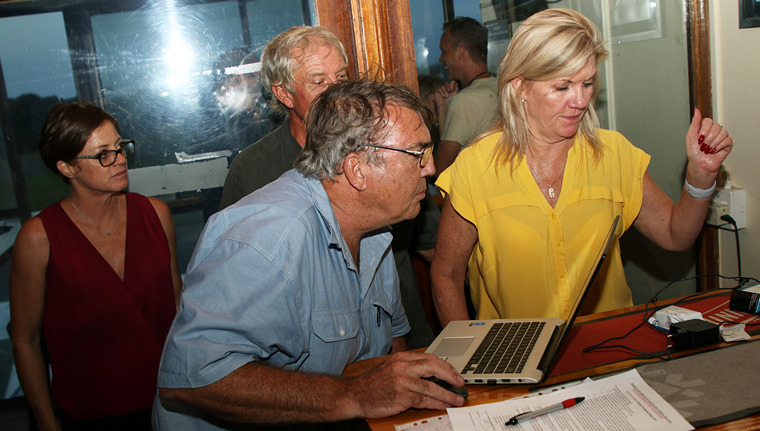 Mary de Klerk and Frank Eckard at work in the pub, helped by Chareen Shillaw and Thys van der Merwe.


DWC manager Dave Harrington was once again assisted by his wife Alwina. They ensured the pub ran efficiently and organised the pool and braai area and food on behalf of the Durban Wings Club.

When crews gathered in the pool area on Saturday morning the weather was glorious with a little wind and bright sunshine. As the morning progressed the wind became stronger from the north east and there were some overcast patches before the sun was out in force again.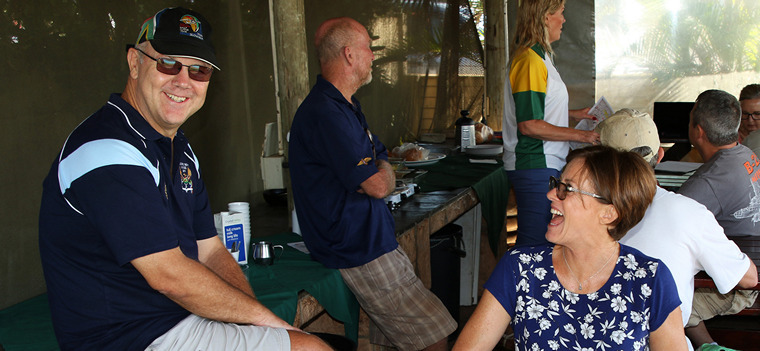 Andrew Lane and Chareen Shillaw relax before the start.


Crews were treated to breakfast courtesy of the DWC and many could be seen making hurried final preparations for their flights. A couple of people had to find last minute crew replacements due to illness and unavailability. Start times and sector times were confirmed and Mary briefed everyone on the rally format for the day and explained the spot landing scoring.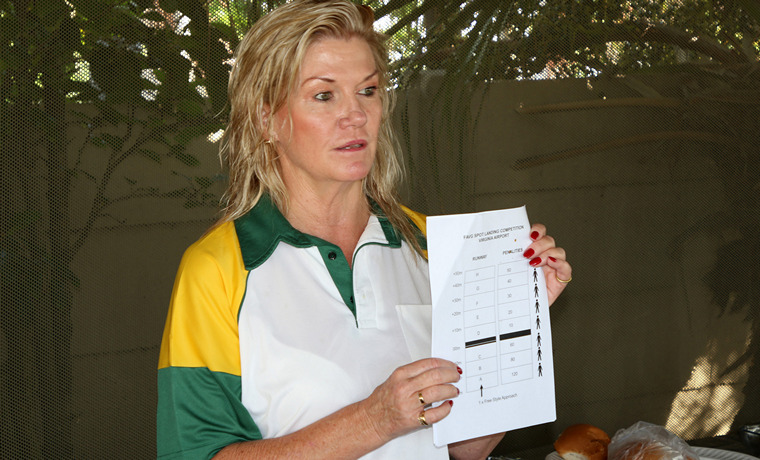 Mary explains the spot landing scoring.


John Neilon then advised on the safety aspects and the frequencies to be used. All watches were synchronised with the event's official clock and the event started with the first aircraft airborne at 09:30. This was the Van's RV-4 of Dirk Grobler and Russell Mann. Their elected speed was 100 knots.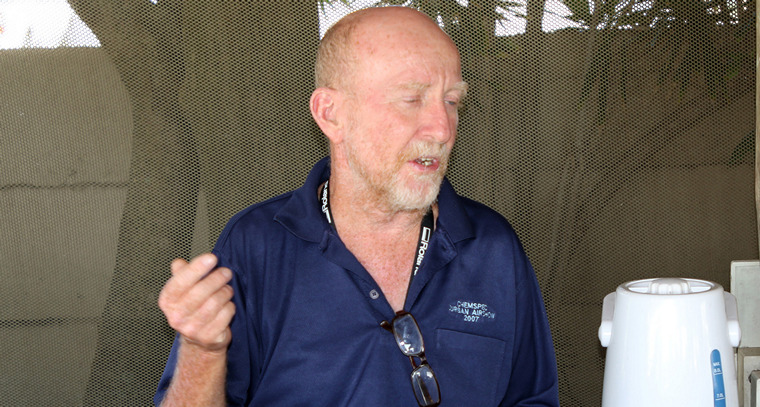 John Neilon.


The following aircraft took part in the rally: There was a Chipmunk, a Cessna 182, a Cessna 172, a Van's RV-4, a Sling 4, a Sling 2, two Jabirus, a Sportsman, a Harmony, a C42 Ikarus and three Cessna 152s (one of which flew twice.) The crews nominated their cruise speeds, varying from 100 knots for the RV-4 to 65 knots for the little Ikarus flown solo by Marie Reddy.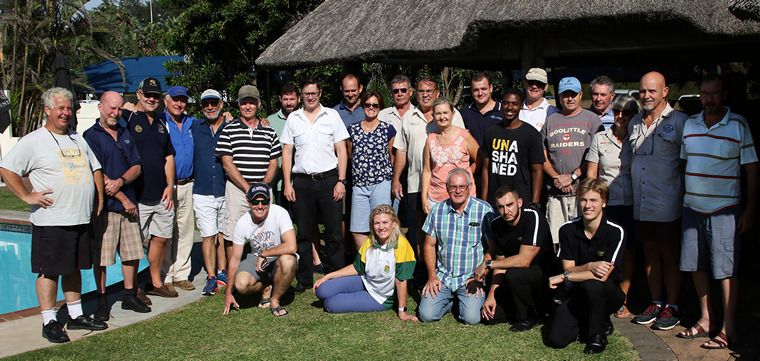 All the participants prior to the start.



Winners Mark Warren and Steve McCurrach with their Harmony just prior to the start.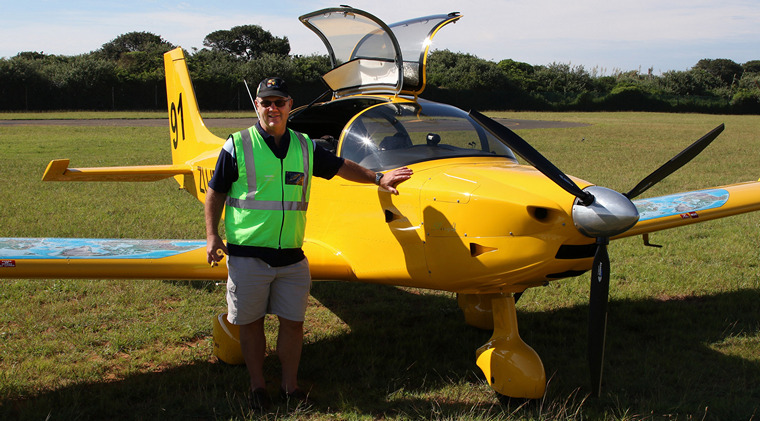 Andrew Lane checks his Sling 4 prior to departure.


Aircraft departed Virginia at 5-minute intervals. The course commenced on the coast to the south of Durban and then followed varied sectors inland before returning to the coast to cross the finish line. The only small irritation on the day were a couple of crews saying that they had been sent off too early and this had meant them having to circle for a while just prior to crossing the start line. This was a minor factor in a very successful day. The teams then spent just over an hour finding their way around the KZN inland area.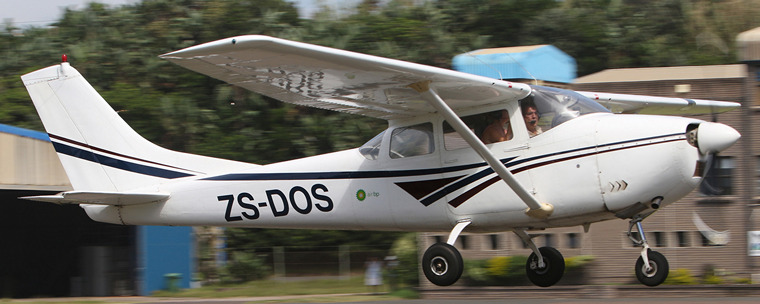 Frank Eckard and Cally Eckard - ZS-DOS - C182.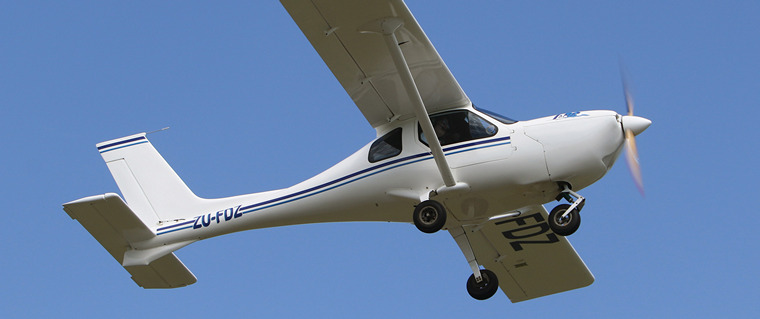 Jica Coelho and Fergus Snow - ZU-FDZ - Jabiru.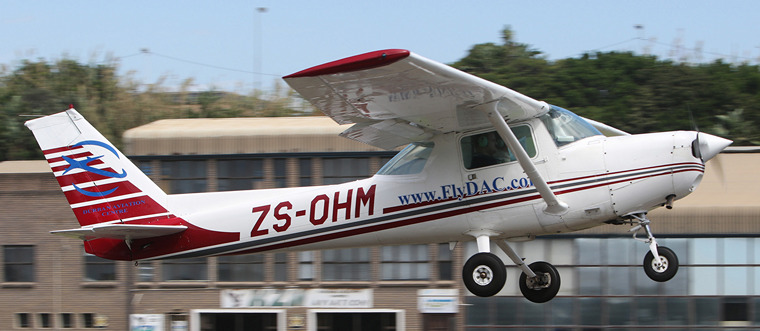 Bennie du Plessis and Franz Smit - ZS-OHM - C152.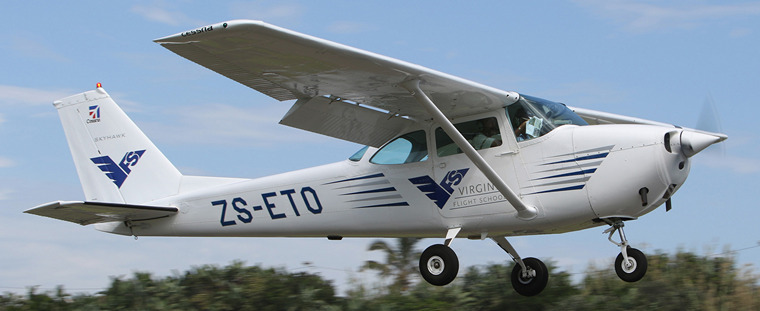 Thys van der Merwe and Leon Boutell - ZS-ETO - C172.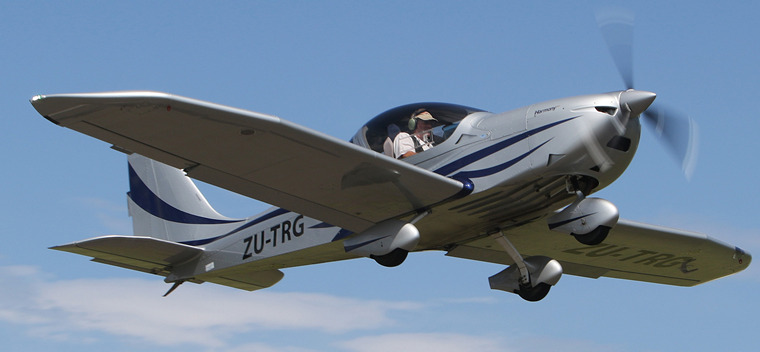 Mark Warren and Steve McCurrach - ZU-TRG - Evektor Harmony.



Dirk Grobler and Russell Mann - ZU-CDK - Van's RV-4.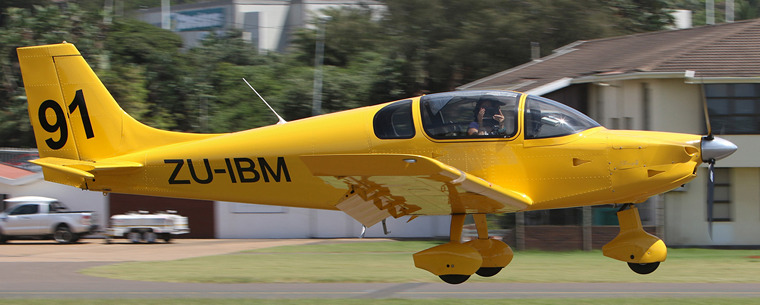 Andrew Lane and Chareen Shillaw - ZU-IBM - Sling 4 (Chareen photographing the photographers!).



Pierre van der Merwe and Sandy van der Merwe - ZU-FWY - Sling 2.



Les Rhind and Lance Poynter - ZS-OWJ - Chipmunk.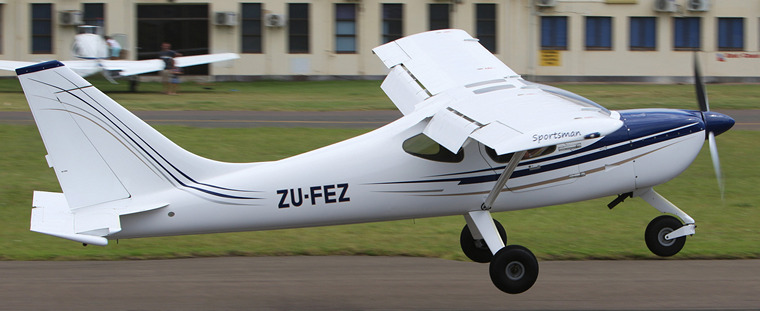 Malcolm Mercer and Murray Nel - ZU-FEZ - Sportsman.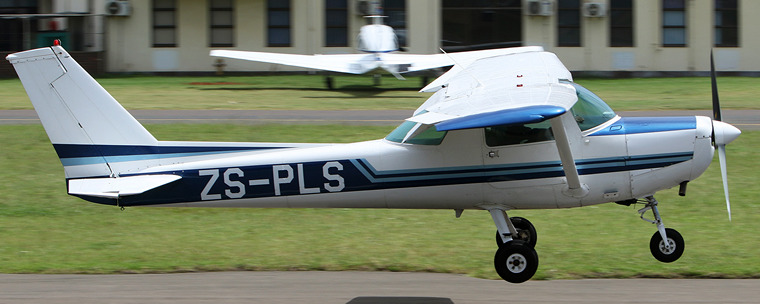 Alistair Matthews and Brian Laurean - ZS-PLS - C152.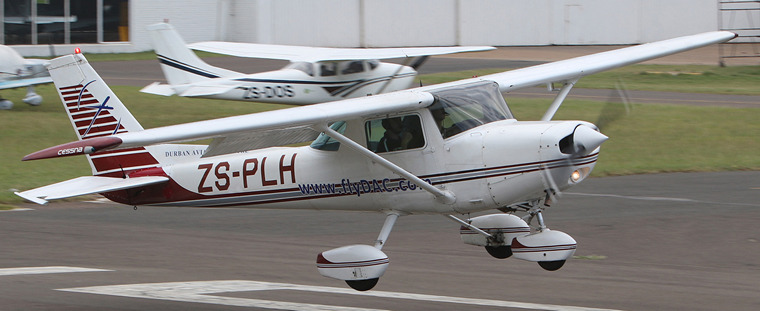 Taylan Ayliffe and Chris Gillespie - ZS-PLH - C152.



Shane Britz and Mark Clulow - ZU-FEP - Jabiru.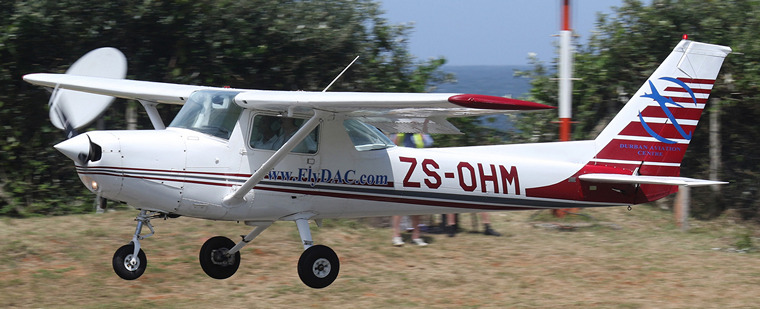 Fergus Snow and Nishon Thulsi - ZS-OHM - C152.



Marie Reddy - ZU-EEE - Ikarus.


After crossing the finish line aircraft returned to Virginia perform a spot landing and this score formed part of the overall classification. As has become an institution now, safety officer John Neilon manned the spot landing cones, doing an admirable job in the unpleasant heat and humidity.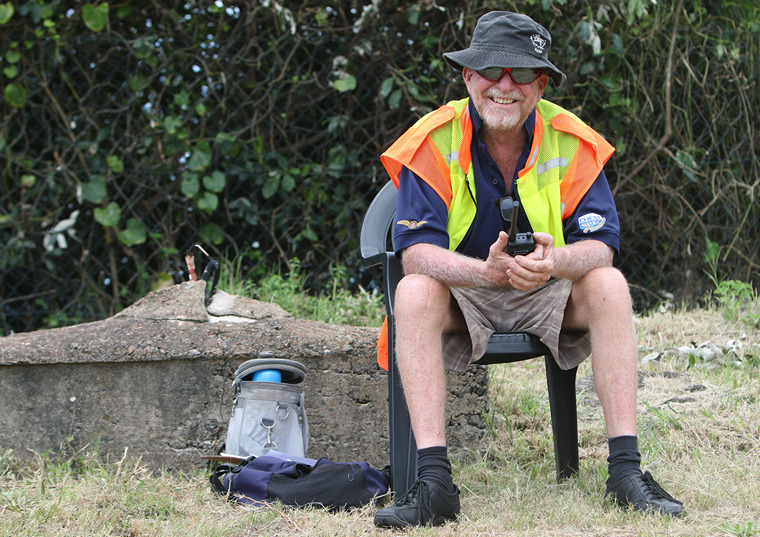 John Neilon manning the spot landing line.


The spot landing proved to be challenging for most contestants with aircraft floating much longer than one would normally expect.

At the end of the rally, crews got together and braaied and discussed the exploits of the day. There were tales of missed and wrong tracks and other deviations. Everyone spoken to said they had a lot of fun and at the end of the day, this is what it is all about. As Mary said earlier, it was not about winners and losers it was more about learning and experience. All participants brave enough to put their skills on the line would go away with that little bit of extra knowledge that would make them better pilots.


Waiting for the results.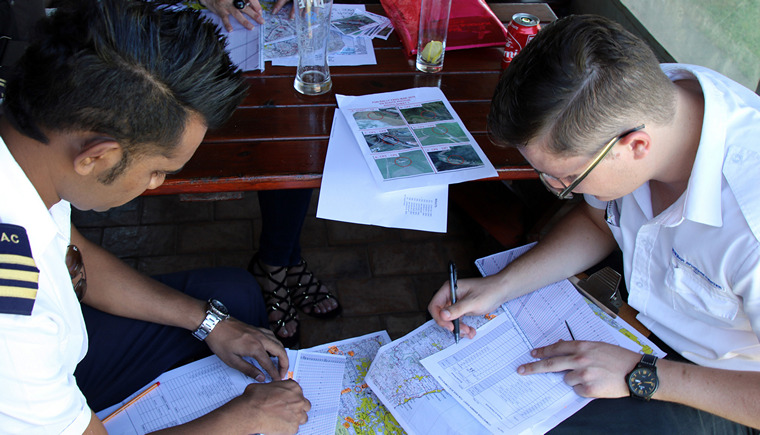 Fergus Snow and Nishon Thulsi putting in the finishing touches.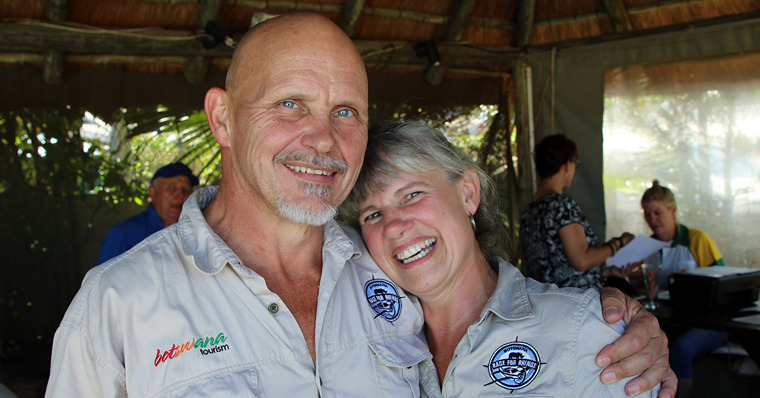 Pierre van der Merwe and Sandy van der Merwe.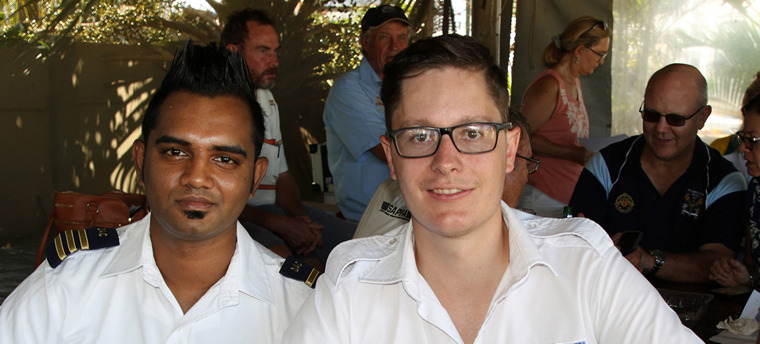 Fergus Snow and Nishon Thulsi 


Before Mary presented prizes and certificates to the pilots, she reminded everyone that they had a spot landing world champion in their midst, namely Frank Eckard. She praised those who had taken part and trusted that they had all enjoyed the experience. 

The overall results including the spot landings were as follows: -


Advanced Class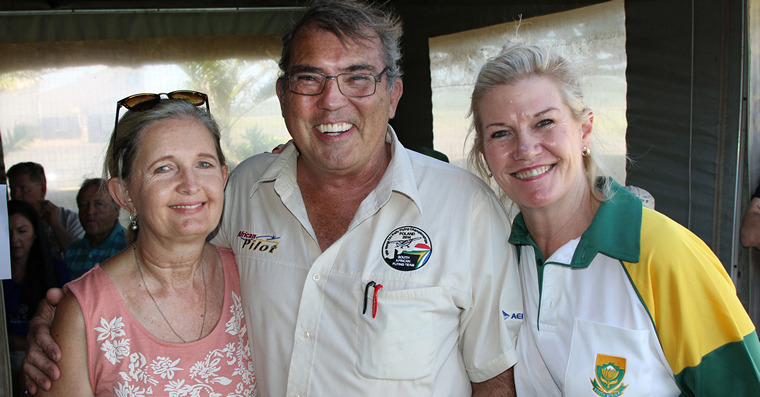 1st Frank Eckard and Cally Eckard - ZS-DOS - C182

Sportsman's Class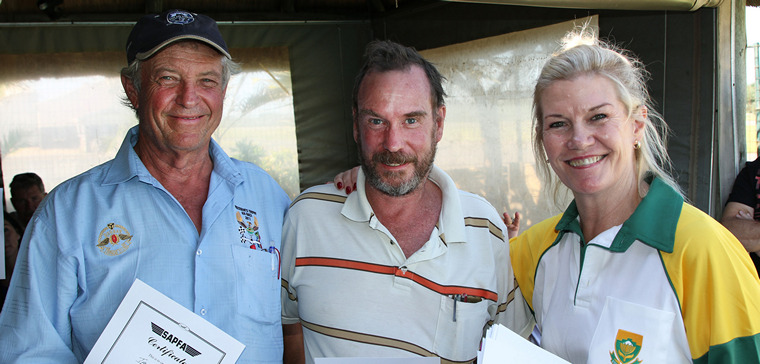 1st Thys van der Merwe and Leon Boutell - ZS-ETO - C172

Fun Class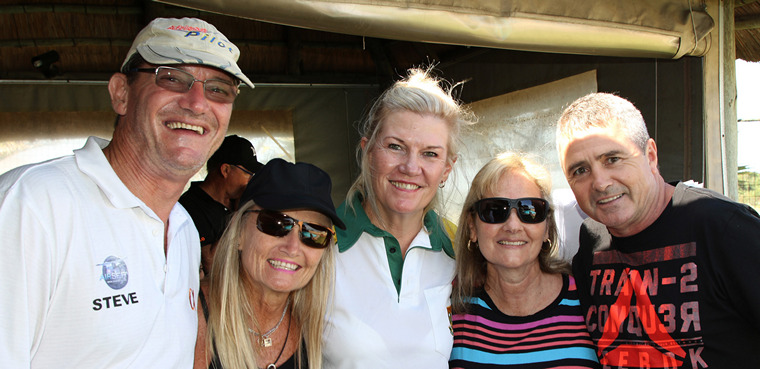 1st Mark Warren and Steve McCurrach - ZU-TRG - Harmony
(with their wives).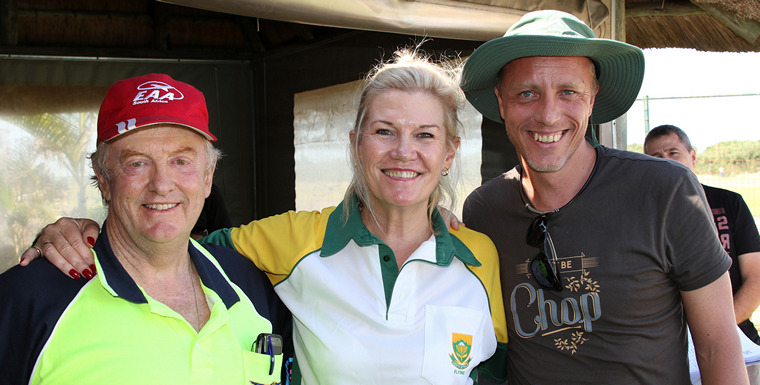 2nd Shane Britz and Mark Clulow - ZU-FEP - Jabiru57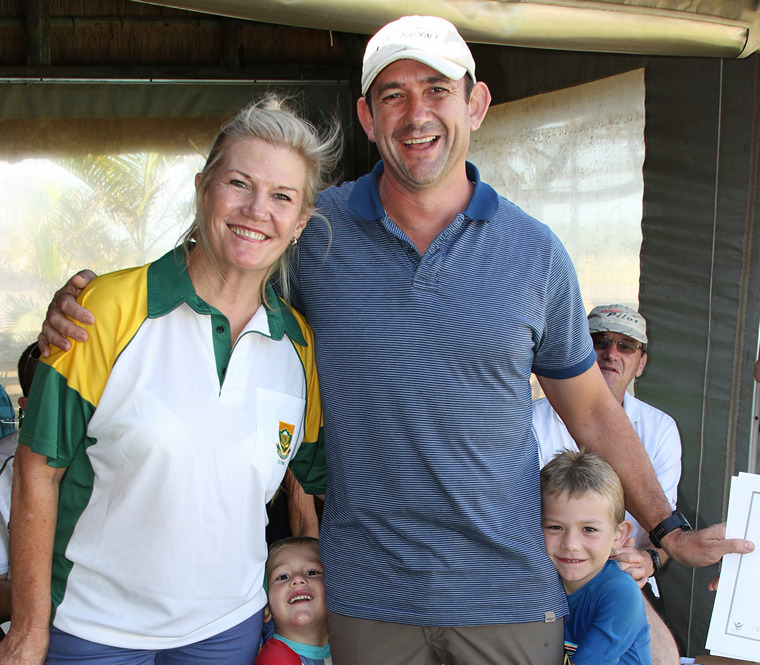 3rd Dirk Grobler and Russell Mann - ZU-CDK - Van's RV-4
- Dirk Grobler and his children (Russell Mann had left).


The spot landing competition (on its own) was won by: -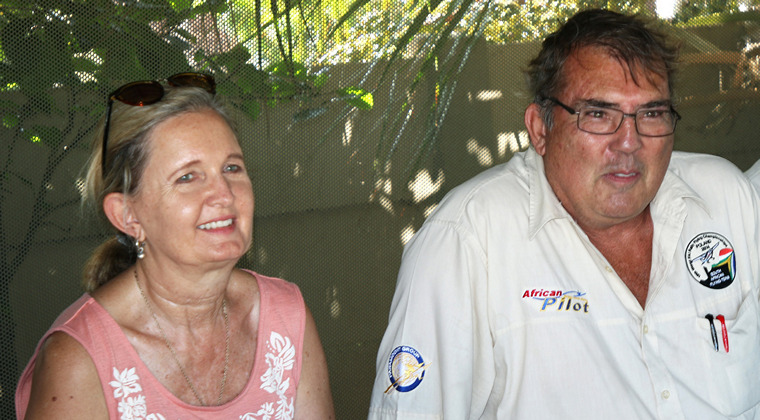 1st Frank Eckard and Cally Eckard - ZS-DOS - C182 - 10 points.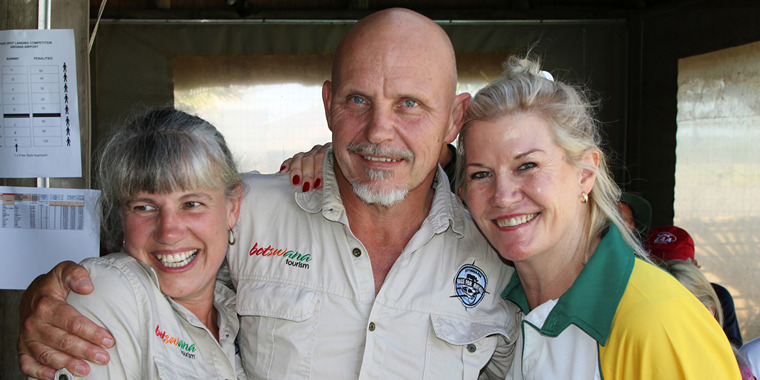 2nd (tie) Pierre van der Merwe and Sandy van der Merwe - ZU-FWY - Sling 2 - 20 points.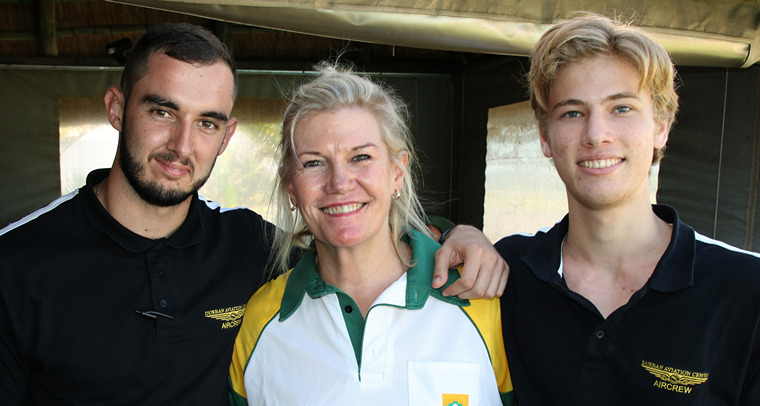 2nd (tie) Taylan Ayliffe and Chris Gillespie - ZS-PLH - C152- 20 points.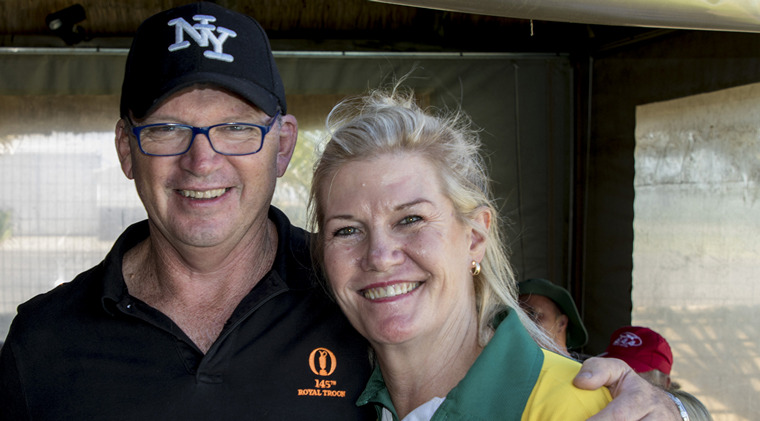 2nd (tie) Malcolm Mercer and Murray Nel had left.- ZU-FEZ - Sportsman - 20 points.

.
All in all, a very successful air rally. Entries were up from the last event at Virginia and it is hoped that the upward trend will continue in future SAPFA rallies at this venue. It was fantastic to see the visiting Gauteng crews and their aircraft. Coastal flying is spectacular so it is hoped that more out of province competitors will be encouraged to take part. Also of course more KZN pilots need to enter and encourage their friends as well.
---
---
Dare to Excite-the SAPFA Rally at Rand Airport 2018
By Cally Eckard , Rob Jonkers, Cheryl Smit and Willie Bodenstein
with permission from Pilot's Post.
Saturday was organiser Frank Eckard's 14th Rand Airport Challenge. Reminiscing that when he first starting organising these events only 14 years ago, Frank used to have to bring along his desktop computer with a 386 processor, and a cathode-ray monitor, and photos of turn-points and enroute were taking with an SLR camera with a roll of film, and each competitor received an envelope with actual photos inside. Needless to say, that was a costly exercise, and took a great deal of time to organise. Nowadays a laptop and Google Earth are his tools of trade. 



The participants and organisers of the Rand Rally.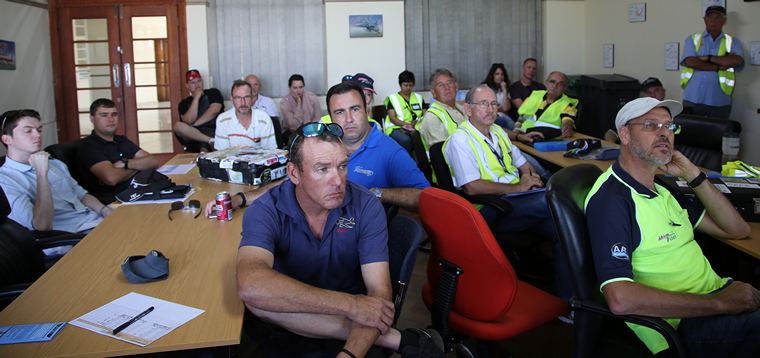 Competitors listening attentively to Frank during the briefing.


Rand Airport waived landing fees for all the aircraft that took part, and ATC made a safe, smooth and efficient start possible. 





Some of the competing aircraft.


Twelve teams participated, in three categories - Fun, Advanced Fun, and Advanced. Besides the usual selection of Cessna's, there was also a Piper 28B, four Slings, and a Robinson 44, to provide variety. The helicopter incurred penalties when it moved backwards when it arrived too early for a turn point, something which one doesn't normally see when only fixed wing aircraft take part!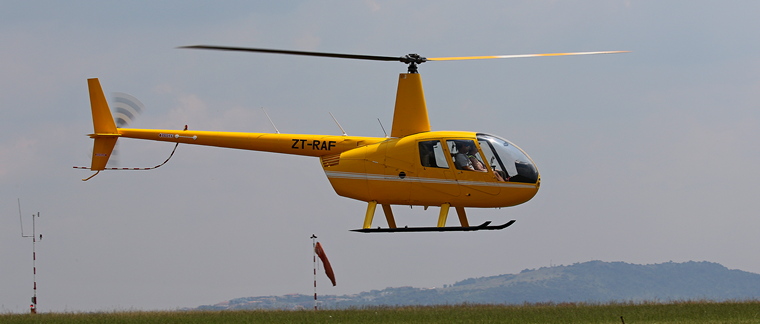 The only helicopter entry crewed by Marc Krauss and Taryn Pucjlowski.


Teams consisting of pilots and navigators who both have their colours flew in the Advanced Class, 

Protea pilots Ron Stirk and Thys van der Merwe decided to give Pilots Post photographers Cheryl Smit and Willie Bodenstein a taste of rally by roping them in as navigators for their respective teams. They therefore made up the "Advanced Fun" Class. Cheryl pronounced that she is now "hooked" on the sport and now understands the attraction pilots feel towards it.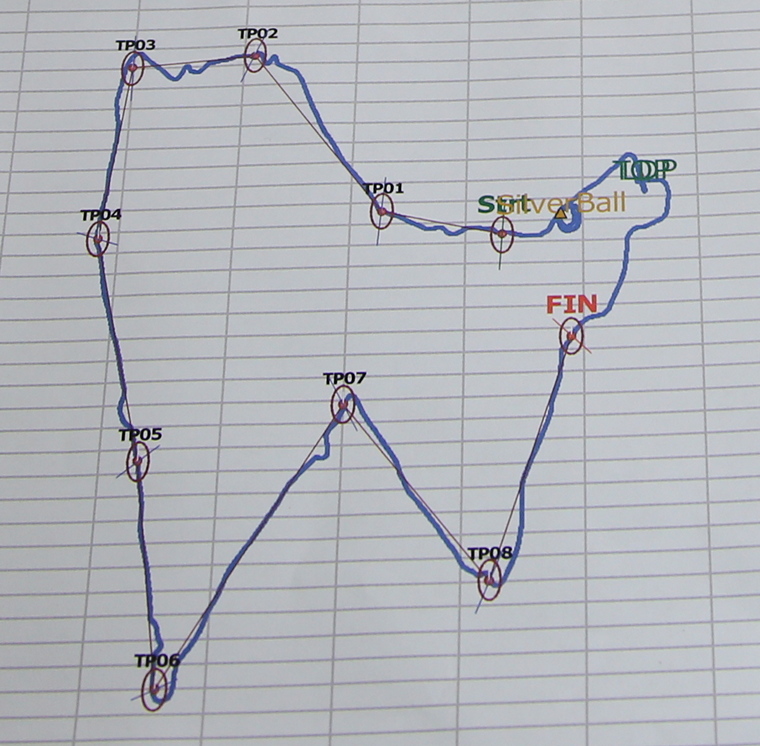 Cheryl's and Thys's zero penalty points logger route superimposed on the actual track.


"Arriving at Rand at SAPFA to photograph and report on the event, I never imagined I could have been roped in to navigate in the advanced fun section with the extremely experienced retired SAA captain Thys van der Merwe." Cheryl said. "Fifty one minutes in the air surrounded in the cockpit with maps and photographs identifying turning points and pre-photographed landmarks, the 51 minutes felt like five minutes in the air. Much respect to the rally pilots and navigators for their skill required during the rally. Thank you Thys for allowing me the opportunity to participate and although a flawless route flown with zero penalties we were penalised for failing to identify two of the leg photographs. But I will gladly accept second place in the class."


The course and path map navigated by Cheryl Smit and Willie Bodenstein in the Advanced Fun Class.


"When I was told that I was to crew as navigator for the legendary Ron Stirk, a previous world precision flying champion, I was apprehensive but at the same time excited. Having reported on rallies for the last eight years I have never had the opportunity to share the cockpit during a competition and I was amazed at the workload required to fly and navigate the course. Firstly one has to nominate a flying speed and plan the route on the map issued before the flight but one must make sure that one will be able to arrive at the various turn points on the time. To complicate things even more there are a number of photos of landmarks, sourced from Google maps, between turn points that must also be identified and marked on the maps at the exact position spotted. We found all the turn points and only missed one photo, all thanks to Ron's amazing skill as a pilot."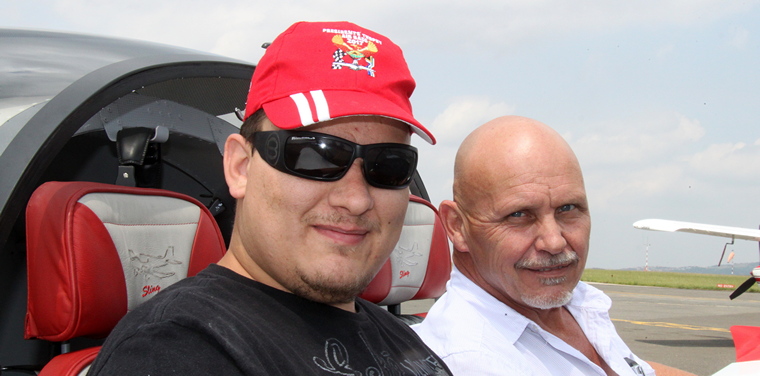 Pierre and Francois van der Merwe finished 4th in the Fun Rally Class.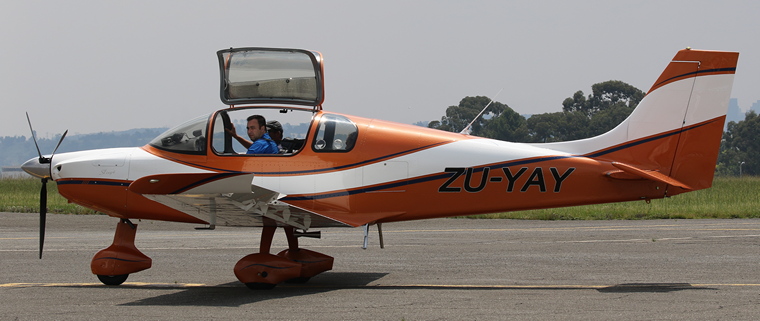 Colin de Paiva and Sean Russel were placed 5th in the Fun Rally Class.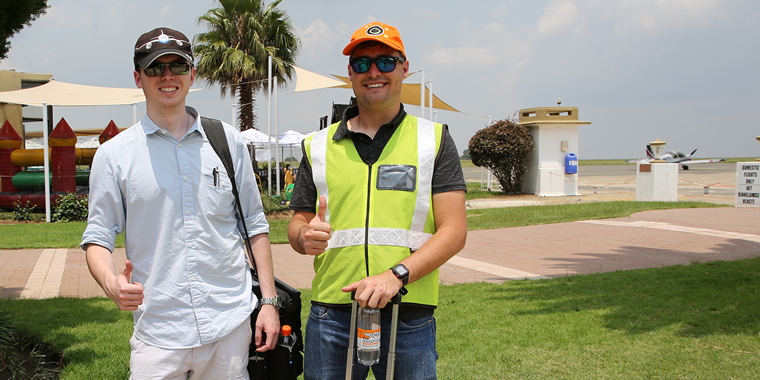 Fist timers Rhys Joseph and Andrew Segeren finished 6th place in the Fun Rally Class.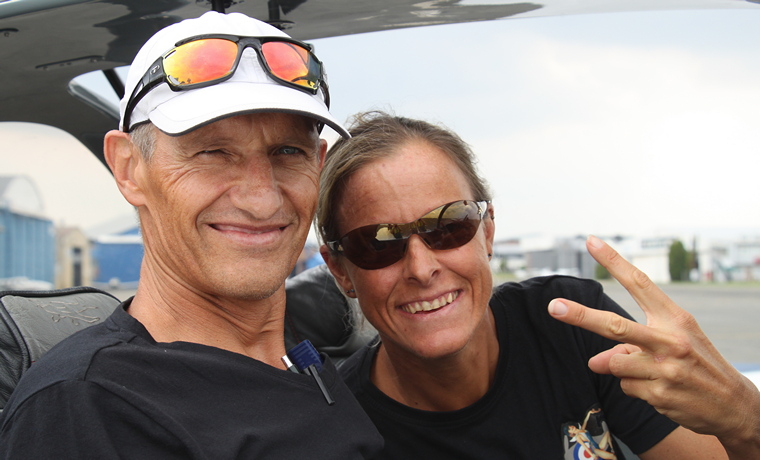 Caroline Koll and Milan Daniz were placed 7th in the Fun Rally Class.

An in-flight perspective by Rob Jonkers

This year's Rand Navigation Challenge was the first fixture where the new international standard FAI rules were tested for the experienced crews. Our own Frank Eckard was tasked by the FAI to redesign a common set of rules for world competitions, with three guinea pig teams to try it out on. Thus the advanced class had a totally different set of rules to fly than the fun teams, although the route was the same for both. In the advanced class we had 20 leg photos to identify along the route, provided in a jumbled order, and turning point photos that could be correct or incorrect, and orientated in any direction.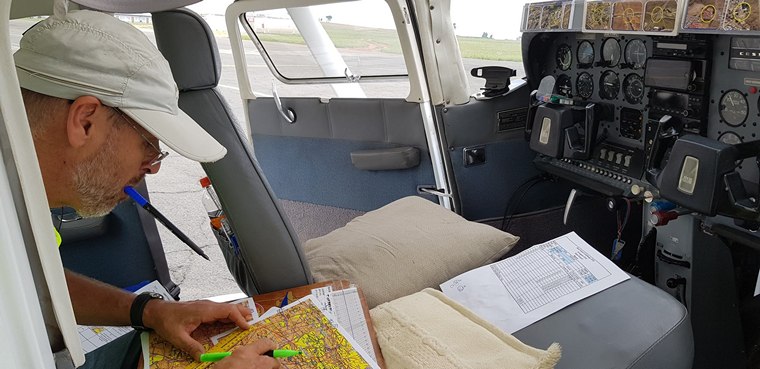 Martin Plotting the route.


The map provided was blank and coupled with a task sheet, the plot had to be done in the aircraft with a 40 minute time period prior take-off, and between Martin and myself we could complete 2 maps with the route information before getting airborne and prepare the cockpit with the photos, although did not have sufficient time to study the photos and their likely map locations.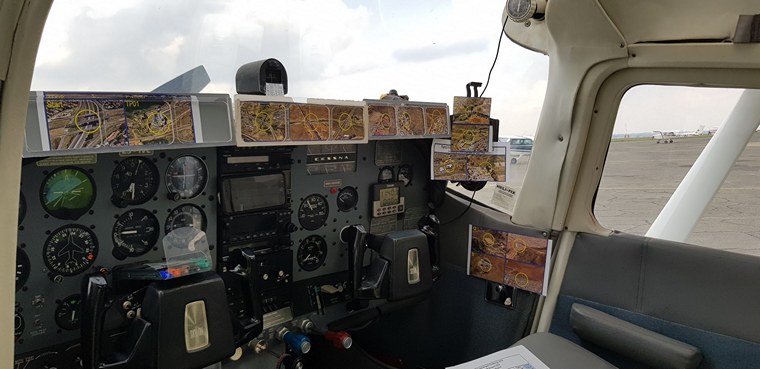 The Cockpit prepared with the turning point and 1st set of 10 leg photos.


The start point was an easy interchange next to South gate, and the first turning point was the unmissable Orlando cooling towers, from there the route became tricky, with the first incorrect turning point photos becoming evident, then a real curved ball at turning point 4, which was an easy to follow leg along the R28 where the photo provided was in fact an intersection before the real turning point, where I wondered how did we arrive at this point so early, and was fooled into believing the photo was correct, where it in fact was not, and only realizing the mistake when nothing much lined up on the next leg, and of course got to the next turning point too late. Thus, a very simple mistake cost us dearly in the navigation points, and I guess we would have missed some leg photos too. At least after this we recovered well, but the leg photos remained elusive only finding 6 out of the 20 in the end; at least we identified the turning point photos correctly after realizing the TP4 mistake.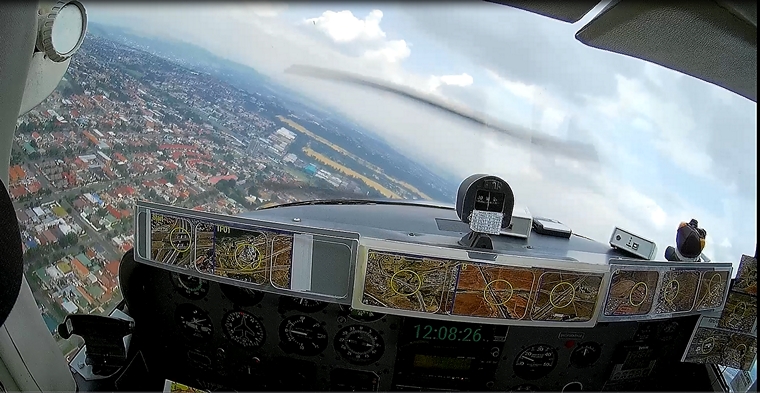 Somewhere along the route.

A lot of hard work in the cockpit for this format of rally, keeping heading and speed as well as trying to make out leg photo features, and as always a lot of fun.

Conspicuous by their absence were members and students of the large number of flying schools resident at Rand. In contrast, the annual fun rally hosted by Grand Central airport is well supported by especially one of the much smaller number of the flight schools based at the airport. 

The placing's in the various classes are: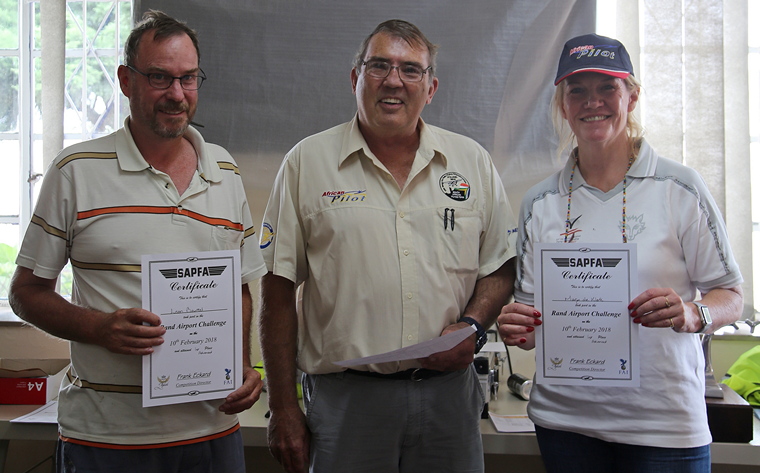 Leon Bouttel and Mary de Klerk won the Advanced Class.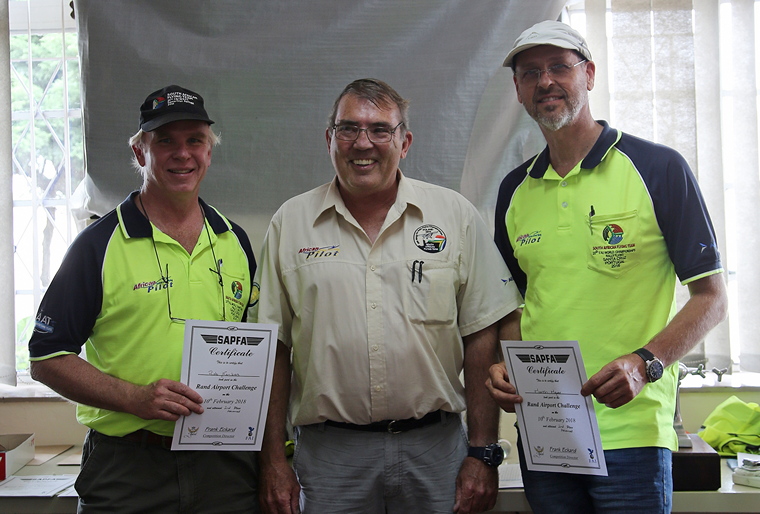 Rob Jonkers and Martin Meyer finished in 2nd place.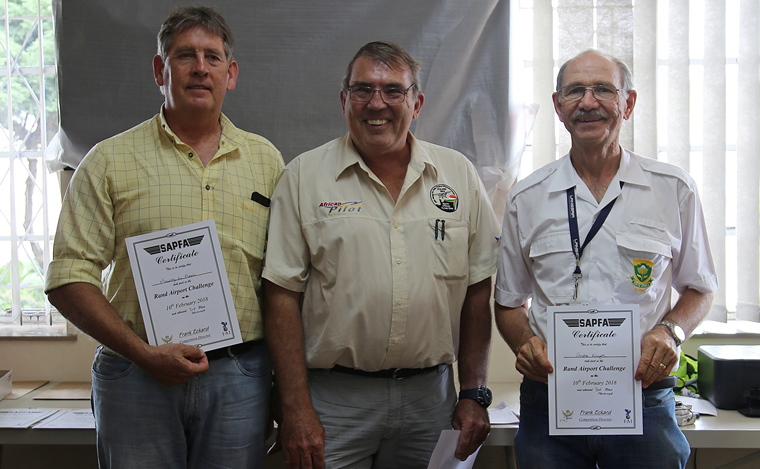 Mauritz du Plessis and Andre Kluyts was placed 3rd.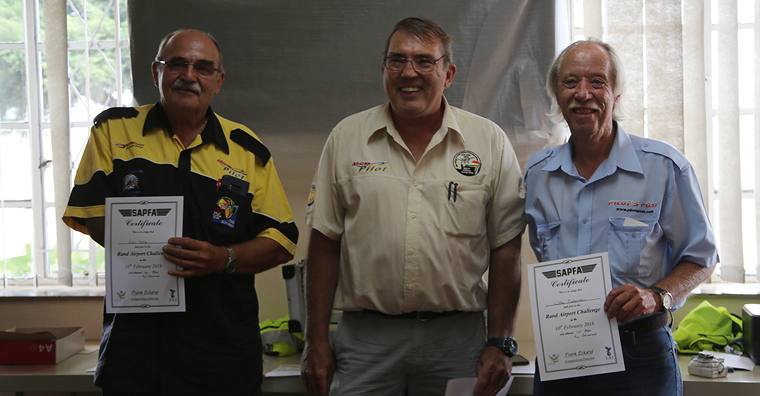 Ron Stirk and Pilot's Posts Willie Bodenstein won the Advanced Fun Class.


Thys van der Merwe and Pilot's Posts Cheryl Smith finished 2nd in the Advanced Fun Class.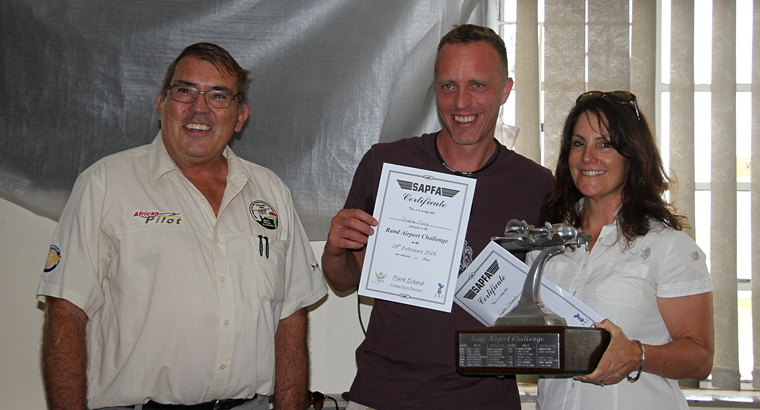 Shane Britz and Karen Stroude won the Fun Rally Class.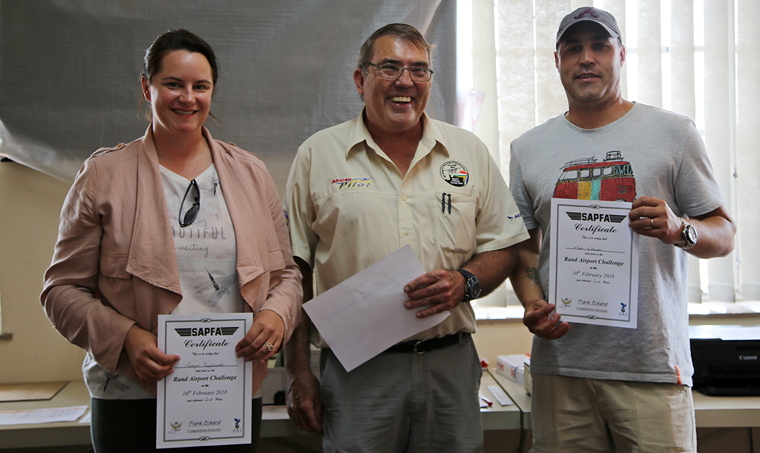 Tarryn Pucjlowski and Marc Krauss finished 2ne in the Fun Rally Class.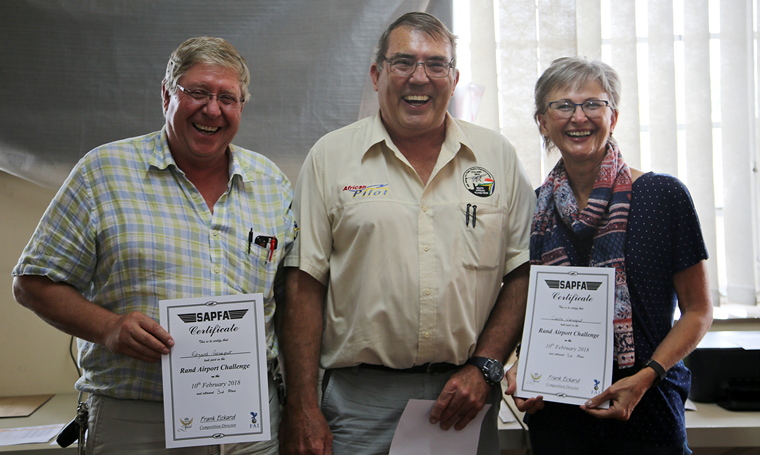 Husband and wife team Edzad and Cecile Verseput was placed 3rd in the Fun Rally Class. 


If you haven't as yet entered a SAPFA rally you honestly should. Not only is it a lot of fun but you will also spend the day surrounded by people that are truly enthusiastic about flying and probably the friendliest people in aviation. Flying the rally will contribute immensely to improving your navigation and flying skills. 



The next SAPFA Rally will be the held as part of the Rand Airport Easter Festival on 31 March 2018. For more information contact Rob at E-mail 

This email address is being protected from spambots. You need JavaScript enabled to view it.
---
Kitty Hawk ANR (Air Navigation race) Rally – 27 January 2018  by Rob Jonkers
The South African Power Flying Association (SAPFA) held a very successful ANR (Air Navigation Race) at Kittyhawk Airfield on Saturday 27 January 2018. The weather outlook during the week showed promise to be good and then not, and eventually when Saturday morning dawned the expected early morning rain appeared later than expected and a wall of showers descended over Johannesburg, trapping those competitors at their resident fields. Arriving at Kitty Hawk after 7 still had clear skies and most of the northern based aircraft arrived.
Route 1 - An Anti-Clockwise Route
---
Chairman's Report 2017 - South African Power Flying Association
Before I start I want to thank all our SAPFA members for their commitment and participation in our different disciplines – THANK YOU MEMBERS.
The South African Power Flying Association's (SAPFA) main focus is to organise and promote power flying sports. We also represent the interests of our members by providing input on matters that affect GA pilots. We maintain links with the General Aviation Commission (GAC) of the Fédération Aéronautique Internationale (FAI). We also support the Aero Club of South Africa 100%.
We at SAPFA wanted to do something different this year with regards to competition flying and create a fair playing field for new competition pilots, Rob Jonkers created the Adventure Rallies and I created the SECS (SAPFA Equality Competition System) and Club Challenge CALL OUTS.
Thank you, Rob Jonkers for creating the first platform to introduce competition flying to the general aviator and the EAA members for embracing the new format of Adventure Rallies.
I would also like to thank the three clubs that helped SAPFA start the Club Call outs namely Secunda Flying Club, Ermelo and Springs (ERFC). This will grow as it has proven to become very popular and fun to take part in.
I would like to extend special thanks to Christoff le Grange (Secunda Club) and Eric Addision (Springs) for helping and hosting the Club Challenges.
I strongly believe that growing the sport is the most fundamental sustainable solution for the future.
The stepping stones have been laid for the future to grow the sport next year.
The PTAR was a huge success seeing new sponsors and excellent piloting skills from all the pilots and navigators. Next year the PTAR will be hosted by New Tempe and will be as awesome as it has always been when hosted by the Bloemfontein Flying Club.
Pylon Racing will be given more attention next year, we are possibly looking at racing a few Yak 52 against each other in the last part of 2018. Keep an eye on this, it is going to be great and revolutionary.
We had many great international achievements this year and we are very proud of our Protean Competition Pilots, Frank and Cally Eckard managed to secure a Gold Medal for South Africa in the landing section of the competition. Also a warm welcoming Andre Kluyts to the Green and Gold for the first time.
SAPFA Achievements below:
Senior Protea Colours for the 1st FAI World Air Navigation Race Championship 2017 held in Castellon, Spain held from the 11th to the 17th of September 2017 to Cally Eckard, Frank Eckard, Hans Schwebel, Mary De Klerk, Ronald Stirk, Thys van der Merwe and for participation as International Judge Special Acknowledgement to Arddyn Moolman.
Senior Protea Colours for the 23rd FAI World Precision Flying Championships held in Spitzerberg Airfield, Austria from the 29th of July to the 5th of August 2017 to Andre Kluyts, Frank Eckard, Mauritz Du Plessis, Ronald Stirk and the team manager Mary De Klerk and for participation as President of the Jury, Special Acknowledgement to Hans Schwebel.  
Ron Stirk - For achieving a Silver Medal, 2nd Place in the Landing Section of the 23rd FAI World Precision Flying Championships held in Spitzerberg Airfield, Austria from the 29 July – 5 August 2017
Rob Jonkers – Sliver Wings for creating the Adventure Rallies and Assisting with the 2020 Aero Club Centenary arrangements
Mary De Klerk -  Gold wings foe serving on the SAPFA committee for 10 years
Frank Eckard  - Lewis Lang Trophy was awarded to "Pilot of the Year" for FAI Gold Medal for 1st Place in the Landing Section of the 1st FAI World Air Navigation Race Championship 2017 held in Castellon, Spain in July 2017 (DON'T FORGET FRANK HAD HIS WIFE AS HIS NAVIGATOR – WELL DONE CALLY)
Sadly, I have stepped down as Chairman due to International commitments and will not be available to serve as the Chairman for SAPFA in 2018. I have handed the Chairmanship to a worthy and fully capable Rob Jonkers (was my Vice Chairman) that will continue to grow SAPFA and support our Members.
Jonty Esser
SAPFA X-Chairman             
---
---
SAPFA Equality Competition System
Introduction
A new system was introduced by Jonty Esser to help all pilots compete at suitable personal skill levels, the system has been used in the aerobatics community for many years and has proven to allow all pilots to progress safely and enjoy the personal challenges and increase their flying skill while having fun at a competition level.
This document will help guide all Pilots to understand and implement the SECS (SAPFA Equality Competition System).
Classes
The classes are as follows:
Sportsmans Class
Intermediate Class
Advancded Class
Unlimited Class
Sportsmans Class
The Sportsmans class is the fun class and is open to any Pilot wanting to enjoy accurate and precise flight that will enhance the pilots flying skills including good observation, navigation, CRM (cockpit resource management) and landing skills.
Each rally will consist of a night before briefing and class on how to fly a rally, in this briefing/lecture the TEAM (Pilot and Navigator) will be given their papers (photos in order of flight and from which turn point they should find them) with the clue sheet to work out the route and prepare for the rally the next day. (ALL OTHER CLASSES ARE IN QUARENTINE AND MAY NOT GET ANY INFORMATION)
This gives each TEAM the advantage needed to learn the skills to progress to the next class.
Once the starting list has been published in the morning they will then simple add their minute markers and go have FUN.
 How to progress to the next class?
The first, second and third place automatically progress to Intermediate Class as they have proven to be competitive enough to progress.
Any TEAM that has flown three Sportsmans Class competitions in one year will automatically progress to the Intermediate class.
The scoring will be as per the 15 seconds gate penalties with wide gates.
Intermediate Class
To be eligible to fly in any National Competition the TEAM must have reach this class.
This class will only get there papers on the day after briefing and will be done in quarantine from the two other classes. To ensure there is no information shared the Advanced and Unlimited classes will start the rally and immediately get their start times and papers. This will set them off flying while the Sportsmans and Intermediate Classes prepare for their competition.
The Intermediate competitors will be assisted by SAPFA staff and organizers to ensure they are well equipped and fully prepared for the competition flight.
The Intermediate Class TEAMS will bet the same clue sheet as the Sportmans Class with the photos in order of flight however not given the turn point the photo has been taken from)
The scoring will be as per the 15 seconds gate penalties with wide gates. Clue sheet worked out the day of the flight after briefing and photos without indication from which turn point they are from.
How to progress to the next class?
As a team you will have to have been selected and represent our Country at an International competition, this will elevate you as a TEAM to the Unlimited Class. However, if you are a Sportsmans or an Intermediate Class pilot or navigator and you have managed to find a Protean to fly with you; this TEAM is then automatically classed to be in the Advanced Class as there is a clear advantage over new teams that are up and coming.
Advanced Class
This class will be full competition mode and will be handled at the international level and rules. See the rules on the website.
The scoring will be as per the 3 seconds gate penalties with narrow gates. Papers handed to the TEAM in the aircraft.
This class is to encourage current Proteans to help and assist new enthusiastic competition pilots.
Unlimited Class
Now you are at an International Standard and the competition is run strictly according to the International rules.
The rules are as will be flown at the World Championships.
Concluision
This system will encourage new pilots to compete at their skill levels while enhancing them and ultimately growing our sport we love.
---