---
Grand Central Fun Rally - 14 Sep 2019
By Rob Jonkers

This year's SAPFA Fun navigation rally had its challenges in getting off the ground, the date initially set for the 7th September, where two other events entered the fray, that being the Children's Flight and the SAAF Museum Airshow, and then the weather conspired to also be against us with foul weather on both the Friday and the Saturday.


In any event the date was moved by a week to the 14th September which coincided with the RV day and the Tedderfield Sling Fly-in, it seems everybody was getting into the spring feeling to hold events…. This Fun rally event is run in conjunction with Superior Pilot Services (SPS) who provide the facilities and sponsor a great breakfast at the Harvard, and an opportunity to allow their students to get to grips with rally flying.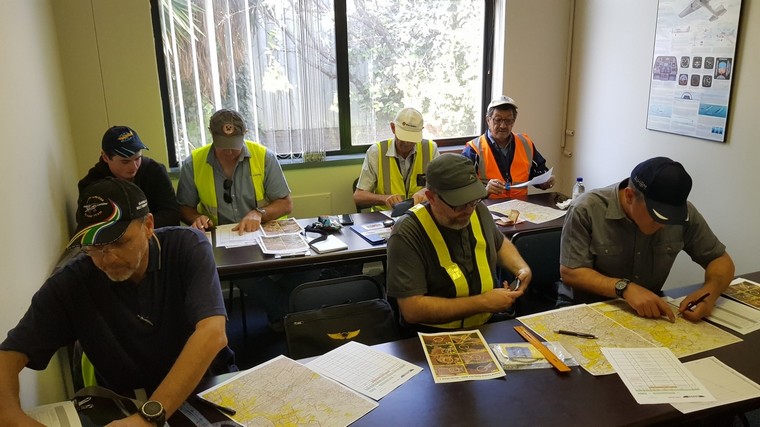 The teams busy plotting the course from the task sheets.



For a number of years now Rob Jonkers planned and plotted the course for this event, catering for Open class and a Fun class, where the fun class introduces newbies to the sport. Entrants were planned to be around ten crews, with four from SPS and six from other airfields, and with the Protea teams still in Portugal having just completed the ANR World Championships were not available to take part. Eventually on the day only four teams could take part, thus it was a small field, with two in fun class and two in the Open class.


Most competitors arrived by 8.00 on Saturday morning to first enjoy the Harvard breakfast, thereafter briefing and plotting. The weather forecast looked promising with clear skies with 10+ kts wind later in the morning, which proved to become somewhat blustery closer to midday.

The route was planned to go out north, into familiar territory for the competitors as most of the legs were in their GF backyard. The start and finish points were just north of the N14 in the narrow Special Rules corridor between the Waterkloof & Lanseria airspace, and from there the route went out over the Hartebeespoort dam, across the Magalies ridge and into the scenic Crocodile river valley, then east across to Soshanguve and back across the ridge to the finish.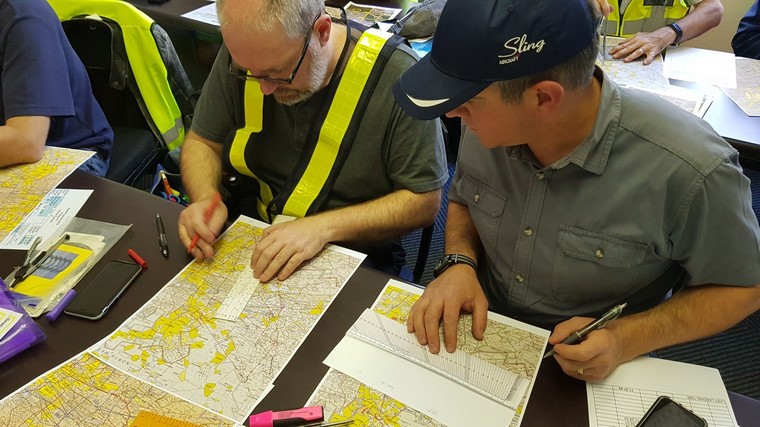 Matthew French & Mike Blackburn plotting their course.



From the GPS logger plot results, it could be seen the teams were struggling to slow down enough on the eastern & southern legs with many zig-zags being evident to counter the stronger wind at altitude.




The Apron of Grand Central with competitor aircraft.


There was one photo per leg that needed to be recognized, some of them were at least spotted by the crews, including a bonus photo which was one of those irresistible features (Stadium) that had to be found somewhere along the route, and which many crews did find in Attridgeville on the last leg.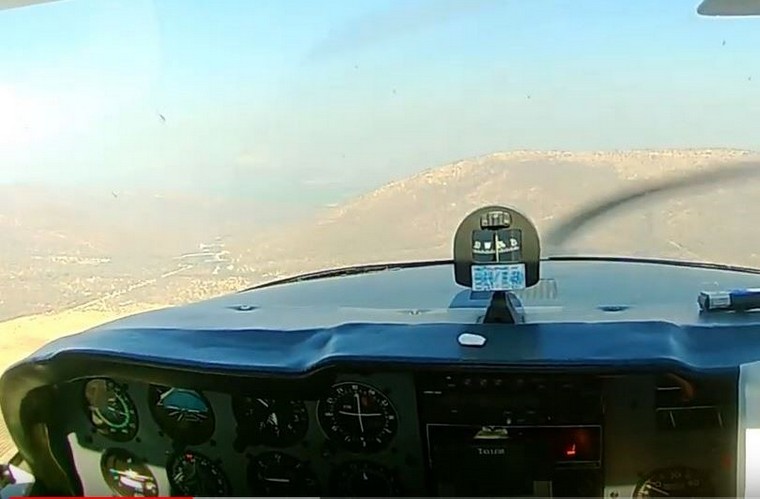 Approaching the Crocodile Valley - Landscape still wintery.


After all the scores were tallied, first in Fun class was Matthew French with navigator Michael Blackburn in their very fast Mooney, second was father and son Jan and Max Coetzee in a C182. In this class the navigation accuracy allows 15 seconds at each gate before penalties are applied, one penalty per second.


In Open class in first place was Nick Christodoulou with navigator Andre Kluyts in a C172, and for this event a Route Planner class…. Rob Jonkers with his trusty navigator Martin Meyer in a C182, and being the route planner was expected to return with a perfect zero, but could not find the all the photos…., memory not that good it seems. In this class the navigation accuracy allows 2 seconds at each gate before penalties are applied, three penalties per second.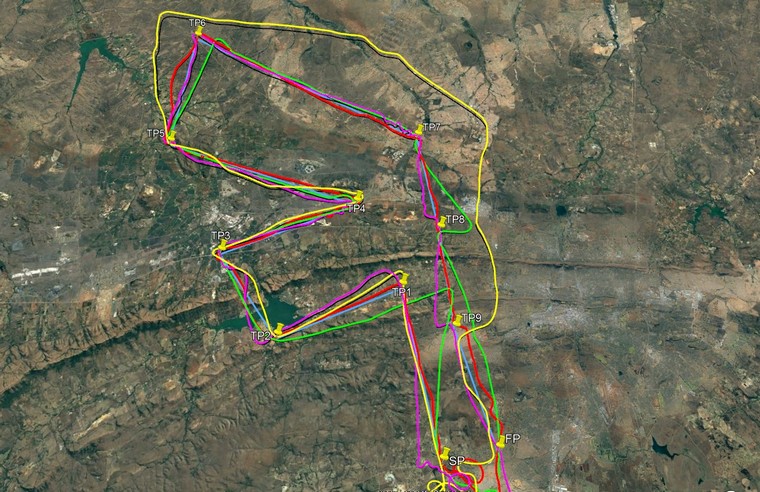 The navigation tracks - all seems fine until the eastern & southern legs.



This event was for sure enjoyed by all, getting an understanding of flying with more precision, especially in the slower flight regime, and having to deal with wind variation. Many thanks extended to SPS for making all the arrangements with Grand Central Management, and for the fantastic breakfast and for Franz Smit and Ashley Loynes for joining at the start and providing the teams with much needed water refreshments.




---
---
2nd FAI World Air Navigation Race Championship Santa Cruz
By Willie Bodenstein. Photos by Barbara Freibose and Jonty Esser
Air navigation racing is a relatively new aviation sport, with this year's championship being only the second world championships. This year's competition was organized by the Aeroclube Torres Vedras on behalf of the FAI and in cooperation with the Portuguese General Aviation Commission FPA (Portuguese Aeronautic Federation).

The opening ceremony featured the F-16s of the Portuguese Air Force as well as Yaks, Pitts and others.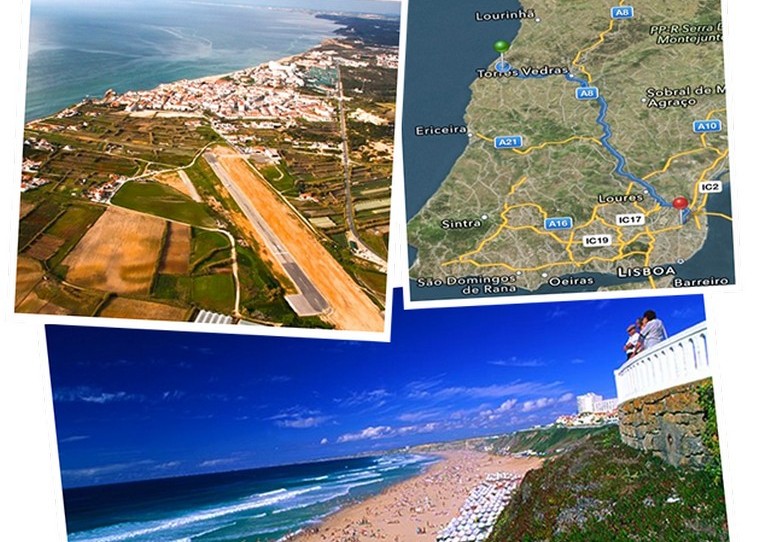 Santa Cruz Airfield (ICAO: LPSC) is located 60 km North of Lisbon, 15 Km of Torres Vedras City, just a few meters from the beach and village of Santa Cruz.


The World Air Navigation Race (WANR) is a knock-out competition where teams representing their respective countries fly in elimination heats against each other. Precision flying, navigation and landings define this competition. The pilots have to fly along predetermined narrow corridors with irregular shapes at a specific speed. No GPS or other navigation assistance allowed. Teams are only allowed to use a compass, clock and map. All aircraft must enter and exit the corridors at an exactly predetermined time and at the end, must land without engine thrust from downwind in a one-meter box marked on the runway, for no penalties. Crews are penalised for flying outside their corridors and for timing errors. Penalties are also awarded for the landing.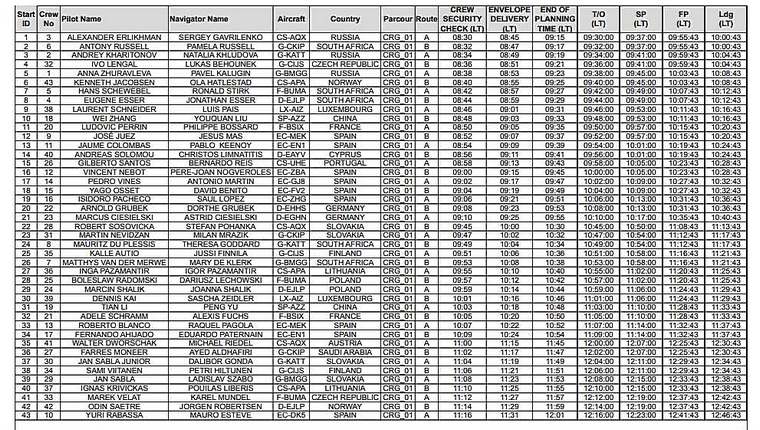 Forty-three crews from seventeen countries entered the competition that started on the 5th of September and concluded on 13the with a gala prize giving dinner held at the Quinta da Almiara Winery ten minutes from Torres Verdas.

Five teams from South Africa entered.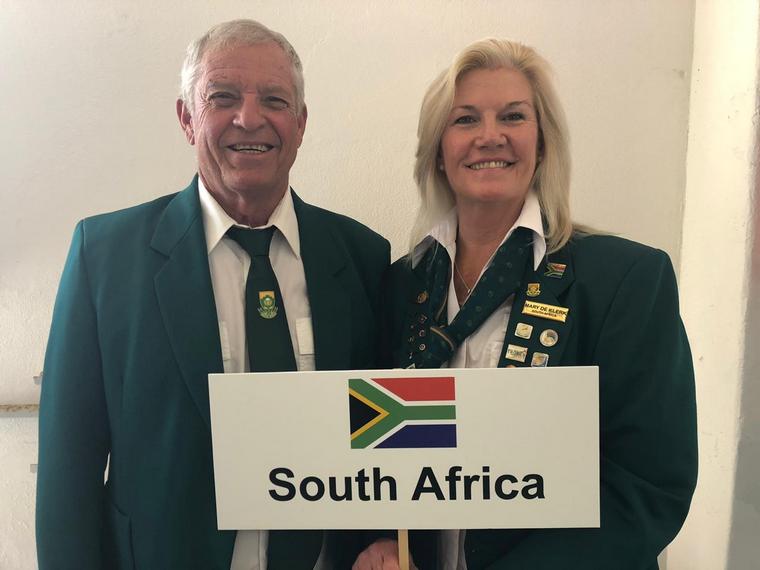 Thys van der Merwe and Mary de Klerk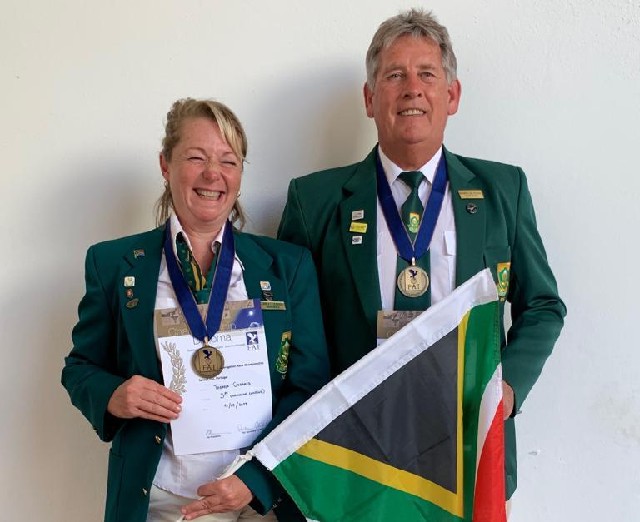 Mauritz du Plessis and Sandi Goddard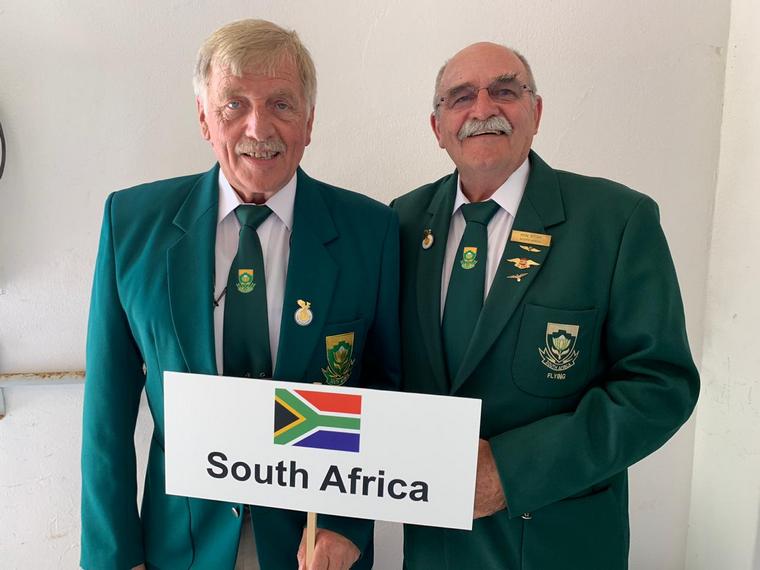 Hans Schwebel and Ron Stirk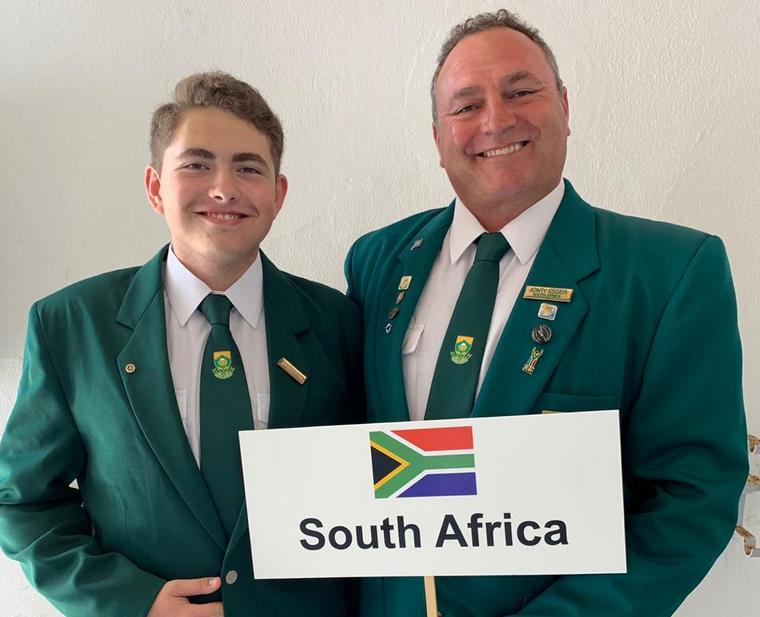 Jonty and Eugene Esser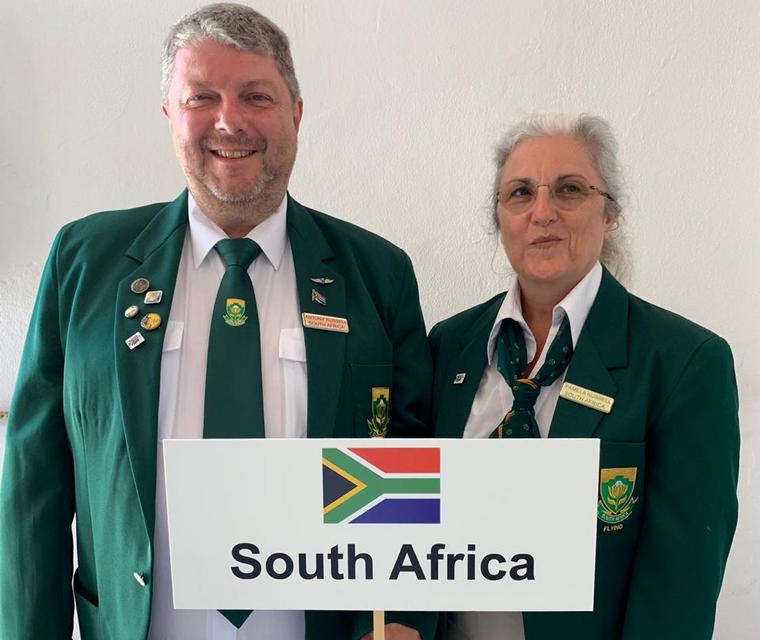 Anthony and Pamela Russel

The weather throughout most of the championships boasted blustery winds, typical to coastal regions, but was not what the teams from South Africa were used too, as were the maps that they were issued for planning purposes. However, after the practice days, during which approximately 200 training flights were flown in which all competitors had the opportunity to practice navigation routes and precision landings, they were confident that they would do well.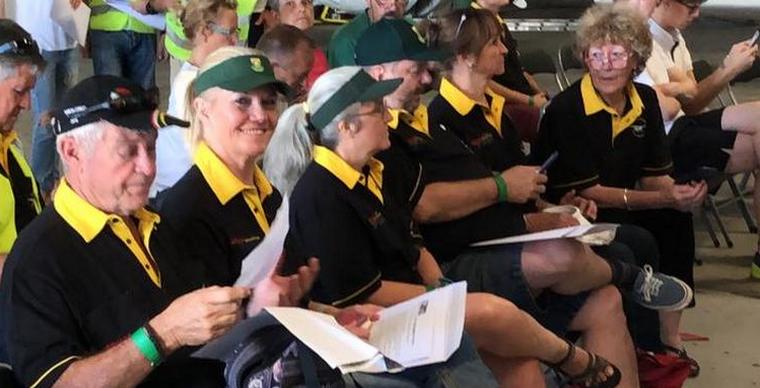 Day one of the championships started with an early morning briefing as did all the other days.


Crews are handed their map with the printed corridor and are only given thirty minutes to plan their flight.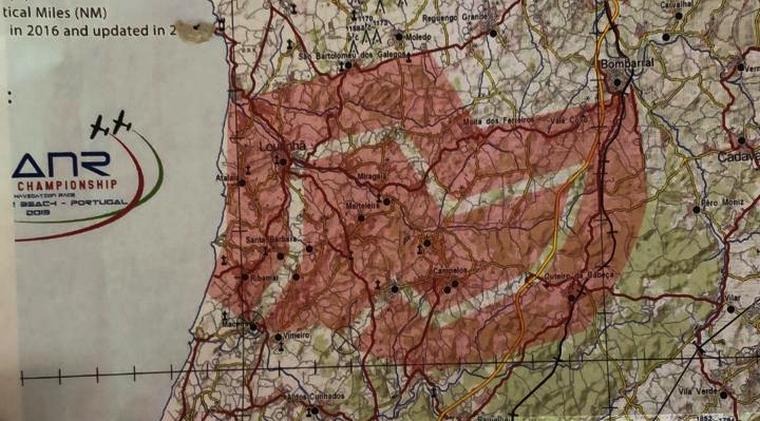 A typical daily task map.


Competitors have to fly along predetermined corridors with irregular shapes at a specific speed (normally 80 knots). The corridors are generated by sophisticated mapping software to ensure they are of equal length.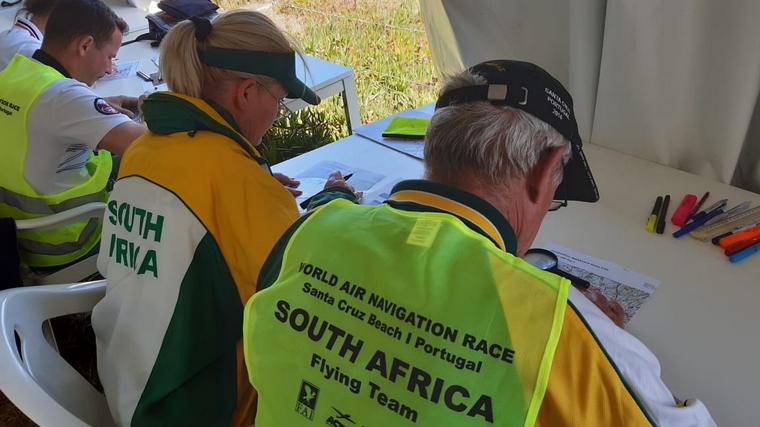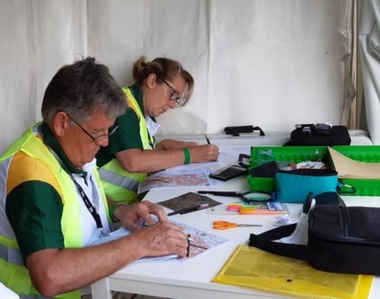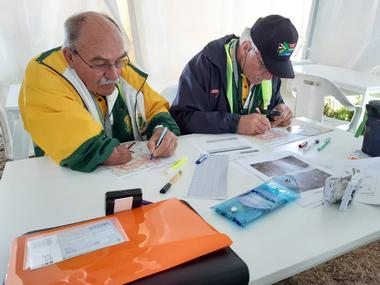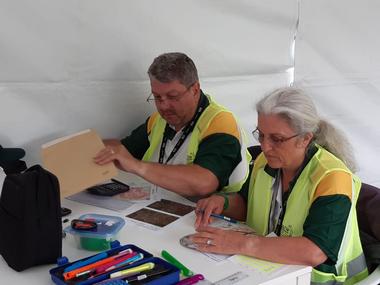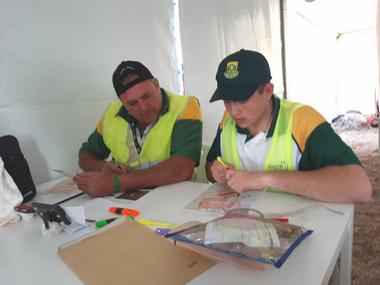 The South Africans hard at work planning their flights.


Since aircraft was shared not only between the SA team members but also with members of the teams of other countries, start times were staggered to make provision for this.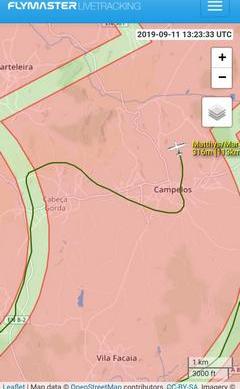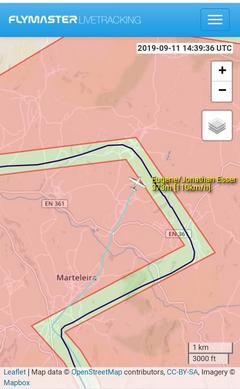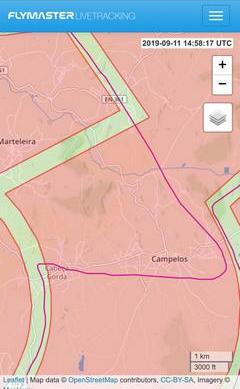 Images taken from the big screen of some of the tracks being flown.


GNSS loggers are used to log the flight track which provides accurate timing to the second. All flights could be tacked live and this brought a new dimension to the sport of air navigation races. In South Africa fellow racers and others were glued to their phones watching the races live.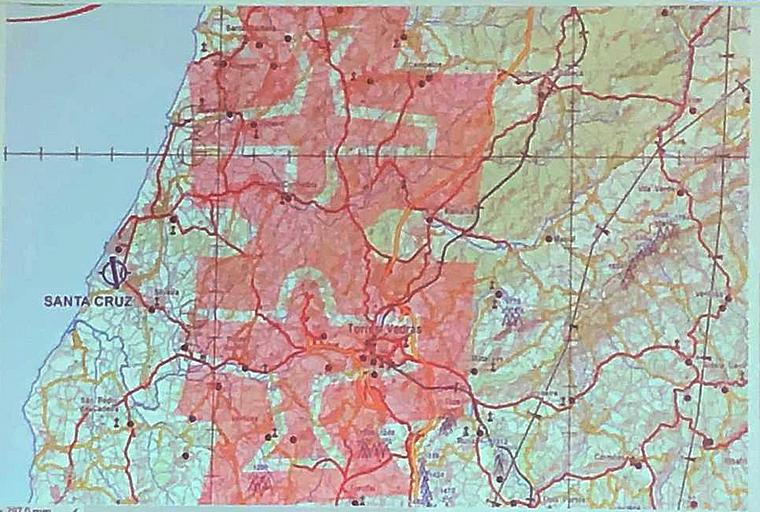 The final day's map showing the corridors in the shape of an aircraft that competitors had to fly in.


Instead of international rules, the championship was flown under local rules. Calculating the scores is a rather complicated system. For the navigation race scores only the first three routes were to be used to ensure that all crews had flown the same number of flights. The navigation score was then combined with the landing scores multiplied by ten which resulted in the final overall score.

First overall were B. Radomski and D. Lechowski of Poland followed by Y. Rabassay and M. Esteve of Spain with A. Scramm and A. Fuchs of France in third place.

Thys van der Merwe and Mary de Klerk finished in 12th place with Hans Schwebel and Ron Stirk in 15th place. Mauritz du Plessis and Sandy Goddard finished 17th, while father and son Jonty and sixteen-year-old Eugene Esser 21st and husband and wife Anthony and Pamela Russel 35th.

The landings were won by B. Radomski and D. Lechowski of Poland with M. Osset and D. Benito of Spain in 2nd place with Mauritz du Plessis and Sandy Goddard taking the bronze in 3rd.

Thys and Mary finished in 15th, the Essers 21st, Hans and Ron 24th and the Russels 39th.

Considering that no more than five air navigation races have been flown in South Africa over the last two years, the performance of our teams in stiff competition with teams that regularly flew this type of air racing was fantastic to say the least.

More races are being planned locally for next year and the idea is to promote air navigation races as a spectator sport.
---
---
Brits ANR (Air Navigation race) Nationals Championships – 25 to 27 July 2019  by Rob Jonkers
The South African Power Flying Association (SAPFA) held a very successful ANR (Air Navigation Race) Nationals Championships at Brits Airfield, spanning 3 days from 25th to 27th July 2019. This event was the qualifier event for selecting the National team to represent South Africa at the World ANR Championships to be held at Santa Cruz Beach Airfield in Portugal from the 5th to 14th September 2019.
This newest form of power flying sport, still needs to take on here in SA, but with so much going on in the Rally arena in preparation for our 2020 World Championships, the ANR has taken a slight backseat, the last event was held in 2017. This meant that most participants were somewhat rusty in this type of event. Thus in the run up to the Nationals, many teams were practicing in prior weeks some old routes and some practice routes.
For this event, it was planned to be held over 3 days, with Thursday being a practice day, with Friday & Saturday the Nationals days. The weather outlook being winter promised to be good, with the usual winter inversion layers and early morning fog, and essentially pristine wind conditions, except for Saturday which had morning fog in the Johannesburg region delaying some teams to arrive, and where the wind picked up somewhat.
The Track shown of Route 3 – an anti-clockwise route
For this ANR, Rob Jonkers took up the role of Competition Director, with still unfamiliar finicky scoring software, which proved daunting with the second route, but eventually solved.
There were 11 crews taking part over the 3 days, with 5 Protea team aspirants to qualify for the team to represent SA at the World's. There were 6 Sportsman or fun teams, most first timers to compete in an ANR event. For Thursday, Jonty Esser provided 4 practice routes, thus the teams had the benefit of practicing how to prepare the map, and fly the routes to assess how well they could maintain their track inside the navigation corridor.

In an ANR, there are only two objectives, the first being on-time at the start and finish gates, each second early or late attracts 3 penalty points. The second objective is to remain inside the corridor which in this case is 0.4 nm wide (+/- 800 m), any excursion outside the corridor also attracts 3 penalty points per second being outside the corridor.
 Competition Director Rob Jonkers briefing the teams on Saturday Morning
For this competition there were four routes to be flown, each at around 25 nm, so the course takes around 20 minutes to complete, which is nice and short but given the amount of concentration and focus required to stay within bounds, a very daunting contest. The navigator has the unenviable task of keeping the pilot on the straight and narrow, and the pilot has to keeping checking that the navigator is doing his job…. Two routes were flown on Friday and the other two on Saturday.
Team Pieter du Plessis & Hendrik Loots Plotting
Team Karen Purchase & Leon Bouttell Plotting
Team Tony & Pam Russell Plotting
The courses all had 10 legs (with the exception of route 3 with 11), which meant that on average the legs were around 1 min to 1.5 min in length, making flying these short legs quite daunting, as one is hardly on a leg when you have to think about turning onto the next leg, and keep track of the time.
The competing aircraft
First off was Jonty and Johnathon Esser in a C150 at 10h15 followed by the rest of the field in 5 minute intervals, some longer if there were aircraft being used twice by different crews. The next round started at 12H30, with the last crews in by 14h00. Then the big task of logger downloads, analyzing and printing results, which for route 2 was complicated by a software hitch, which was eventually solved.
 The teams of competitors
For route 1, Shane Britz and Karen Stroud had the best result with 393 penalties, and for route 2 Jonty & Jonathan Esser with 72 penalties. It was very apparent that if you make a mistake, to recover from it is proven to be quite difficult. In the later afternoon, a landing competition was held, with a barrier landing and a glide approach landing, the winner of this was Hans Schwebel with a score of 44 points.
Adrienne Visser & Piet Meyer plotting
For route 3, Tony & Pam Russell aced it with 15 penalties, which were for timing at the end point, with no corridor excursions, and for route 4 Rob Jonkers and Martin Meyer with 99 penalties, although as Competition Director and having plotted the route a few days ago probably had a little bit of an unfair advantage…..
Ron Stirk & Hans Schwebel having received papers in the plotting area
Thys vd Merwe and Mary de Klerk plotting on practice day
Overall, for the 4 combined routes, Jonty & Jonathan Esser came in 1st place, and with the landings combined, the overall ANR champions were Thys vd Merwe & Mary de Klerk, followed by Jonty & Jonathan Esser in 2nd place, with Tony & Pam Russell in 3rd place.
Winning Landing in C150 ZS-NBT with Hans Schwebel & Ron Stirk
 Shane Britz & Karen Stroud busy plotting
In the Sportsmans class, Leon Bouttell & Karen Purchase took 1st place, Shane Britz & Karen Stroud in 2nd place, Hendrik Loots & Pieter du Plessis in 3rd place.
Winning track of the Competition of Tony & Pam Russell
One of the tracks that went a bit pear shaped
The Google Earth Live track screen, the yellow track being the best of the day for route 4, and the red and green tracks with some wandering around the course up in the north end of the course
This event was for sure enjoyed by all, with the Nationals participants having made the cut-off of 20% of max score, and have been selected to represent South Africa at the World Championship this year in Portugal.
The Nationals Team selected to represent South Africa at the Worlds ANR event in Santa Cruz Beach, Portugal in September 2019
View from a Novice to ANR – Piet Meyer

My navigator and I have been taking part in the SAPFA Speed Rally championship and browsing through the events calendar, noticed the ANR National and just entered having no idea what it entailed. We were under the impression it is just another Nav or Speed Rally. Later when asking the start times etc. we realized that this is no easy and fun flight but the actual National championship for teams to qualify for the world championship held in Portugal later this year.
Adrienne Visser and Piet Meyer

The race format is a very tricky route which is to be flown at 80kts in a 0.4nm corridor. Penalties are allocated for time outside the corridor as well as for each second outside of the allocated start and finish time. Seconds count here and an early finish here will end you up in more hot water than an early finish on your wedding day. Part of the competition also includes two spot landings. One glide approach and one power landing over an obstacle. The Thursday 4 practise routes were flown with two official routes on Friday followed by the spot landings. Saturday two routes with prize giving in the afternoon and then the announcement of the teams qualifying for Worlds in Portugal.

We entered as Sportsman class just to compete and see how we stacked up against the Professionals. Having never done this type of race before we were nervous on Thursday and did the first practice run. Total mess as we missed the first turn and with legs being anything from 45 seconds to 2 minutes, a small mistake can cost you hundreds of points. Here the crew with the least points win. Getting some tips from the professionals, we did the second route and did better. Stayed in the corridor for most of the route. Third and fourth went even better. Our scores ranging from 1200 to 1700. I mentioned to my navigator that "we did not do too bad?" after she repeatedly had to say, turn, watch your speed, stay on track. I got that look from her with the smile that I give parents with new-born babies while saying "What a beautiful baby" although you hope for their sake that the little rat will turn into a human someday. The response from Adrienne "Not too bad. We can do better" ….smile…. One of the routes we scored just over 700 points so we were getting better. The top pilots scored under 100 for some of the routes with Jonty Esser and his son with a score of 23 in one of the routes.

Friday and Saturday, each team is allocated a take-off time, start and finish time. The routes are handed out 45 minutes before your allotted start time. You are given 30minutes to plot the route, 10 minutes to go to the plane and get to the runway for take-off. Then 5 minutes to get to the start and then cross the start on the exact time. Only maps and compass to be used so no GPS, cell phone, Fitbit, or anything allowed. For newbie pilots or those who are getting bored with the cabbage patch flying or the coffee at Zebula, challenge yourself to one of these events. Your skills as a pilot and navigator is greatly increased. My confidence in my flying as well as my aircraft grew more in this one weekend than in the hundreds of hours flying to go get a coffee. When I started flying and saw the articles of these championships and the guys with Protea colours, I always thought that this is way out of our league. I did not want to make a fool of myself amongst these flying gods of whom you read and always watch in awe from a distance. Even though it is a Nationals Championship, the atmosphere is relaxed. Pilots talk, help each other and give tips to us newbies. Everything is well organized with Rob Jonkers doing the official part of downloading loggers and working out scores. Brits Flying club did well in having coffee and food available and a nice fire in the clubhouse to keep all nice and warm in the morning.

Well done to SAPFA and all the guys involved to make this event possible. As a newbie to the sport, I can highly recommend all to try these events. It is not as intimidating as it looks and the knowledge you gain is priceless. Thanks to all for a great weekend and thanks to my navigator who is after everything still flies with me. So, all the weekend warriors, cabbage patch flyers and other flying professionals, dust of those maps, switch off the GPS and come join these SAPFA events. I must warn you however, it is very addictive and you will more likely be able to kick a Heroin addiction but this flying racing habit will stick and there is no cure. We are counting the days to the next event.
---
---
Pietermaritzburg Fun Rally 2019
By Cally Eckard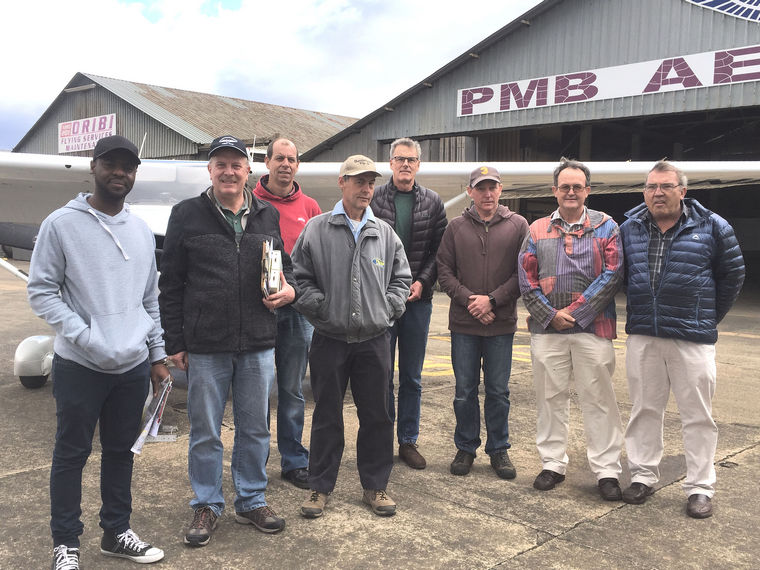 Some of the contestants gathered in front of one of the three club aircraft before the first team took off. From left: Curtis Mutambo, Martin Hellberg, Ian McDonald, Dave Taylor, Mike McDonald, Johan Riekert, Chris Nicholson, and Competition Director Frank Eckard. 


For the first time in 24 years, Pietermaritzburg Aeroclub held a Fun Rally. Frank Eckard, who got his PPL at the club 32 years ago and was on the committee for seven years, has lots of very fond memories of his years spent there and was thrilled to set up a rally on his old stamping ground. 

Martin Hellberg, who was Frank's first navigator and who competed with him in Denmark in 1995, was one of the competitors. Unfortunately, the turn-out was low, despite valiant efforts by club Chief Flying Instructor Telani Lithgow while the predicted weather put some crews off.

Five brave teams eventually took off after a delayed start due to low cloud and all received excellent scores, missing only one turnpoint each - a fabulous feat for first-timers. The route started at a turnpoint near Thornville, crossing the ridge at Richmond, then turned South before joining the Umkomaas and following the valley, then back to Pietermaritzburg via Eston.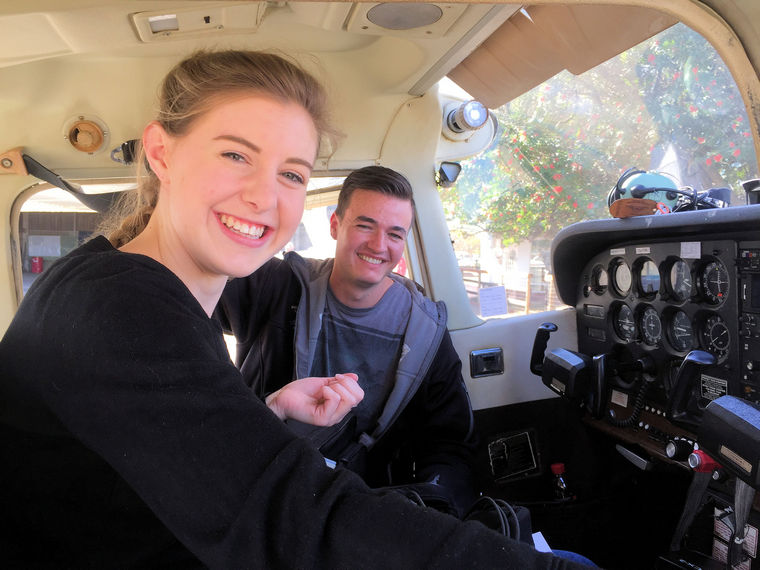 Lara Denton and Adam Winter arrive back at the airfield after the rally.


Unfortunately for Adam Winter and Lara Denton, they had problems setting their clock, and joined the "One-minute Club" - flying the entire route one minute late. This sadly put them in last place, but taught them a valuable lesson they are probably never going to forget. Chris Nicholson takes part in anti-rhino poaching excursions, so was well-prepared for flying low-level VFR, and achieved a fantastic score. Curtis Mutambo, who is working hard on getting his CPL learned a lot of techniques from Martin Hellberg, who was impressed at how much technology has changed the sport.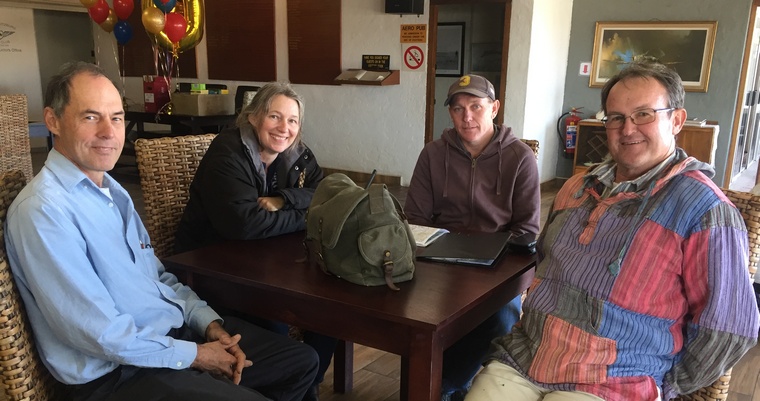 Waiting patiently for their results, whilst recalling their experiences during the rally, Chris Nicholson and Dave Taylor (front) with Telani Lithgow and Johan Rikert (back). 


They all arrived back at the clubhouse begging for another rally to be held soon and are sure to inspire and encourage other pilots in the area. It would be a great event if surrounding clubs would also get involved, as Pietermaritzburg is quite central in KZN and has a large flying area.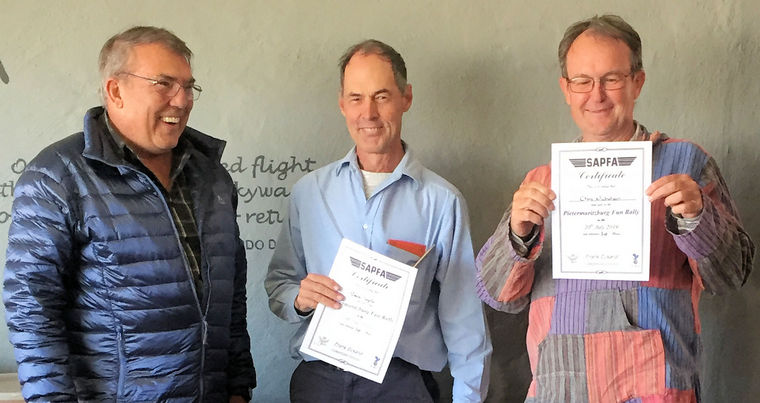 Winners with a terrific score of only 384, Dave Taylor and Chris Nicholson.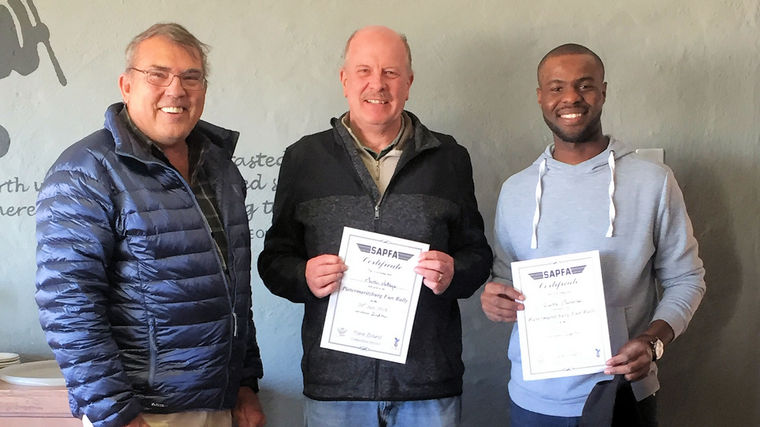 Second place went to the team of Martin Hellberg and Curtis Mutambo.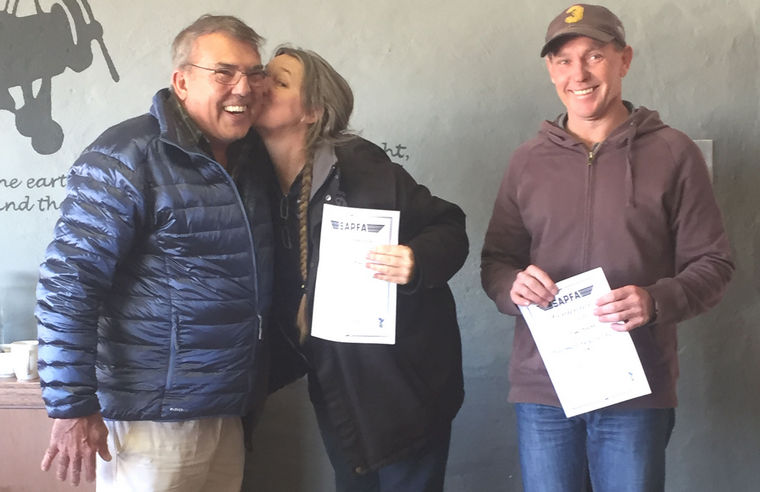 A very grateful third place kiss from Chief Flying Instructor Telani Lithgow and Johan Riekert.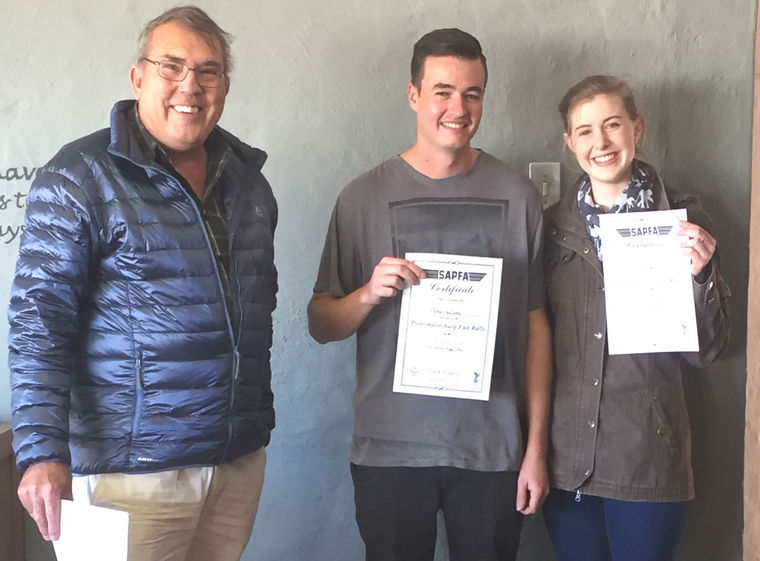 - The team of Adam Winter and Lara Denton were placed fifth after an unfortunate timing error. 

RESULTS 

POSITION PILOT NAVIGATOR AIRCRAFT POINTS
1 Chris Nicholson Dave Taylor Sling2 384
2 Martin Hellberg Curtis Mutambo Cessna 172 507
3 Johan Riekert Telani Lithgow Sling 2 579
4 Ian McDonald Mike McDonald Cessna 172 625
5 Adam Winter Lara Denton Cessna 172 641
---
Sheila Taylor ANR Rally - Krugersdorp 2019
By Cally Eckard and Photos by Willie Bodenstein
Competitors and organisers.


The Sheila Taylor Trophy has traditionally been held as a Fun Rally event, but Krugersdrop members asked if SAPFA could provide something simpler, quicker and more fun. So event organiser Frank Eckard offered an ANR, or Air Navigation Race.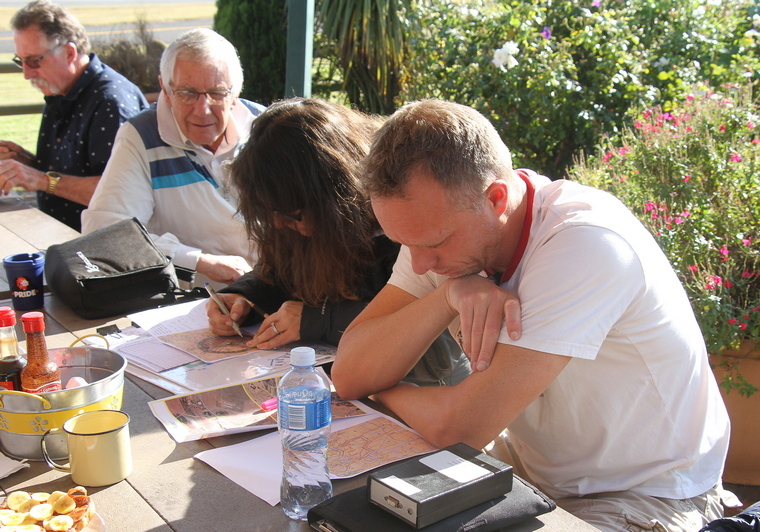 Preparing for the race.


An ANR is similar to a fun rally, but without the photographs, and without time penalties at each turnpoint. Instead of flying from one turnpoint to another, the team must fly along a 0,5NM wide "corridor" which zigzags across the map. They are timed at the Start and Finish points only, and are penalised if they travel out of the bounds of the corridor. The route is much shorter than a rally, and is therefore a cheaper sport.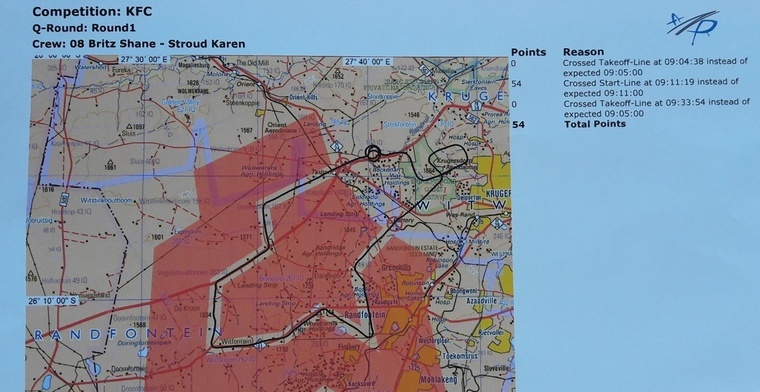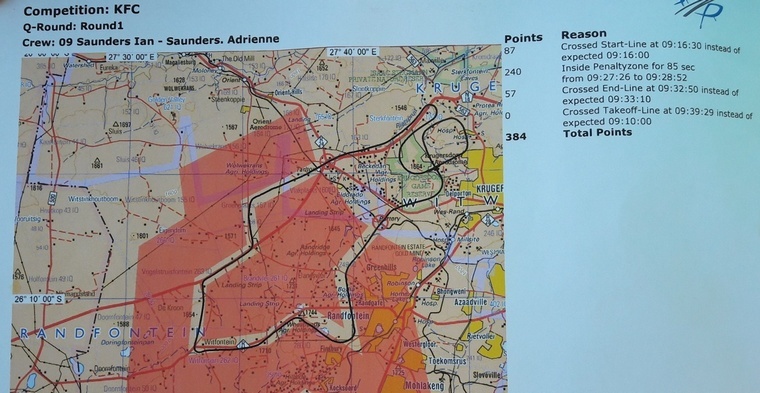 The route showing the track of two of the competitors.


Frank set up two rounds, the second round being optional, for those who felt like getting some practise in.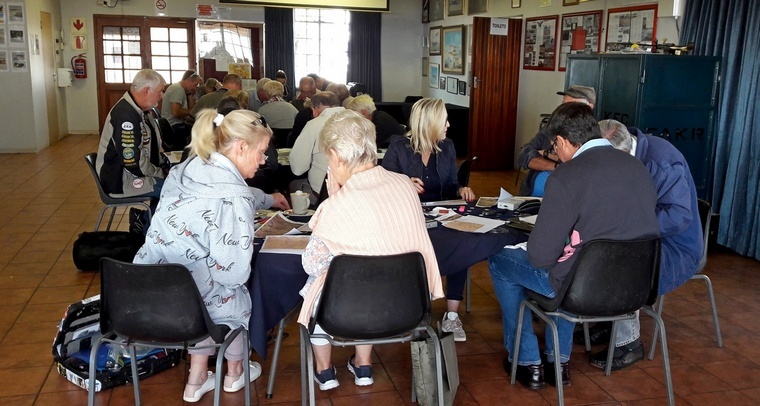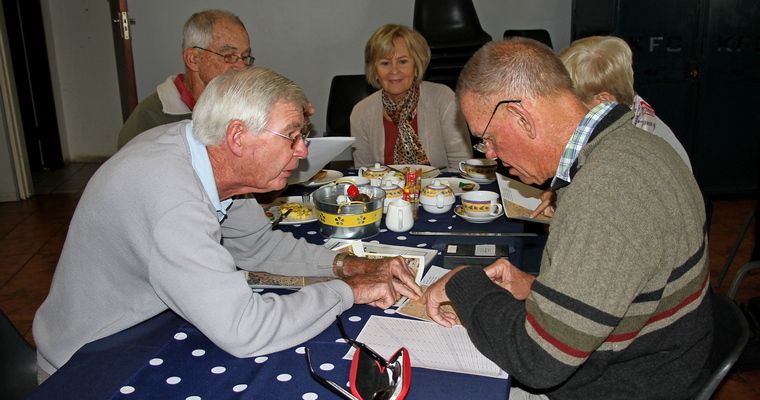 Participants hard at work. 


The weather was absolutely perfect, with not a cloud in the sky, and perfectly still. KFC were all on board, with nine of their teams taking part, and many supporters enjoying the breakfast and special coffees available in the clubhouse.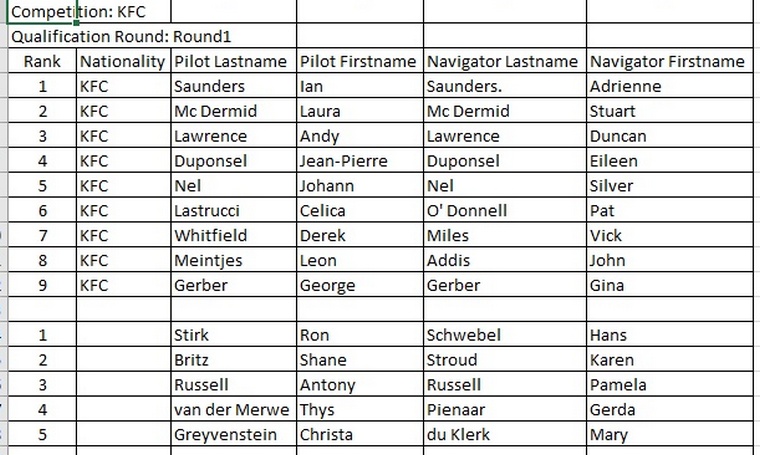 The results.


Five teams from out-of-town also flew in for the day, to try their hands at this relatively new version of the sport, some of them aiming to be selected at ANR Nationals in Brits in July, to represent South Africa in Portugal in September at the World ANR Championships.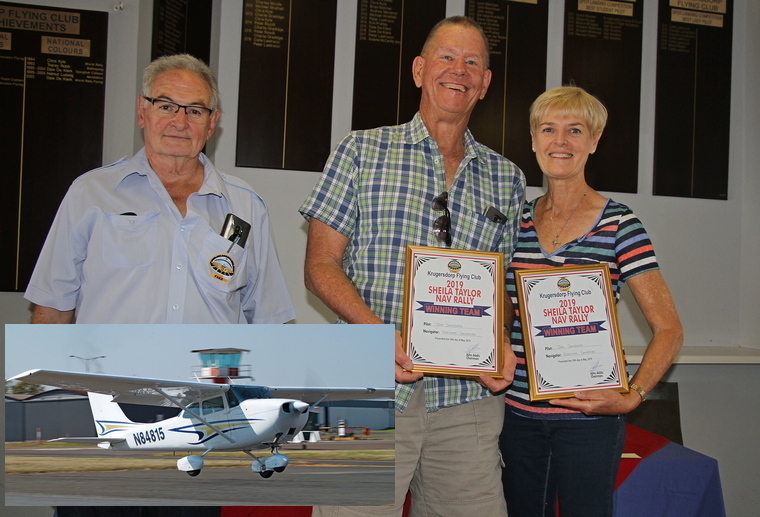 Ian and Adrienne Saunders KFC 1st place.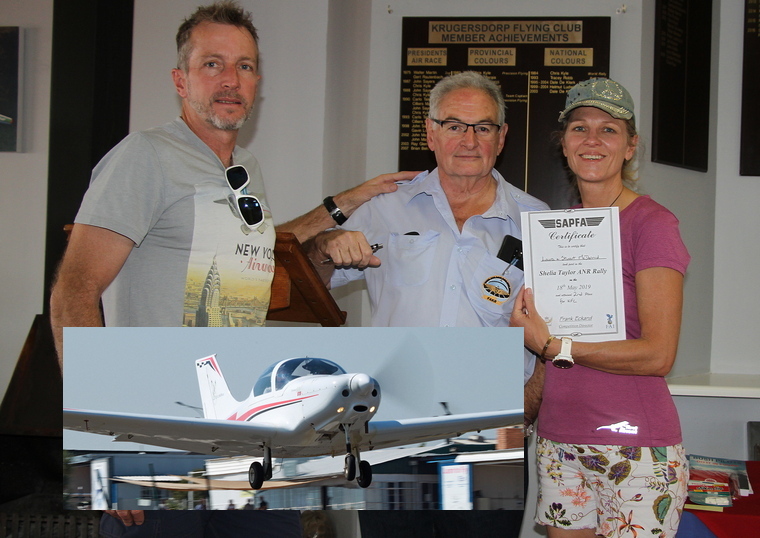 Steve and Laura McDermid KFC 2nd place.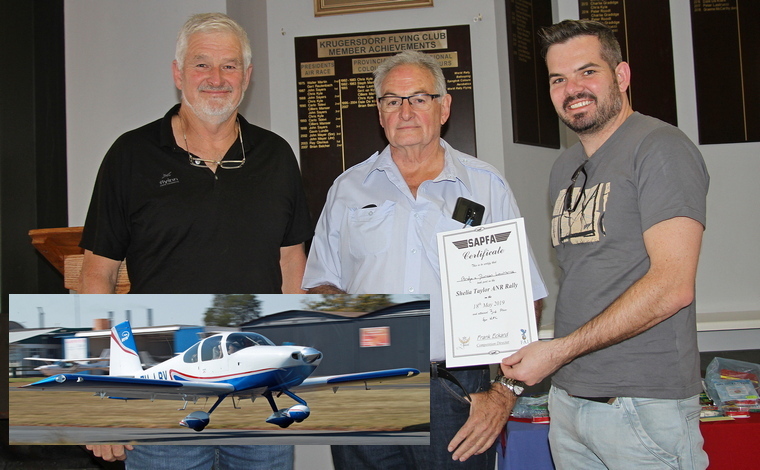 Andy and Duncan Lawrence KFC 3rd place.


Interestingly, there were some aircraft not usually seen at ANR events - a helicopter, a gyrocopter, a Pioneer 300 and an RV10. The speed for an ANR is usually 80kts, but some of these aircraft had nominate different speeds, and Frank had to accommodate these manually. 


Hans Schwebel and Ron Stirk 1st others.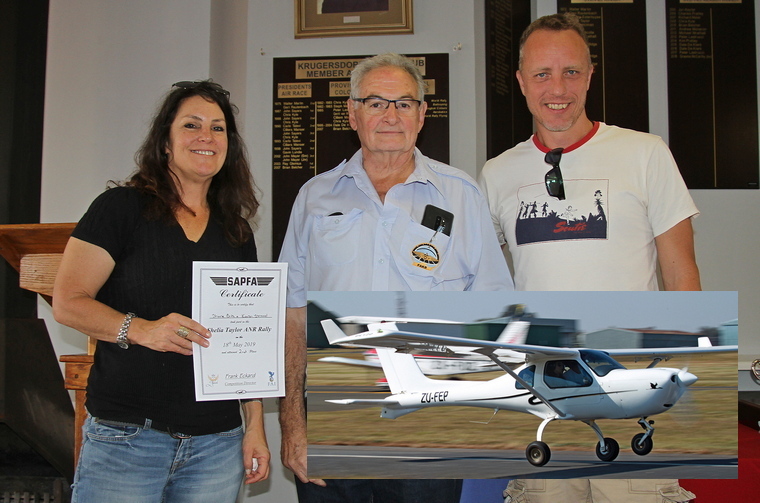 Shane Britz and Karen Stroud 2nd place others.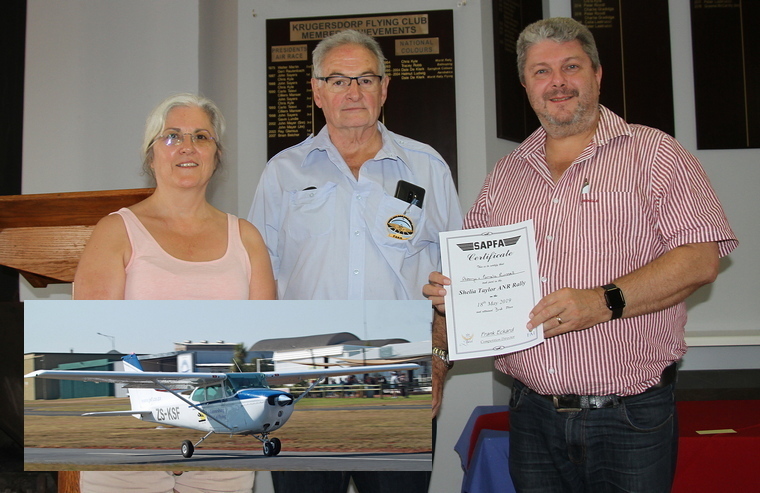 Pamela and Antony Russell 3rd place others.


It was heartening to see so many lady pilots and navigators, husband and wife teams, and father and daughter teams. Flying is definitely becoming more of a family sport, and this is a good thing. 

Please look out for the dates for the ANR Nationals in Brits - all are very welcome. 
---