---
Brits ANR (Air Navigation race) Nationals Championships – 25 to 27 July 2019  by Rob Jonkers
The South African Power Flying Association (SAPFA) held a very successful ANR (Air Navigation Race) Nationals Championships at Brits Airfield, spanning 3 days from 25th to 27th July 2019. This event was the qualifier event for selecting the National team to represent South Africa at the World ANR Championships to be held at Santa Cruz Beach Airfield in Portugal from the 5th to 14th September 2019.
This newest form of power flying sport, still needs to take on here in SA, but with so much going on in the Rally arena in preparation for our 2020 World Championships, the ANR has taken a slight backseat, the last event was held in 2017. This meant that most participants were somewhat rusty in this type of event. Thus in the run up to the Nationals, many teams were practicing in prior weeks some old routes and some practice routes.
For this event, it was planned to be held over 3 days, with Thursday being a practice day, with Friday & Saturday the Nationals days. The weather outlook being winter promised to be good, with the usual winter inversion layers and early morning fog, and essentially pristine wind conditions, except for Saturday which had morning fog in the Johannesburg region delaying some teams to arrive, and where the wind picked up somewhat.
The Track shown of Route 3 – an anti-clockwise route
For this ANR, Rob Jonkers took up the role of Competition Director, with still unfamiliar finicky scoring software, which proved daunting with the second route, but eventually solved.
There were 11 crews taking part over the 3 days, with 5 Protea team aspirants to qualify for the team to represent SA at the World's. There were 6 Sportsman or fun teams, most first timers to compete in an ANR event. For Thursday, Jonty Esser provided 4 practice routes, thus the teams had the benefit of practicing how to prepare the map, and fly the routes to assess how well they could maintain their track inside the navigation corridor.

In an ANR, there are only two objectives, the first being on-time at the start and finish gates, each second early or late attracts 3 penalty points. The second objective is to remain inside the corridor which in this case is 0.4 nm wide (+/- 800 m), any excursion outside the corridor also attracts 3 penalty points per second being outside the corridor.
 Competition Director Rob Jonkers briefing the teams on Saturday Morning
For this competition there were four routes to be flown, each at around 25 nm, so the course takes around 20 minutes to complete, which is nice and short but given the amount of concentration and focus required to stay within bounds, a very daunting contest. The navigator has the unenviable task of keeping the pilot on the straight and narrow, and the pilot has to keeping checking that the navigator is doing his job…. Two routes were flown on Friday and the other two on Saturday.
Team Pieter du Plessis & Hendrik Loots Plotting
Team Karen Purchase & Leon Bouttell Plotting
Team Tony & Pam Russell Plotting
The courses all had 10 legs (with the exception of route 3 with 11), which meant that on average the legs were around 1 min to 1.5 min in length, making flying these short legs quite daunting, as one is hardly on a leg when you have to think about turning onto the next leg, and keep track of the time.
The competing aircraft
First off was Jonty and Johnathon Esser in a C150 at 10h15 followed by the rest of the field in 5 minute intervals, some longer if there were aircraft being used twice by different crews. The next round started at 12H30, with the last crews in by 14h00. Then the big task of logger downloads, analyzing and printing results, which for route 2 was complicated by a software hitch, which was eventually solved.
 The teams of competitors
For route 1, Shane Britz and Karen Stroud had the best result with 393 penalties, and for route 2 Jonty & Jonathan Esser with 72 penalties. It was very apparent that if you make a mistake, to recover from it is proven to be quite difficult. In the later afternoon, a landing competition was held, with a barrier landing and a glide approach landing, the winner of this was Hans Schwebel with a score of 44 points.
Adrienne Visser & Piet Meyer plotting
For route 3, Tony & Pam Russell aced it with 15 penalties, which were for timing at the end point, with no corridor excursions, and for route 4 Rob Jonkers and Martin Meyer with 99 penalties, although as Competition Director and having plotted the route a few days ago probably had a little bit of an unfair advantage…..
Ron Stirk & Hans Schwebel having received papers in the plotting area
Thys vd Merwe and Mary de Klerk plotting on practice day
Overall, for the 4 combined routes, Jonty & Jonathan Esser came in 1st place, and with the landings combined, the overall ANR champions were Thys vd Merwe & Mary de Klerk, followed by Jonty & Jonathan Esser in 2nd place, with Tony & Pam Russell in 3rd place.
Winning Landing in C150 ZS-NBT with Hans Schwebel & Ron Stirk
 Shane Britz & Karen Stroud busy plotting
In the Sportsmans class, Leon Bouttell & Karen Purchase took 1st place, Shane Britz & Karen Stroud in 2nd place, Hendrik Loots & Pieter du Plessis in 3rd place.
Winning track of the Competition of Tony & Pam Russell
One of the tracks that went a bit pear shaped
The Google Earth Live track screen, the yellow track being the best of the day for route 4, and the red and green tracks with some wandering around the course up in the north end of the course
This event was for sure enjoyed by all, with the Nationals participants having made the cut-off of 20% of max score, and have been selected to represent South Africa at the World Championship this year in Portugal.
The Nationals Team selected to represent South Africa at the Worlds ANR event in Santa Cruz Beach, Portugal in September 2019
View from a Novice to ANR – Piet Meyer

My navigator and I have been taking part in the SAPFA Speed Rally championship and browsing through the events calendar, noticed the ANR National and just entered having no idea what it entailed. We were under the impression it is just another Nav or Speed Rally. Later when asking the start times etc. we realized that this is no easy and fun flight but the actual National championship for teams to qualify for the world championship held in Portugal later this year.
Adrienne Visser and Piet Meyer

The race format is a very tricky route which is to be flown at 80kts in a 0.4nm corridor. Penalties are allocated for time outside the corridor as well as for each second outside of the allocated start and finish time. Seconds count here and an early finish here will end you up in more hot water than an early finish on your wedding day. Part of the competition also includes two spot landings. One glide approach and one power landing over an obstacle. The Thursday 4 practise routes were flown with two official routes on Friday followed by the spot landings. Saturday two routes with prize giving in the afternoon and then the announcement of the teams qualifying for Worlds in Portugal.

We entered as Sportsman class just to compete and see how we stacked up against the Professionals. Having never done this type of race before we were nervous on Thursday and did the first practice run. Total mess as we missed the first turn and with legs being anything from 45 seconds to 2 minutes, a small mistake can cost you hundreds of points. Here the crew with the least points win. Getting some tips from the professionals, we did the second route and did better. Stayed in the corridor for most of the route. Third and fourth went even better. Our scores ranging from 1200 to 1700. I mentioned to my navigator that "we did not do too bad?" after she repeatedly had to say, turn, watch your speed, stay on track. I got that look from her with the smile that I give parents with new-born babies while saying "What a beautiful baby" although you hope for their sake that the little rat will turn into a human someday. The response from Adrienne "Not too bad. We can do better" ….smile…. One of the routes we scored just over 700 points so we were getting better. The top pilots scored under 100 for some of the routes with Jonty Esser and his son with a score of 23 in one of the routes.

Friday and Saturday, each team is allocated a take-off time, start and finish time. The routes are handed out 45 minutes before your allotted start time. You are given 30minutes to plot the route, 10 minutes to go to the plane and get to the runway for take-off. Then 5 minutes to get to the start and then cross the start on the exact time. Only maps and compass to be used so no GPS, cell phone, Fitbit, or anything allowed. For newbie pilots or those who are getting bored with the cabbage patch flying or the coffee at Zebula, challenge yourself to one of these events. Your skills as a pilot and navigator is greatly increased. My confidence in my flying as well as my aircraft grew more in this one weekend than in the hundreds of hours flying to go get a coffee. When I started flying and saw the articles of these championships and the guys with Protea colours, I always thought that this is way out of our league. I did not want to make a fool of myself amongst these flying gods of whom you read and always watch in awe from a distance. Even though it is a Nationals Championship, the atmosphere is relaxed. Pilots talk, help each other and give tips to us newbies. Everything is well organized with Rob Jonkers doing the official part of downloading loggers and working out scores. Brits Flying club did well in having coffee and food available and a nice fire in the clubhouse to keep all nice and warm in the morning.

Well done to SAPFA and all the guys involved to make this event possible. As a newbie to the sport, I can highly recommend all to try these events. It is not as intimidating as it looks and the knowledge you gain is priceless. Thanks to all for a great weekend and thanks to my navigator who is after everything still flies with me. So, all the weekend warriors, cabbage patch flyers and other flying professionals, dust of those maps, switch off the GPS and come join these SAPFA events. I must warn you however, it is very addictive and you will more likely be able to kick a Heroin addiction but this flying racing habit will stick and there is no cure. We are counting the days to the next event.
---
---
Pietermaritzburg Fun Rally 2019
By Cally Eckard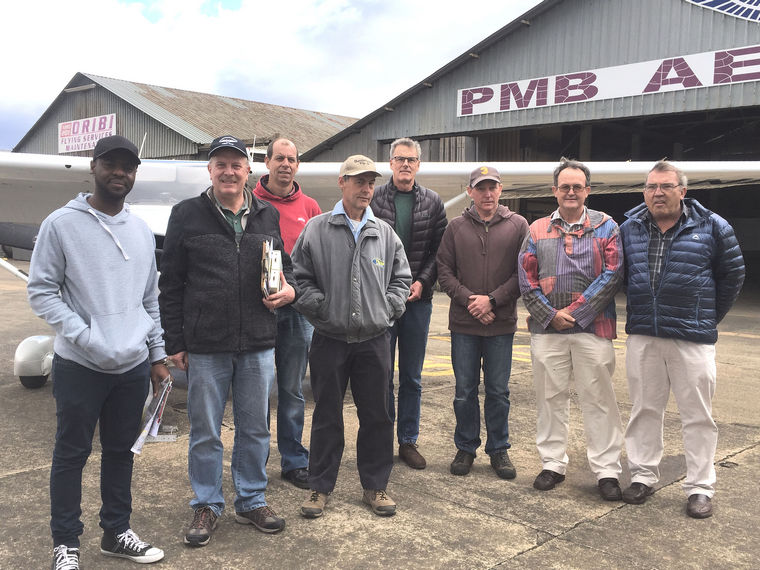 Some of the contestants gathered in front of one of the three club aircraft before the first team took off. From left: Curtis Mutambo, Martin Hellberg, Ian McDonald, Dave Taylor, Mike McDonald, Johan Riekert, Chris Nicholson, and Competition Director Frank Eckard. 


For the first time in 24 years, Pietermaritzburg Aeroclub held a Fun Rally. Frank Eckard, who got his PPL at the club 32 years ago and was on the committee for seven years, has lots of very fond memories of his years spent there and was thrilled to set up a rally on his old stamping ground. 

Martin Hellberg, who was Frank's first navigator and who competed with him in Denmark in 1995, was one of the competitors. Unfortunately, the turn-out was low, despite valiant efforts by club Chief Flying Instructor Telani Lithgow while the predicted weather put some crews off.

Five brave teams eventually took off after a delayed start due to low cloud and all received excellent scores, missing only one turnpoint each - a fabulous feat for first-timers. The route started at a turnpoint near Thornville, crossing the ridge at Richmond, then turned South before joining the Umkomaas and following the valley, then back to Pietermaritzburg via Eston.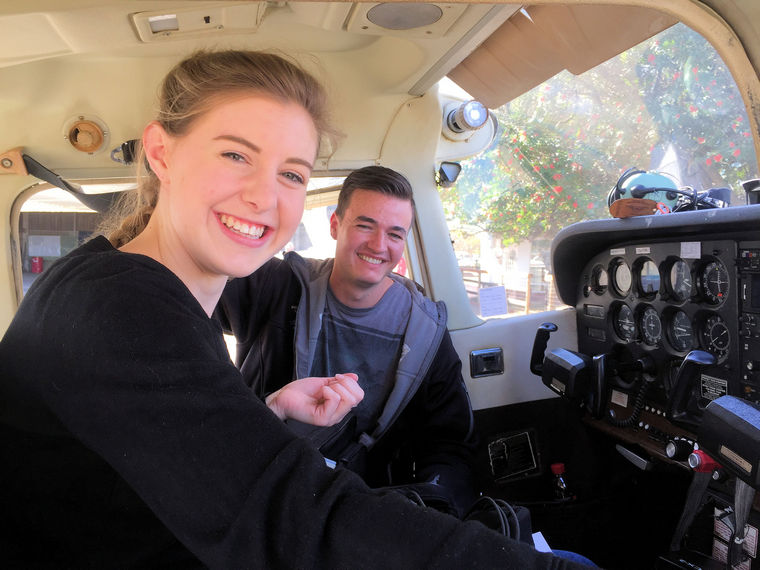 Lara Denton and Adam Winter arrive back at the airfield after the rally.


Unfortunately for Adam Winter and Lara Denton, they had problems setting their clock, and joined the "One-minute Club" - flying the entire route one minute late. This sadly put them in last place, but taught them a valuable lesson they are probably never going to forget. Chris Nicholson takes part in anti-rhino poaching excursions, so was well-prepared for flying low-level VFR, and achieved a fantastic score. Curtis Mutambo, who is working hard on getting his CPL learned a lot of techniques from Martin Hellberg, who was impressed at how much technology has changed the sport.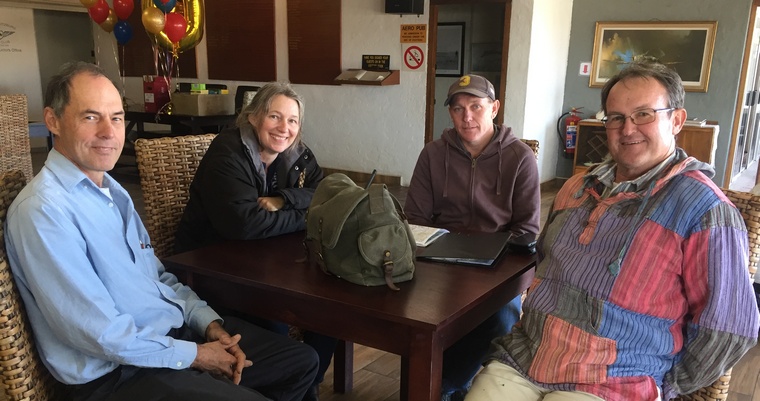 Waiting patiently for their results, whilst recalling their experiences during the rally, Chris Nicholson and Dave Taylor (front) with Telani Lithgow and Johan Rikert (back). 


They all arrived back at the clubhouse begging for another rally to be held soon and are sure to inspire and encourage other pilots in the area. It would be a great event if surrounding clubs would also get involved, as Pietermaritzburg is quite central in KZN and has a large flying area.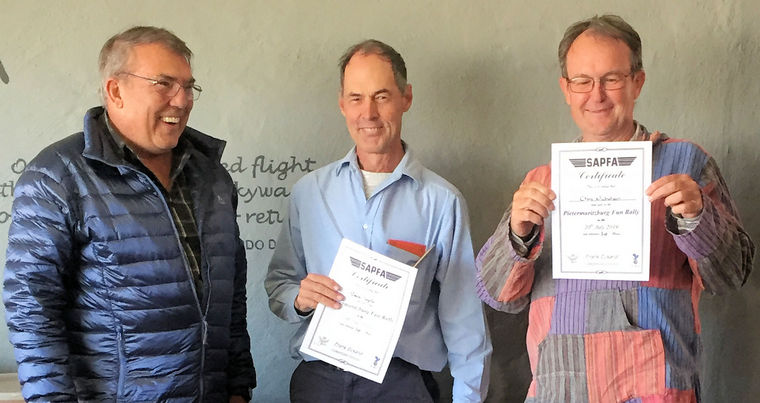 Winners with a terrific score of only 384, Dave Taylor and Chris Nicholson.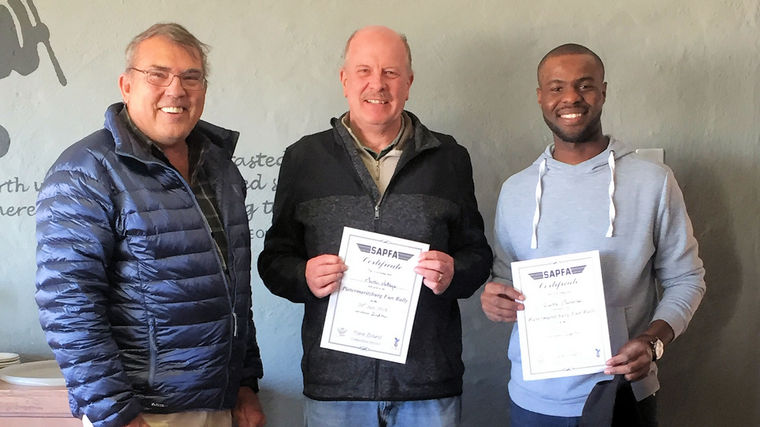 Second place went to the team of Martin Hellberg and Curtis Mutambo.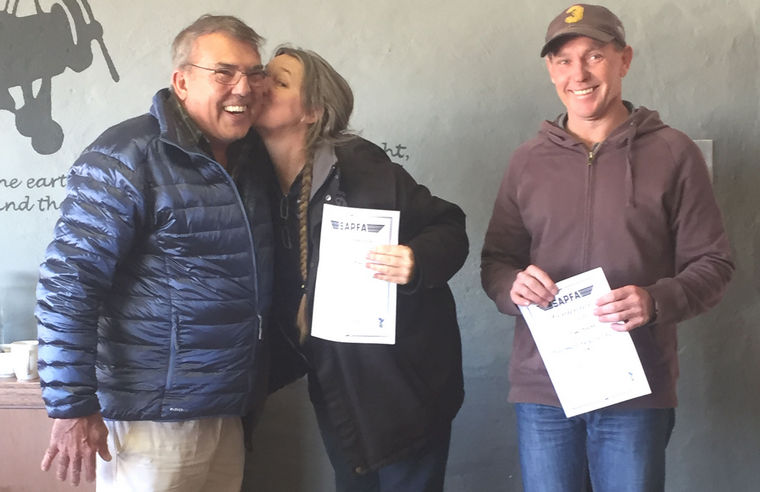 A very grateful third place kiss from Chief Flying Instructor Telani Lithgow and Johan Riekert.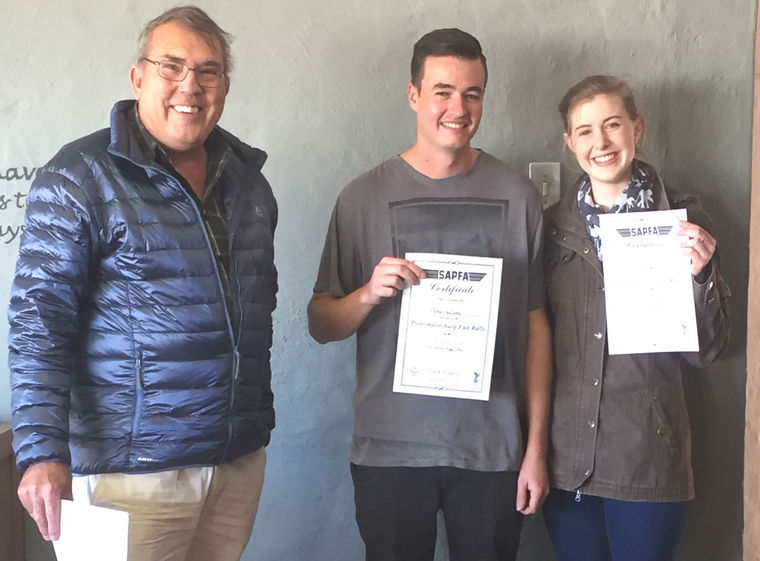 - The team of Adam Winter and Lara Denton were placed fifth after an unfortunate timing error. 

RESULTS 

POSITION PILOT NAVIGATOR AIRCRAFT POINTS
1 Chris Nicholson Dave Taylor Sling2 384
2 Martin Hellberg Curtis Mutambo Cessna 172 507
3 Johan Riekert Telani Lithgow Sling 2 579
4 Ian McDonald Mike McDonald Cessna 172 625
5 Adam Winter Lara Denton Cessna 172 641
---
Sheila Taylor ANR Rally - Krugersdorp 2019
By Cally Eckard and Photos by Willie Bodenstein
Competitors and organisers.


The Sheila Taylor Trophy has traditionally been held as a Fun Rally event, but Krugersdrop members asked if SAPFA could provide something simpler, quicker and more fun. So event organiser Frank Eckard offered an ANR, or Air Navigation Race.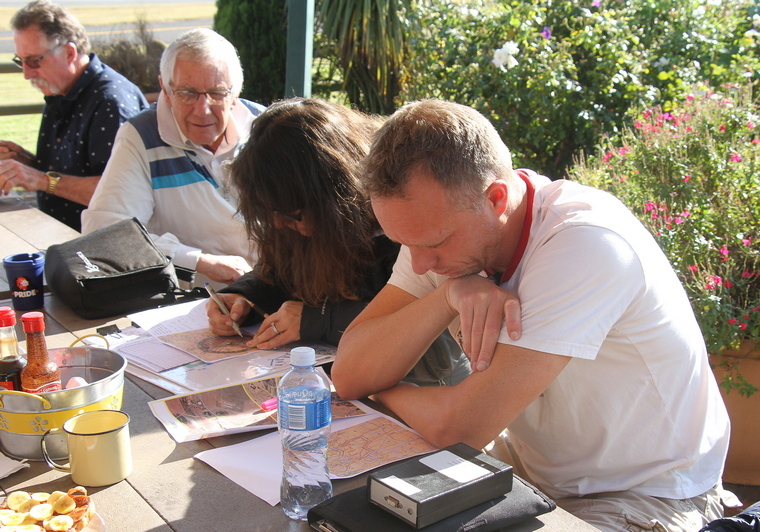 Preparing for the race.


An ANR is similar to a fun rally, but without the photographs, and without time penalties at each turnpoint. Instead of flying from one turnpoint to another, the team must fly along a 0,5NM wide "corridor" which zigzags across the map. They are timed at the Start and Finish points only, and are penalised if they travel out of the bounds of the corridor. The route is much shorter than a rally, and is therefore a cheaper sport.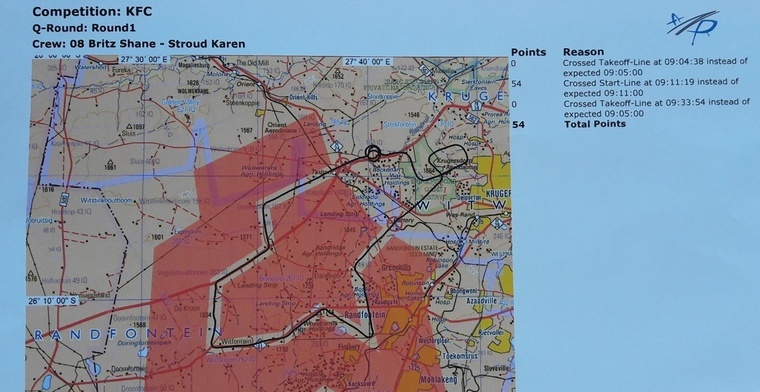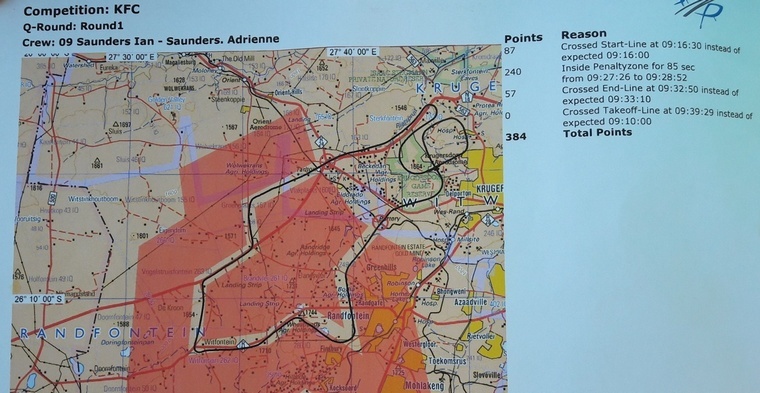 The route showing the track of two of the competitors.


Frank set up two rounds, the second round being optional, for those who felt like getting some practise in.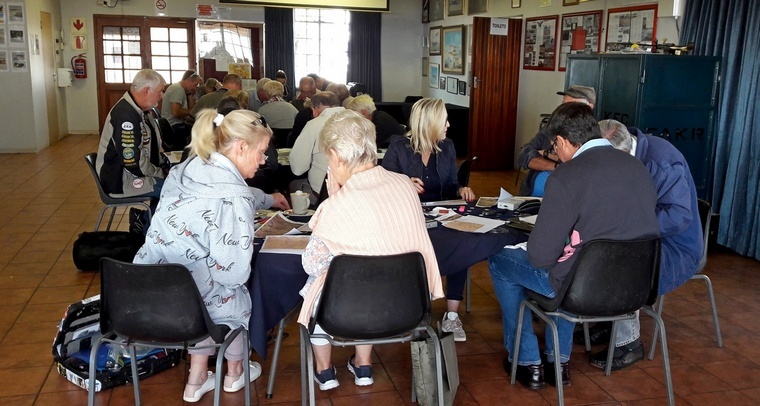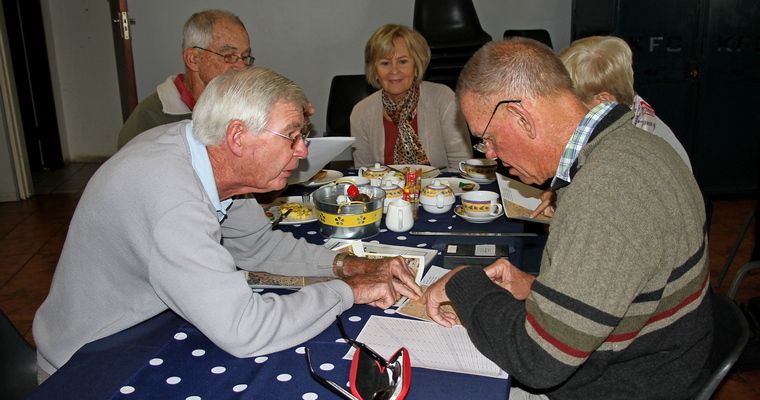 Participants hard at work. 


The weather was absolutely perfect, with not a cloud in the sky, and perfectly still. KFC were all on board, with nine of their teams taking part, and many supporters enjoying the breakfast and special coffees available in the clubhouse.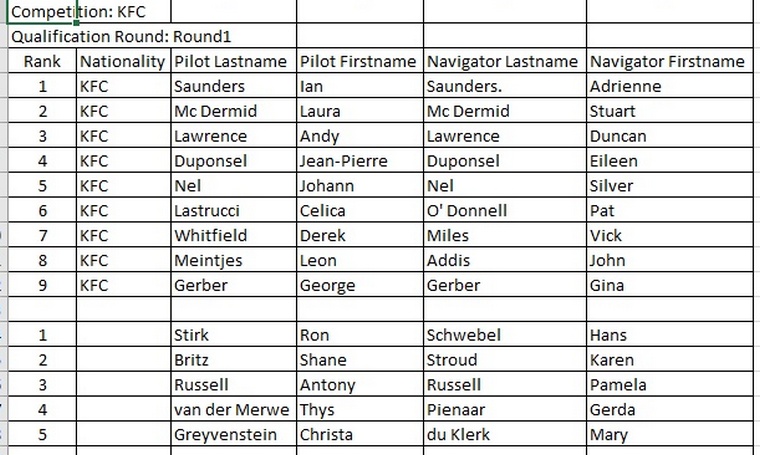 The results.


Five teams from out-of-town also flew in for the day, to try their hands at this relatively new version of the sport, some of them aiming to be selected at ANR Nationals in Brits in July, to represent South Africa in Portugal in September at the World ANR Championships.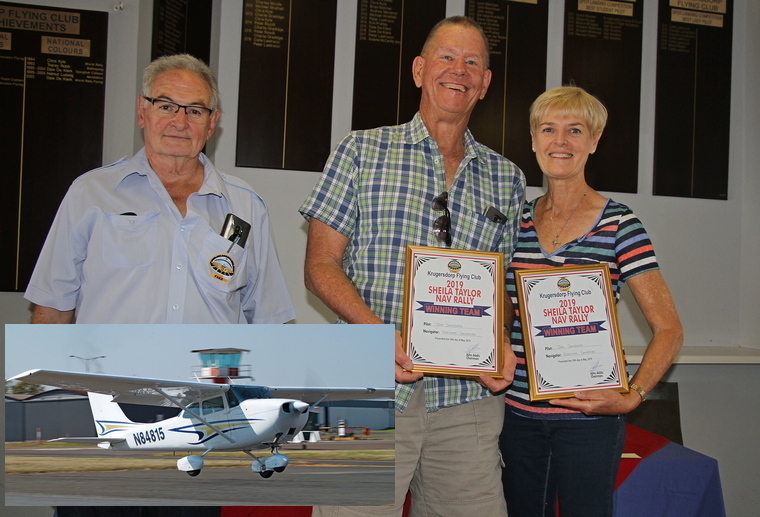 Ian and Adrienne Saunders KFC 1st place.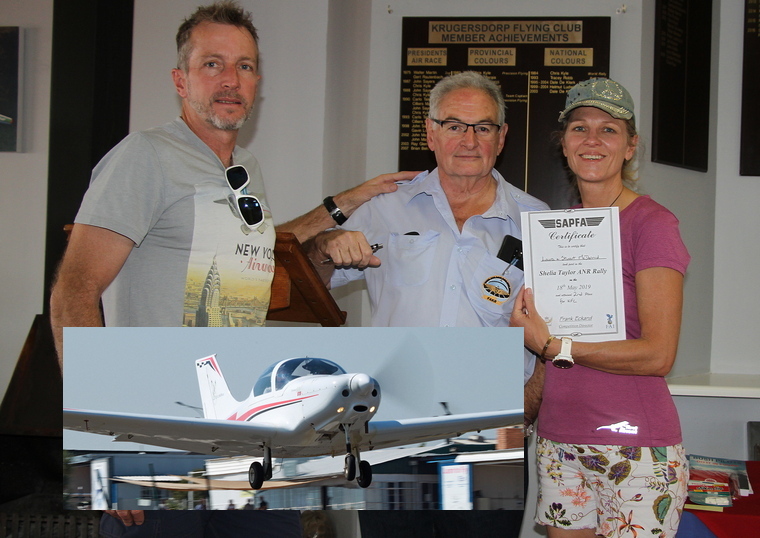 Steve and Laura McDermid KFC 2nd place.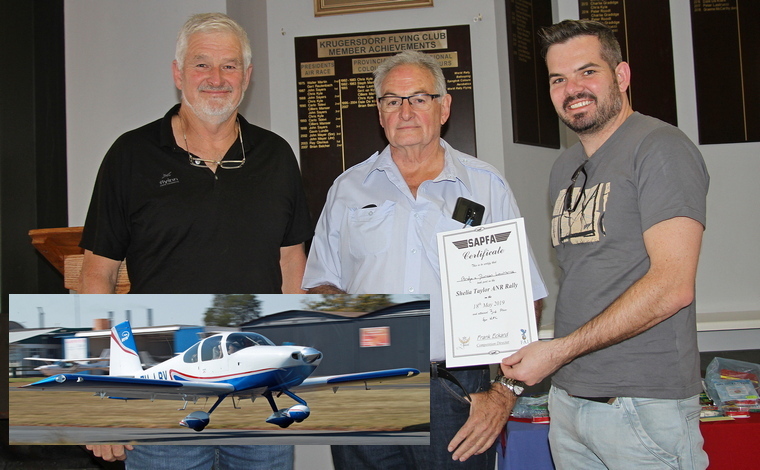 Andy and Duncan Lawrence KFC 3rd place.


Interestingly, there were some aircraft not usually seen at ANR events - a helicopter, a gyrocopter, a Pioneer 300 and an RV10. The speed for an ANR is usually 80kts, but some of these aircraft had nominate different speeds, and Frank had to accommodate these manually. 


Hans Schwebel and Ron Stirk 1st others.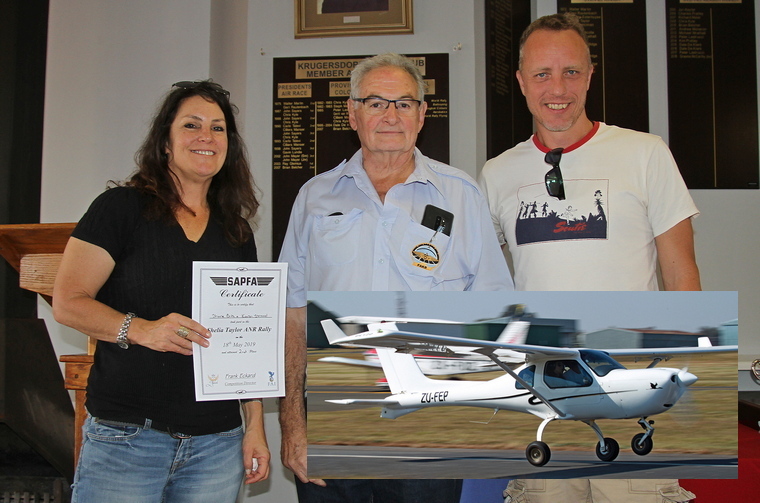 Shane Britz and Karen Stroud 2nd place others.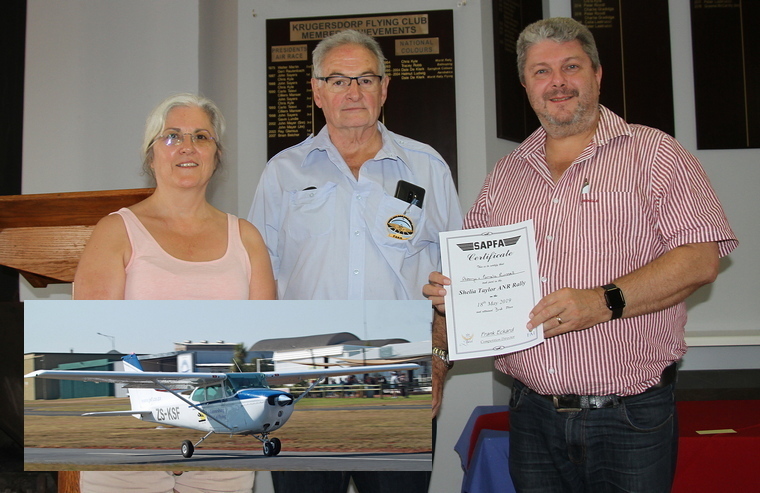 Pamela and Antony Russell 3rd place others.


It was heartening to see so many lady pilots and navigators, husband and wife teams, and father and daughter teams. Flying is definitely becoming more of a family sport, and this is a good thing. 

Please look out for the dates for the ANR Nationals in Brits - all are very welcome. 
---
---
The 2019 Edition of the PTAR was held  3rd & 4th of May 2019 in Saldanha Bay
Go to this page for more details http://www.sapfa.co.za/index.php/presidents-air-race
Link to the PTAR facebook Page https://www.facebook.com/presidentstrophyairrace/
---
Overall Results
---
---
Trophy List of Awards
---
---
---
2019 National Rally Flying Championships-Stellenbosch
By Cally Eckard

Early April found all South African rally flying hopefuls converging on Stellenbosch Flying Club for the 2019 Rally Flying Championships. Unlike other years, 2019 is not a selection competition, but was regarded as a training event, and a measurement of progress on the long road to the next World Rally Flying Championships which will be held in Stellenbosch in November 2020. Entering a local world event is an once-in-a-lifetime opportunity to participate in a competition that would earn Protea colours.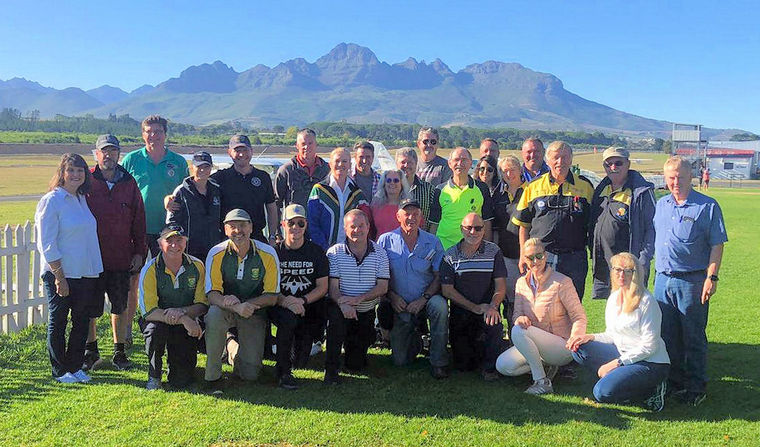 Contestants gather at Stellenbosch airfield against the backdrop of the mountains before setting off on the second day's route at the 2019 Rally National Championships last weekend

SAPFA has revealed that it would like to select as many as ten teams to this prestigious event, and it is looking for "new blood" amongst the rally flying fraternity. To this end, the organisers have been "head-hunting" prospective teams from recent rallies, and Speed Rallies. They have invited them to training sessions on plotting the routes, the role of the pilot, communication in the cockpit, and photo recognition. This resulted in a very large field of 17 crews, the largest in recent years for Nationals, some of whom have flown only a few rallies.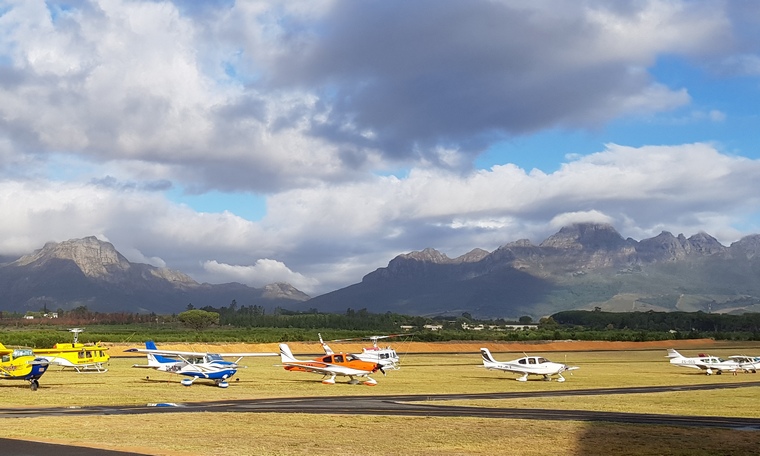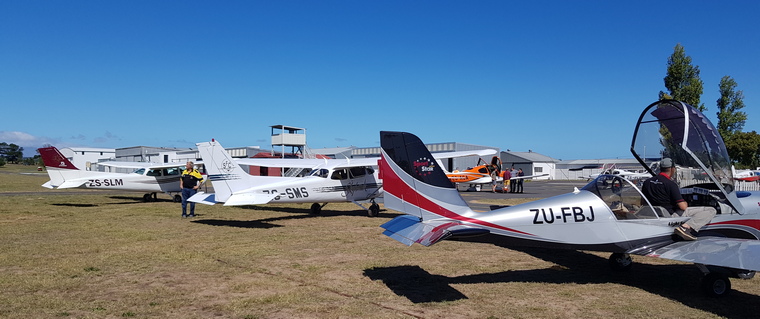 Competitor's aircraft parked at Stellenbosch Airfield. Arguably the prettiest field in the country 


A team of very young local pilots experienced their first rally on Friday in Class 3 category, then went on to fly their first Class 1 rally the next day, and managed very well. They were Jovan Barkenhuizen and JD Stofberg from Cape Town, and were severely disadvantaged by flying their Rockwell Commander at a ground speed of 115 knots. Jovan was first introduced to Speed Rallies at Morning Star Airfield a few months ago, where he took first place.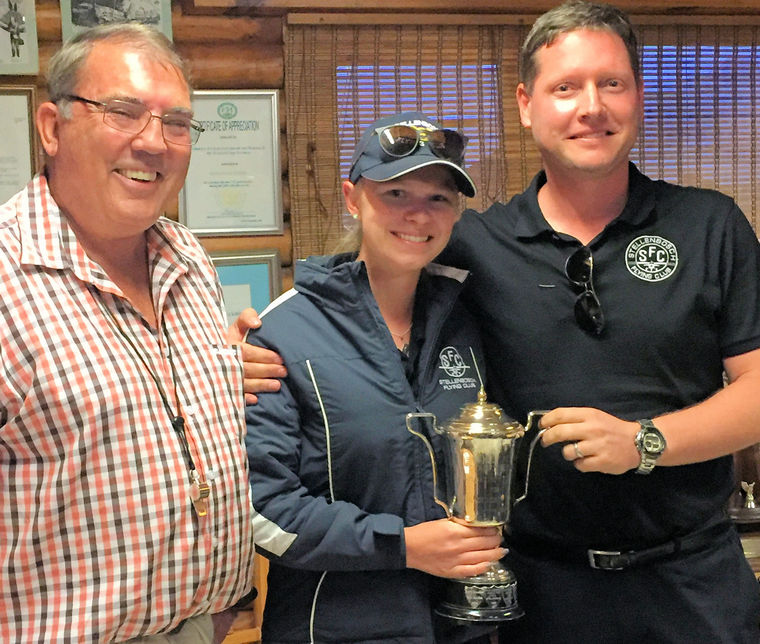 Stellenbosch Flying Club's own student Ashleigh Prinsloo and Marko Nel, her instructor, couldn't have been prouder to win the landing trophy, scoring two perfect "bingo" landings


Another local team was that of Marko Nel, chief flying instructor, and his student Ashleigh Prinsloo from Stellenbosch, who are one of the teams to look out for. Ashleigh blew everyone away with her landing score of 2 bingos, and for this they walked away with the Landing Prize.

Our competition also attracted a team from Austria, consisting of Walter Dworschak and Michael Riedel. Unfortunately their licence validations were not available in time, so they had to fly with a local pilot. However, they thoroughly enjoyed the challenging routes and beautiful scenery, and will be back for the next championships. 

The other team which must be mentioned is that of Nigel Hopkins and Mary de Klerk. Mary, a Protea pilot and navigator in her own right, well known in Rally and Precision circles all over the world, has teamed up with ex-rally pilot Nigel, who has made a name for himself in recent years in the aerobatics world. Nigel has returned to Rally, and it seems his skills are as sharp as ever. With Mary's broken shoulder strapped up, they still managed to win the championships with a very impressive performance. 

The competition was supposed to begin on Thursday 4 April, but the weather was unsuitable for any kind of flying, so Mary de Klerk took the opportunity to fit in some extra training for the less experienced pilots and navigators, who afterwards all agreed that what they learned was invaluable.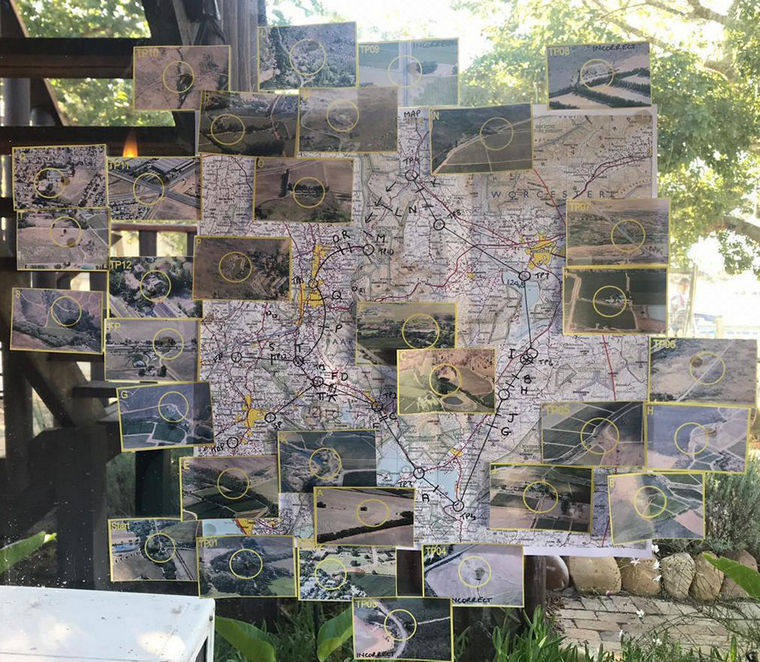 The master map, showing the route, turn points, ground targets and observation photos on the second day's Mountain Route 

Friday's weather was somewhat clearer, so it was decided to fly the "Bad Weather" route, which took the teams to the North of Stellenbosch, in a clockwise track towards the coast, narrowly skirting around the South of Fisantekraal, then Eastward towards Riebeeck-Kasteel, following the railway line towards Wellington, then heading back towards Stellenbosch. Navigation in this area was very difficult, especially for up-country pilots who are not used to the small farms and details in the terrain. 

The results for Day 1 were:




Day 2 brought clear skies and no wind - a perfect day to fly the Mountain Route, a spectacular tour which began from Stellenbosch, leading down the Franschoek valley, over the Franschoek Mountain, over Theewaterskloof Dam, and Villiersdorp, over Kwaggaskloof and Brandvlei dams South of Worcester, Northwest along the Breerivier then turning back over the mountains by way of the Bain's Kloof Pass, carefully following two "arcs" in opposite directions over Wellington and Paarl, finally ending at a railway station North of Stellenbosch. Unfortunately for the navigators, the plot was very difficult, and some were completely flummoxed by it. However, it was a good lesson in how to cope with a world-class route under challenging circumstances. 

Three teams competed in Class 3, which on this occasion merely meant that they plotted on the ground instead of in the airplane. Their scoring was the same as Class 1, and their observation targets were the same.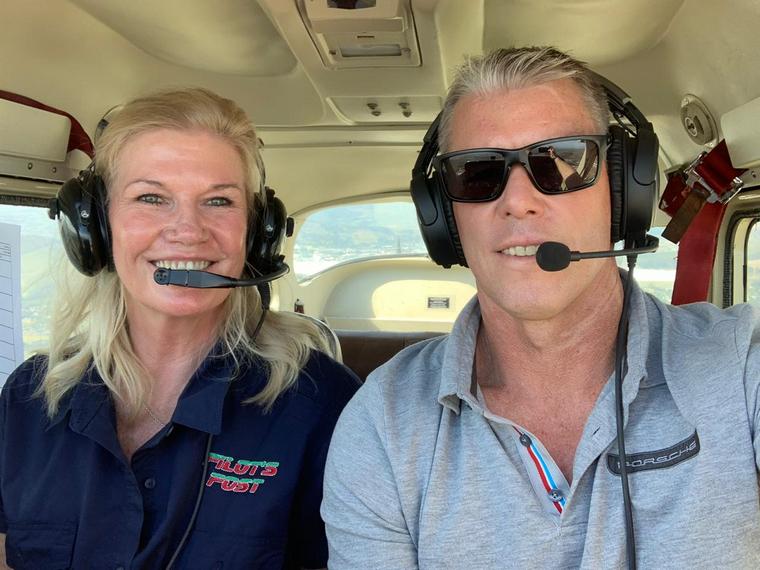 Mary de Klerk, a Protea pilot and navigator in her own right, well known in Rally and Precision circles all over the world, has teamed up with ex-rally pilot Nigel Hopkins, who has made a name for himself in recent years in the aerobatics world. Nigel has returned to Rally, and it seems his skills are as sharp as ever


Challenges that were insurmountable for two of the crews were flat tyres and broken brakes, meaning that the up-and-coming teams of Chris and Ryan Shillaw in their Cirrus, and Leon Bouttell and Karen Purchase in their Sportstar were sadly out of the competition before their day began. However, all intend to fly the route on their own in order to gain experience.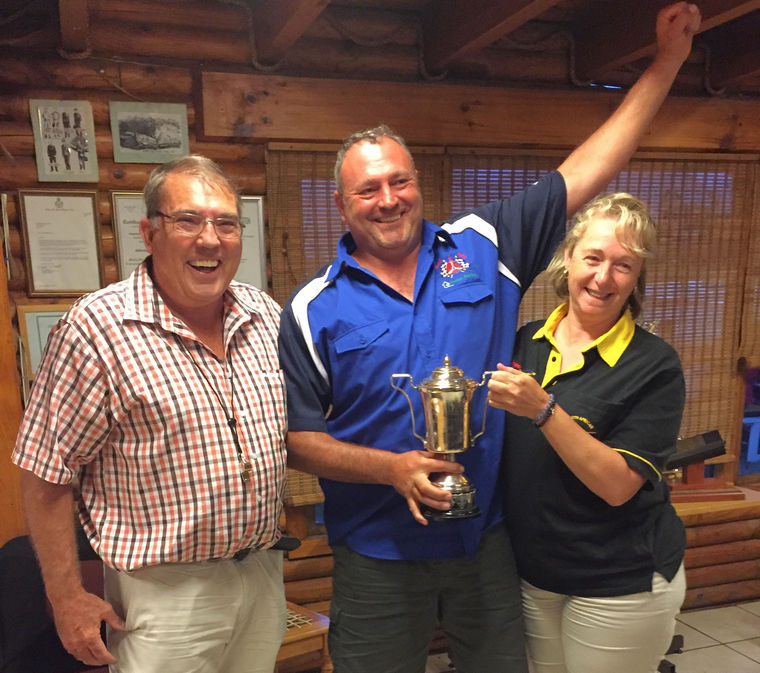 Jonty Esser and Sandi Goddard have represented South Africa for several years in Rally Flying, and were pleased to receive their medals for third place in the championships this year

The results for Day 2 were:



The Chief Judge and organisers then had the privilege of announcing the winners of the event at an informal ceremony on the Saturday evening, after which the club organised a braai for the competitors and organisers.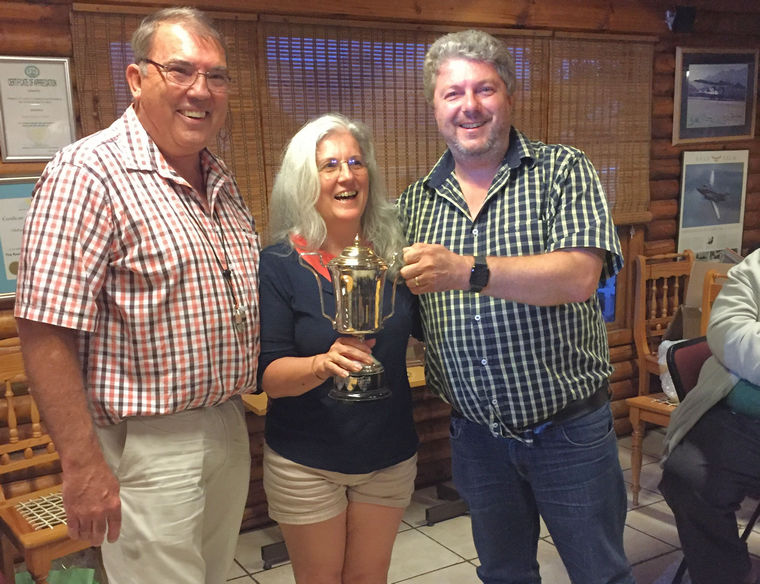 Tony and Pam Russell have been practising very diligently on their rally skills over the past few years, and were thrilled when it finally paid off and they achieved second place

The overall results for the championships were: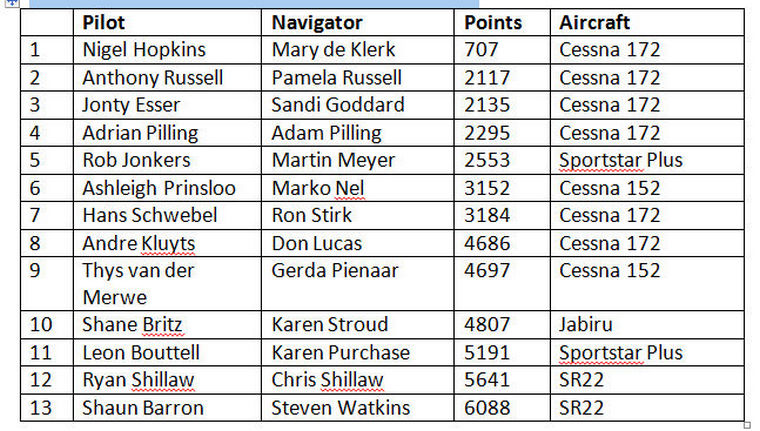 The overall results for Class 3 were:




These championships were a wonderful opportunity for the pilots and navigators to learn to fly and navigate in the Stellenbosch terrain, but it was also a vital chance for the organisers of the 2020 Nationals and the World Championships to get the lie of the land. Mary de Klerk and Colin Jordaan, Director and Deputy Director were able to meet up with local sponsors and with the management team of Stellenbosch Flying Club; Route Planners Frank and Cally Eckard were able to practise setting and scoring routes in the area; and Judges Deon van den Berg and Jacques Jacobs, Ursula Schwebel and Barbara Friebose were able to see what needs to be done at the airfield to make Stellenbosch suitable to hold a World event, and to meet up with local club members who wish to avail themselves to be marshals at the World event.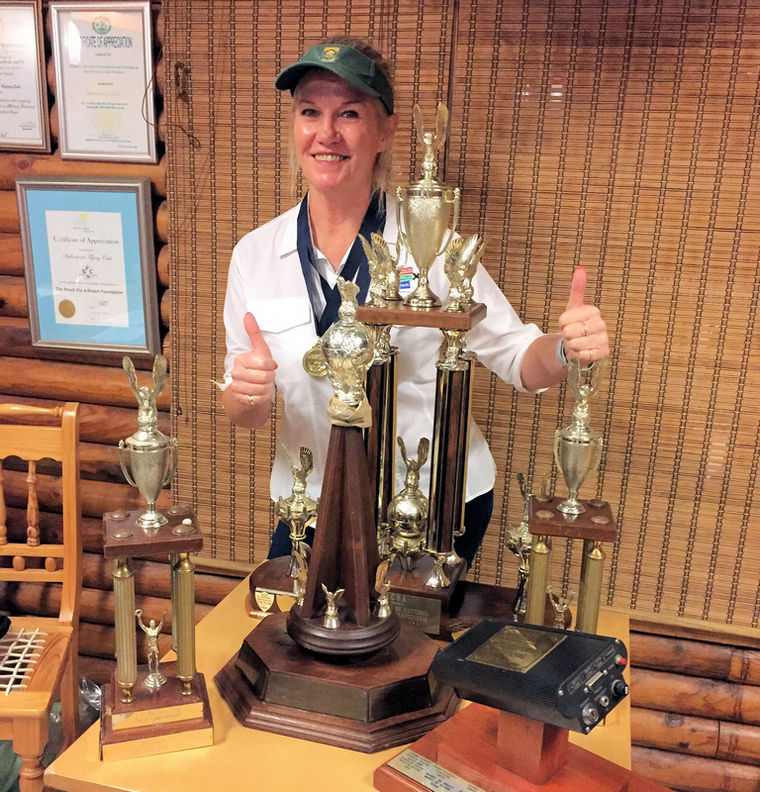 Mary de Klerk and Nigel Hopkins (absent) were proud winners of the 2019 National Rally Flying Championships, beating the competition by an astounding 1410 points


Stellenbosch Airfield, under the organisation of Rikus Erasmus, Anton Theart and Frank Olsen is probably one of the most beautiful and well supported in South Africa, and definitely worthy of holding a World class event. 
---