---
STELLENBOSCH NAV RALLY - 3 NOV 2018
By Mary de Klerk
The first in a series of Rally Competitions was held on Saturday 3rd Nov 2018 at Stellenbosch Airfield. Everything from the weather, the venue and route planning etc was perfect - only one thing was missing…. The number of entries… Its seems that the communication did not go out on time, but this will be corrected for future events.



FASH approach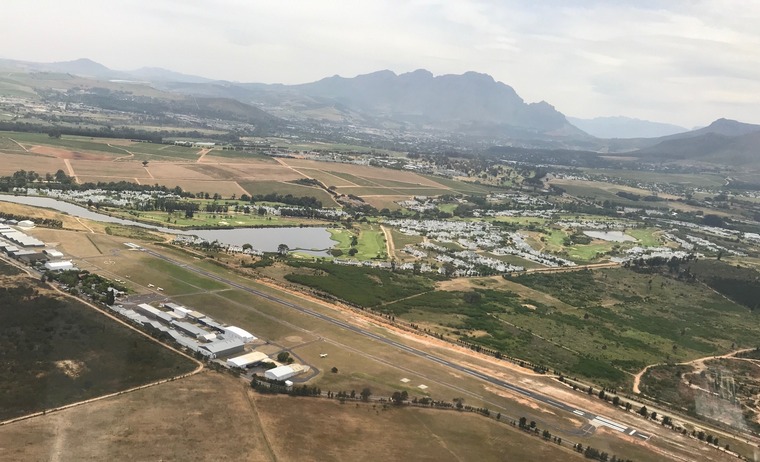 FASH


This particular event heralded the first in a series of Rally Flying Competitions which will take place Nationally and in Stellenbosch leading up to the World Rally Flying Championships which will be held in November 2020. Participants in these lead up rallies will earn accumulated points which will determine their eligibility to participate in the 2020 World Championships. So participation will be crucial to the selection of the final SA Rally Flying Team.


Jonty, Sandi, Frank, Cally, Mary, Benjamin and Andre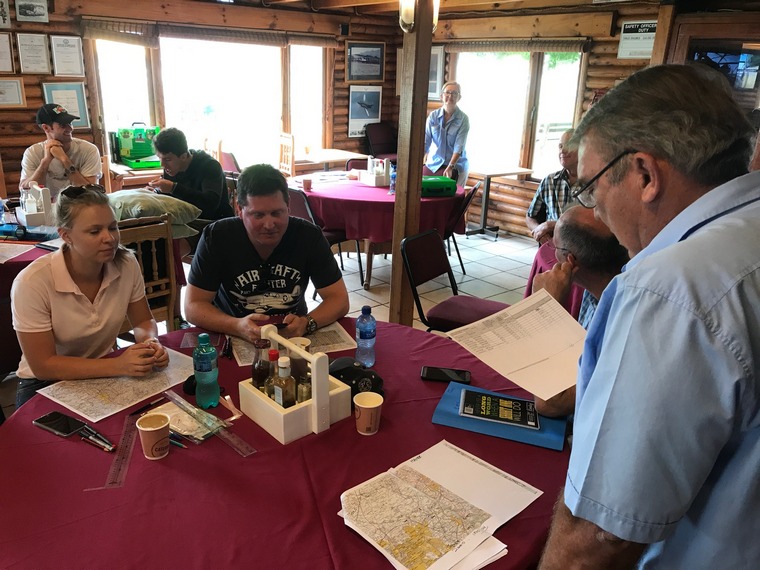 Frank in Training

Pam and Tony Russell


So determined are the team of Shane Brits and Karin Stroud that they ventured to fly their Jabiru all the way down from Johannesburg to Stellenbosch on a 16 hour round trip.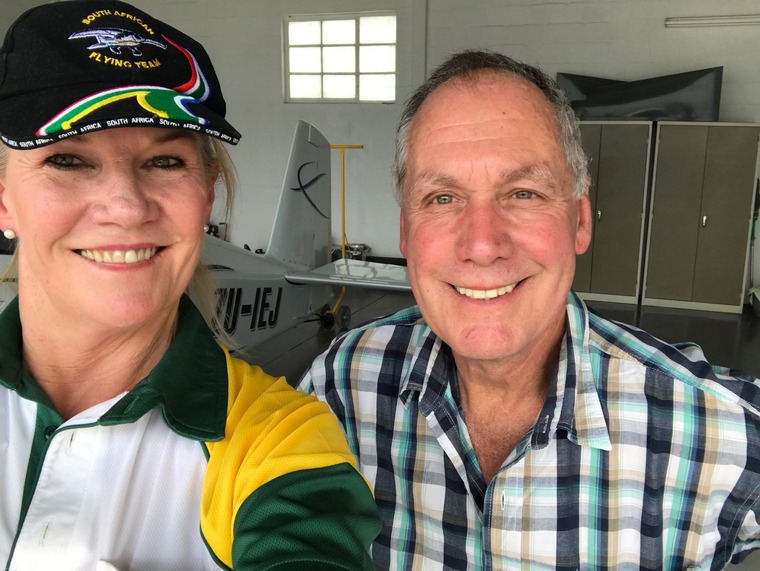 Mary de Klerk and Richard Newton


Brand new to this sport is retired Captain Richard Newton who flew this rally for the first time ever in his RV7 with Mary de Klerk. His exceptional flying experience clearly shone through in his final result.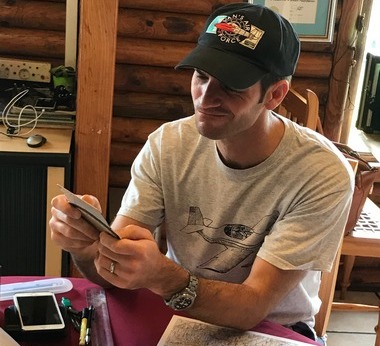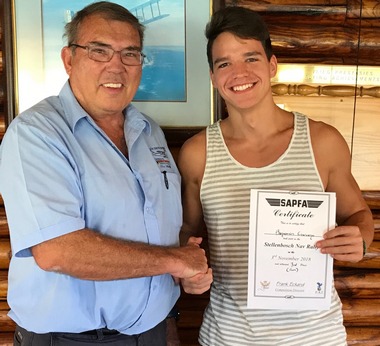 Alwyn Burger Map Preparation……… Frank congratulates Benjamin Cserveny. Benjamin and Alwyn finished 3rd in the Sportsman Class.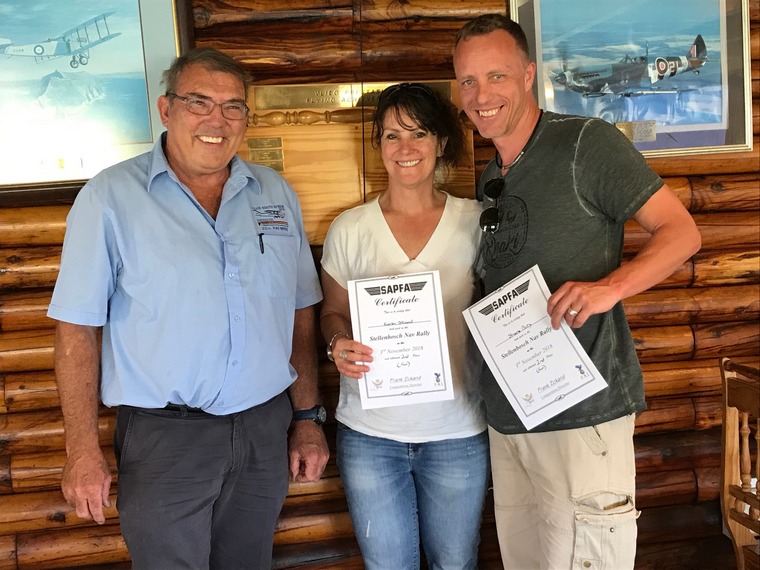 Frank with Karin Stroud and Shane Brits (2nd Place Sportsman CLass)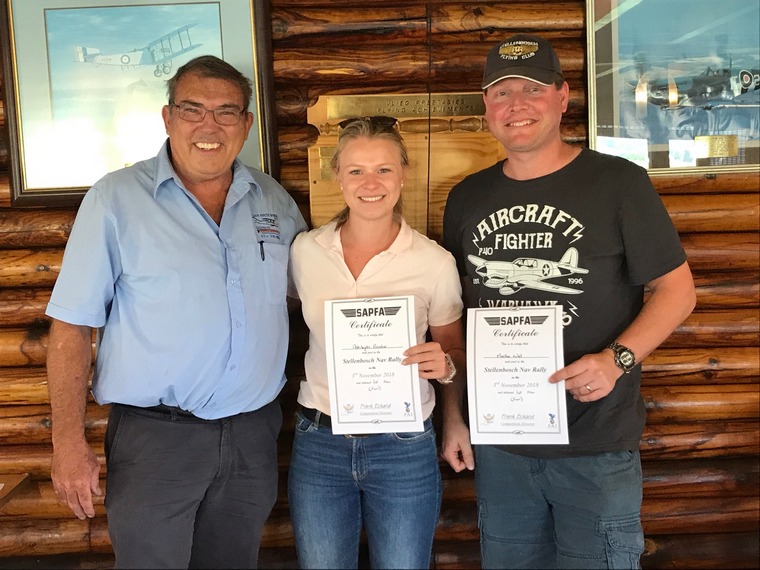 Frank with Ashleigh Prinsloo and Marko Nel (1st Place Sportsman Class)

Frank and Cally Eckard were responsible for planning the route which was flown by all 3 classes:
1. Sportsman - Neither Pilot nor Navigator have earned Protea Colours
2. Intermediate - Either Pilot or Navigator has earned Protea Colours 
3. Advanced - Both Pilot and Navigator have earned Protea Colours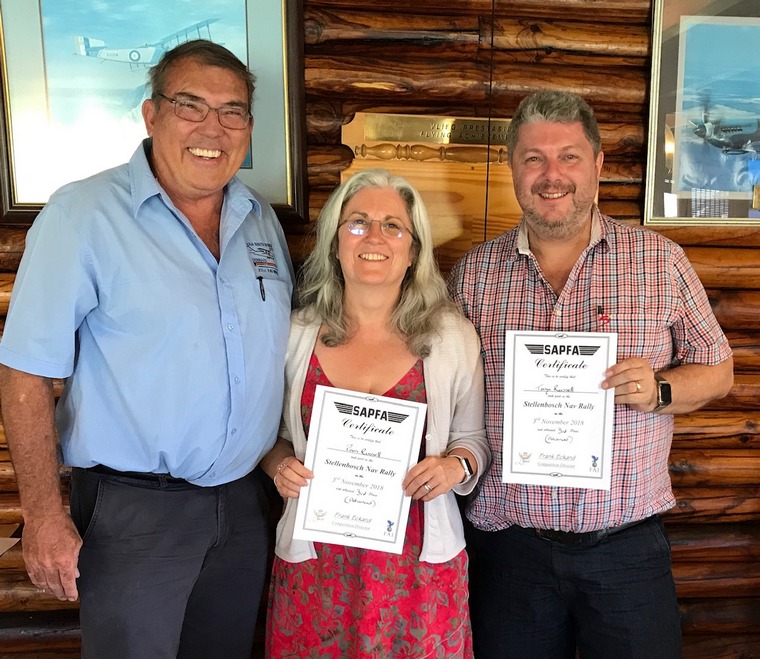 Frank with Pam and Tony Russell (3rd Place Intermediate Class)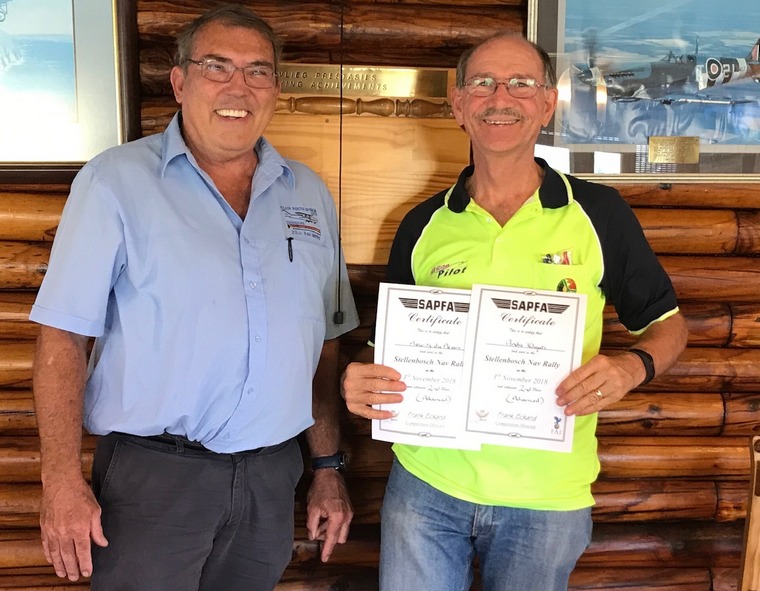 Frank with Andre Kluyts - missing Mauritz du Plessis (2nd Place Intermediate Class)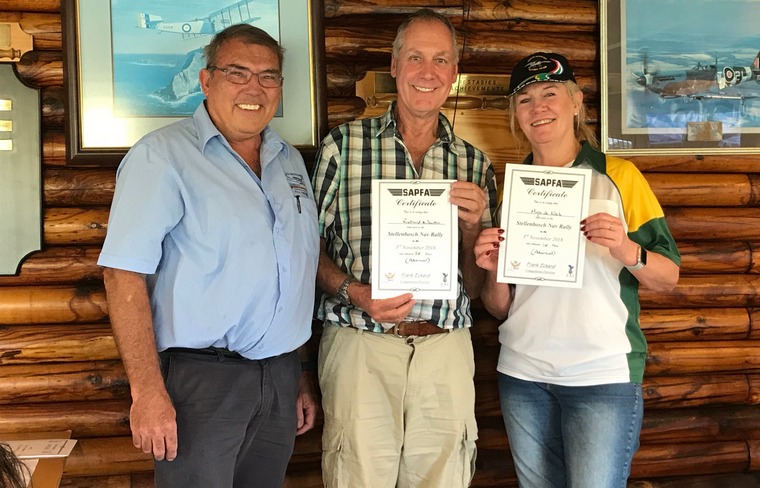 Frank with Richard Newton and Mary de Klerk (1st Place Intermediate)

The route consisted of 11 Checkpoints (including Start and Finish) and took the teams in a North Westerly direction up towards Koeberg before turning right and zig zagging back into the picturesque Stellenbosch valley. The Sportsman's class had to identify 9 sequential photos (1 on each leg) whilst the Intermediates and Advanced had to identify 20 non-sequential photos. All the photos and some checkpoints were very challenging but all teams managed to find their way around the course and all returned safely to base.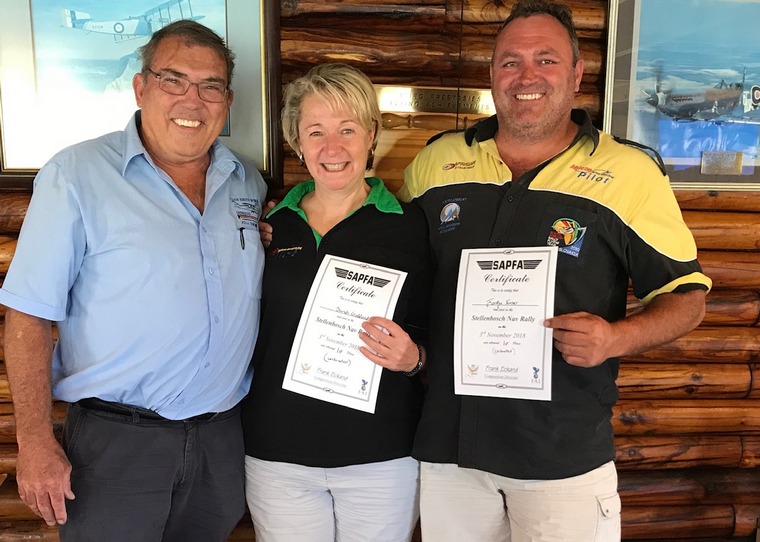 Frank with Sandi Goddard and Jonty Esser (1st Place Advanced Class)

FINAL RESULTS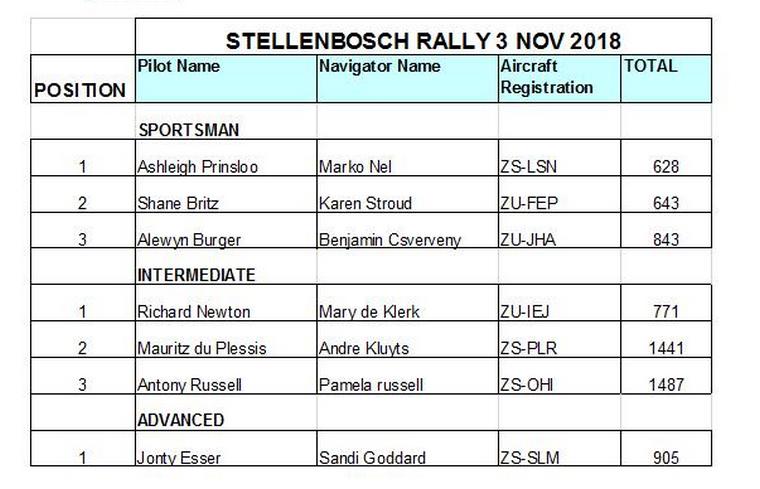 ---
---
Grand Central Fun Rally - 8 September 2018
By Rob Jonkers. Photos by Willie Bodenstein
The South African Power Flying Association (SAPFA) together with the Superior Pilot Services (SPS) organised a successful Navigation Fun Rally on Saturday 8th September 2018. 

Under the Stewardship of SAPFA's Rob Jonkers who planned & plotted the course, a total of 18 entrants registered to partake in the rally, although only 13 eventually were able to take part, some of them having had to withdraw.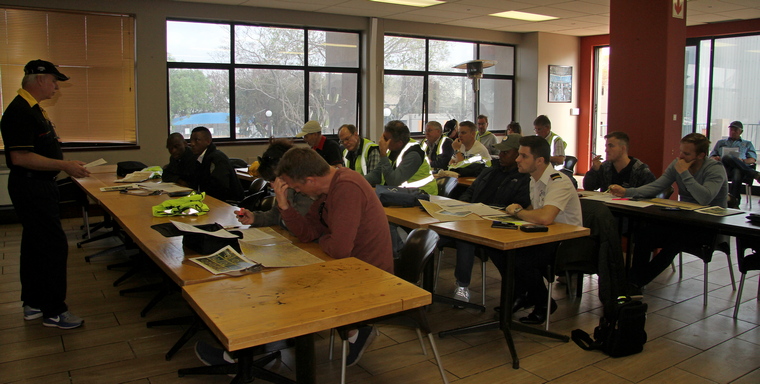 Rob Jonkers busy with the competitor briefing.


There were 3 crews from SPS, all commercial pilot students getting their first experience in the art of Navigation Rally flying, although traditionally in previous rallies there was a Friday night course, this was not done, thus the newbies had to learn from the older hands in the room on the day.


Sanele Mkize and Lungule Jiyana listening to the briefing.


With a mix of Newbies and Protean teams, there were three classes of competition, Fun, Advanced, Unlimited, where the Fun class were for those new to the sport, Advanced Class where a Protea team member teamed up with a Newbie and Unlimited Class with a full Protea team. There were two competition rule sets flown although both were on exactly the same route, with the Fun rules requiring photo recognition in sequence, one per leg, and Unlimited with 18 scrambled leg photos. 

Most competitors arrived by 8.00 on Saturday morning to start the plotting activity which took the best part of 2 hours with the first aircraft off at 10:45. The weather forecast initially did not look promising with early morning showers, which did not materialise, just some scattered cloud with not much wind. The wind prediction for the day however was going to be blustery later in the morning.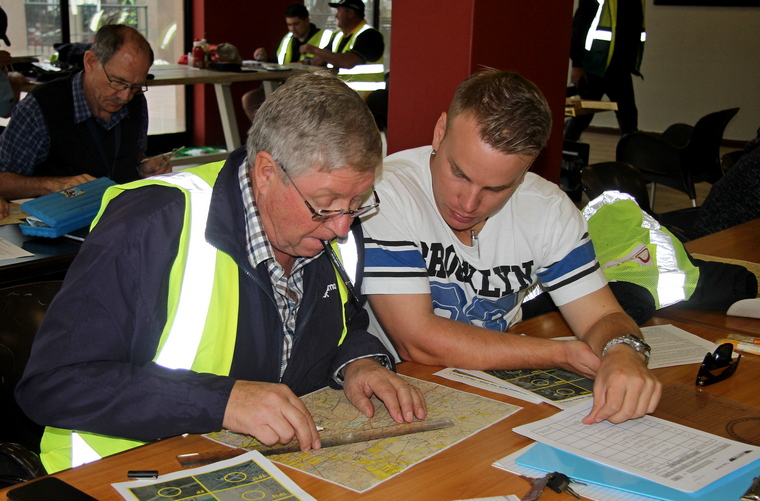 Edzard Verseput and Michael Crause busy plotting the course.


The route was planned to go out north, into familiar territory for the Grand Central based crews as most of the legs were in their training backyard. The start and finish points were just north of the N14 in the narrow Special Rules corridor between the Waterkloof & Lanseria airspace, and from there the route went out past the red and white radio mast, up through to Soshanguve, west over the hills adjacent to the Brits airfield, then south through granite quarrying territory, then further west with a turning point over the Silver Creek Airfield. From there across the Maglies northern ridge, then east across the Hartebeepoort Dam, then south to the finish point being a road and creek crossing just north of the Ernie Els Golf course.

There was one photo per leg that needed to be recognized, somehow for this rally not many of them were spotted by the crews in this year. After returning, the teams had to carry out a spot landing, only yielding three bingo's, as the stiff crosswind became apparent as the competitors returned.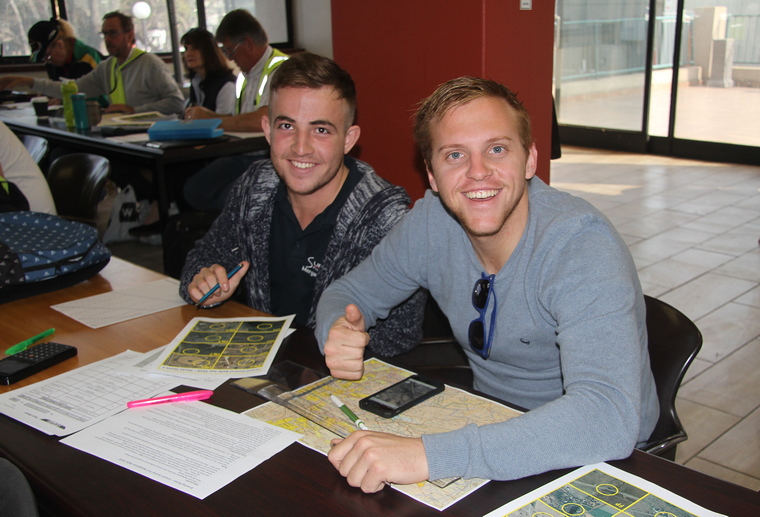 Newbies Wian Minne & Keuler Breed busy plotting their course.


One of the SPS crews of Wian Minne and Keuler Breed did exceptionally well, having found all the turning points, but hampered with a late take-off, thus catching up on timing proved difficult, although good effort was made to catch up and timing was overall good. One team had to divert with some sickness on board, and the last teams to take-off had to contend with high westerly winds of 20 kts gusting 27kts making the downwind legs tough to keep time having to perform snake maneuvers and 20 degree of flap at minimum speed.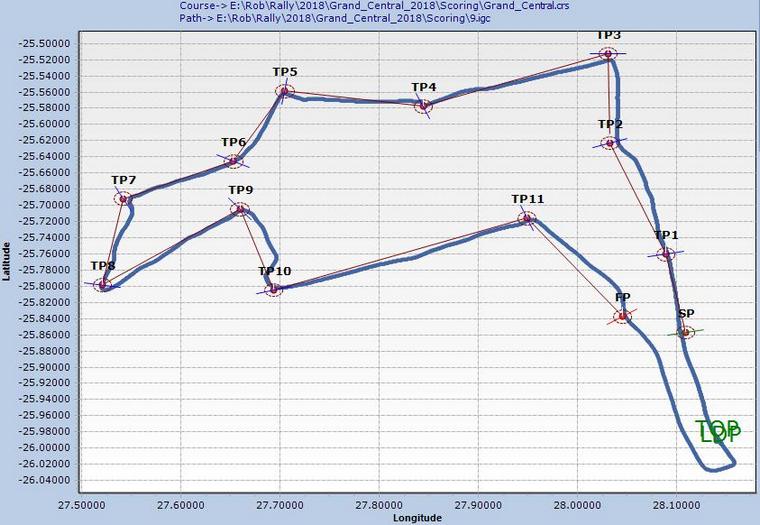 Newbies Wian Minne & Keuler Breed's track they flew with only one track error.


After all the scores were tallied, first in Fun class was Leon Bouttell with first time navigator Karen Purchase, in Advanced class Steven vd Merwe with father Thys flying at 130 kts in their RV6 with Pierre Dippenaar achieving a perfect timing score, and in Unlimited Rob Jonkers and Martin Meyer who being the route planner was expected to return with a perfect zero, but could not find the all the photos…., memory not that good it seems.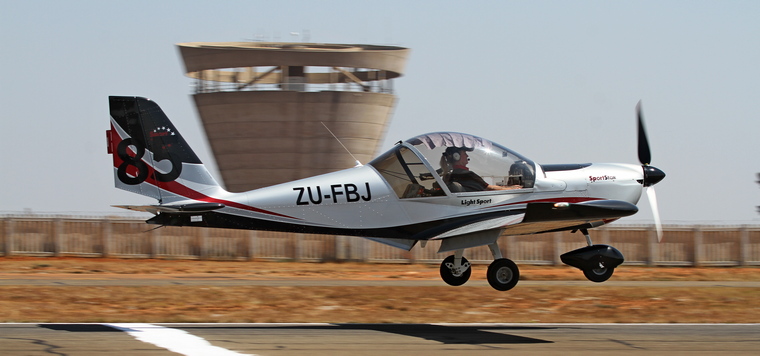 Leon Bouttell with Mary de Klerk on their Spot landing attempt.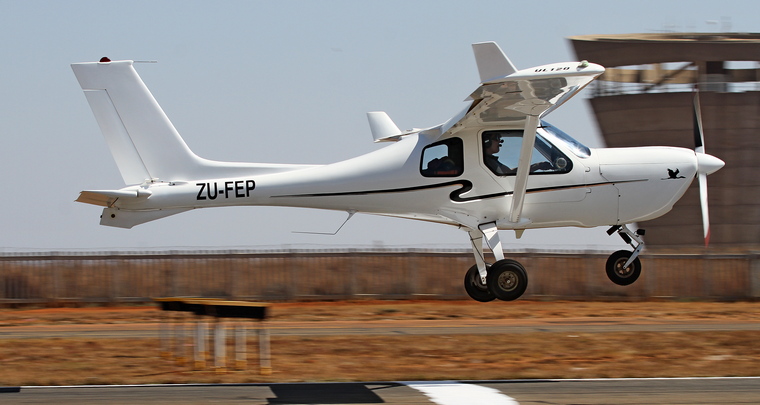 Shane Britz and Karen Stroud on their spot landing attempt.

This event was for sure enjoyed by all, especially for the entrants never having flown a rally before, getting an understanding of flying with more precision, especially in the slower flight regime, and having to deal with wind variation. Many thanks extended to SPS for making all the arrangements with Grand Central Management, also to Frank Eckard who assisted with the scoring allowing Rob & Martin to catch some air time to practice.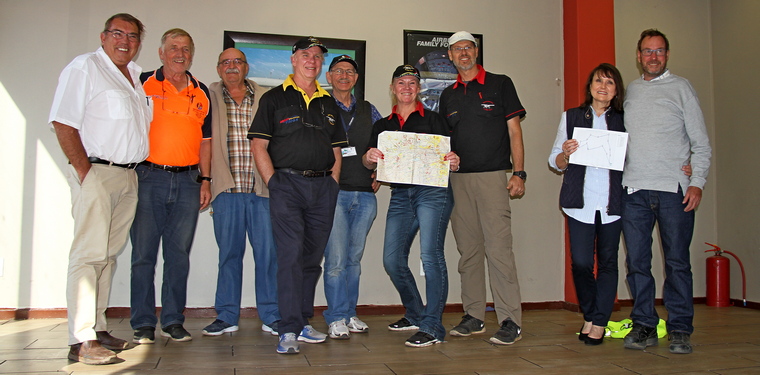 Some of the competitors at the end of the day.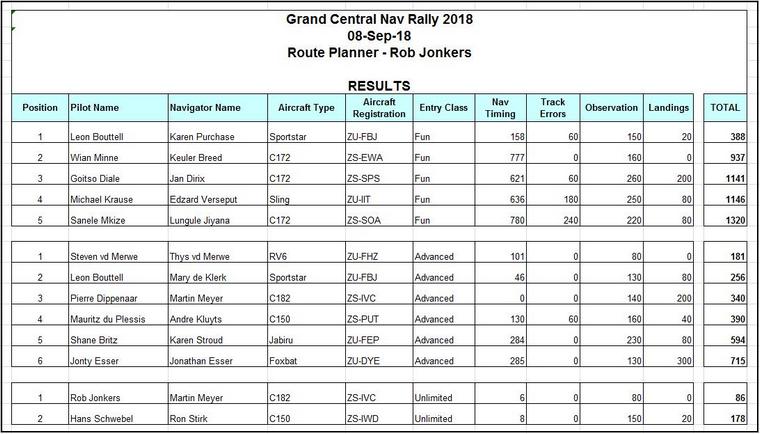 ---
---
By Rob Jonkers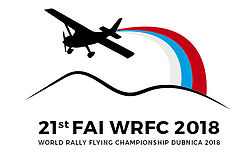 The World Rally Flying Championship happens every two years and is hosted by one of the participating nations. This year Slovakia hosted the 21st FAI World Rally Flying Championships in the town of Dubnica which is along the river Vah (which flows into the Danube) in the northern most valley of Slovakia where the Carpathian Mountain range borders with the Czech Republic and Poland.




This year, 50 crews from 16 nations participated, where South Africa was the only Southern Hemisphere team to take part. Team SA was represented by 4 crews in the Unlimited Class: Frank & Cally Eckard, Thys vd Merwe & Ron Stirk, Jonty Essor & Sandi Goddard, Rob Jonkers (Team Captain) and Martin Meyer with Mary de Klerk as the Team Manager, Hans & Ursula Schwebel, Jacques Jacobs, Barbara Freibose as International Judges and Leon Bouttell as Judge Observer. The team was given superb support from Vera Jonkers and Alex Meyer, and later joined by Dr Thys and Rentia Geldenhuys as South African supporters.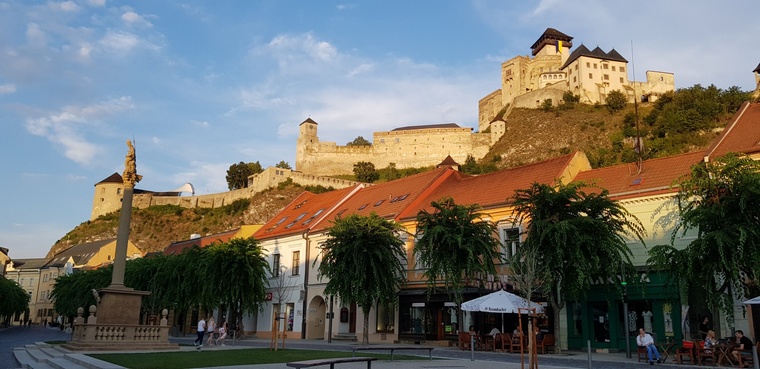 The scenic town of Trencin with the Castle on the hill

Our team's arrival was Monday the 30th July. A full week before the championship, team SA are normally the first to arrive, as we need the most exposure to the European conditions and terrain as well as aircraft familiarization, as we need to hire local aircraft. By Tuesday mid-morning we had our first aircraft ready for us, a local Slovakian C172 OM-DCD (DOC) and joined the next morning with another local C172 OM-SNA (SNAP). Thus as a team we could get started with our training. Normally no validations are required, but back in 2010 this club had the bad experience of one of the participating teams have bent two aircraft (by the same crew no less….), thus we all had to have a check ride with the local instructor for 2 circuits to verify we could fly, thus by lunch time this was completed. Each team then had a chance to fly a navigation exercise in DOC for the rest of the afternoon till late and with European summer the light fades only around 9 PM.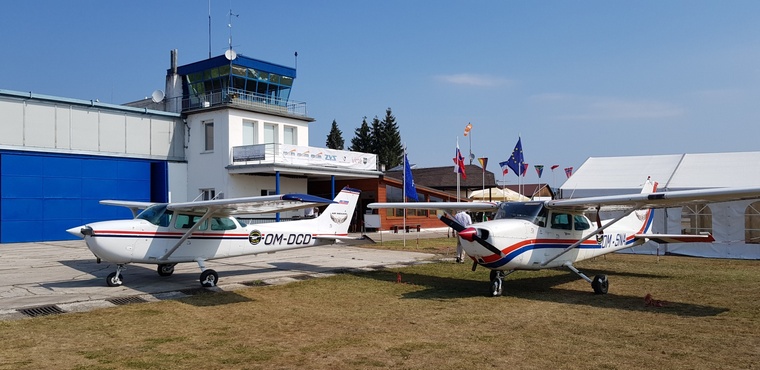 The team SA C172's DOC and SNAP


The organisers provided three official practice routes, and these were put to full use in the following days, where we were able to carry out the plot inside the aircraft as one would do in the competition week, giving us a good practice run-up. The landscape varies radically between the valley at 800 ft and mountains going up to 3500 ft, and within minutes of taking off some routes would see you facing a steep climb out over the mountains, with check points often located just behind a steep incline and hidden behind forest features.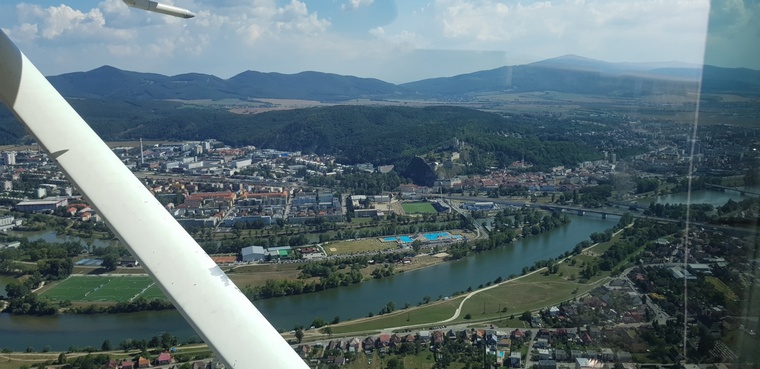 The river Vah with Trencin in the background


The weather for the practice week was good without much wind, although some thundershowers had to be avoided, with temperatures mostly above 34 deg, making the cockpit a sweltering sauna, at least in the mountainous areas higher up the cockpit became slightly cooler.

For this competition format, there was only an Unlimited class, in previous years there was an Advanced Class as well which was intended to bring in newer or amateur teams which made the competition somewhat more difficult for those teams who had no year round sponsorship or sports federation support. Clearly in the case of Team SA, all of the competitors and judges have to fund their own costs towards the event, travel, hotels and aircraft hire which is almost three times the cost of hire & fly in SA.

For the three practice days left from Wednesday to Friday, each of the teams flew the given practice routes, the Red route which was mostly east of the city of Trencin, proved the most difficult, as the terrain was very undulating, with more densely populated areas, making following the route very difficult especially recognizing the map shades of the various features and looking for turn points of minor river creeks and farm road crossings. The routes also had two arcs to follow, and with precessing DI's somewhat challenging to follow round, with the need to rely only on what is going on outside the window and what is on the map, and at least some sense of direction. Some of us re-flew the Red route a second time to get more familiar with the terrain in that busy eastern area.



Slovakian valleys and mountains

At the end of each day, each of the teams did landing practice to get speed and descent control familiarisation at these near sea level conditions to find that sweet spot of rate of descent at minimum control speed to bingo the landing line, and as most pilots know, every landing is completely different. Saturday was a rest day, with some sightseeing flights and visiting the old town area of Trencin, and Sunday the whole team went to the airfield for our customary team photo shoot with DOC and SNAP, and then returned to the hotel for the opening ceremony in the late afternoon which was somewhat a simple and short event followed by an excellent dinner.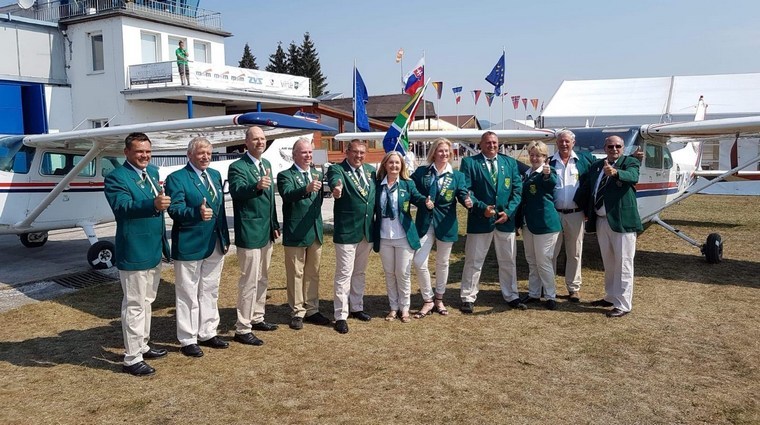 Team SA with DOC and SNAP in the background


For the competition week, flights are organized into two groups, flights start around 10 am at 5 minute intervals with the last flight taking off around 2 pm, and when returning, one spot landing needs to be done. 

Frank flying DOC & Rob flying SNAP were divided into group one, and Jonty in SNAP and Thys in DOC were in group two. There was a strict procedure of parking aircraft next to the grass runway in take-off sequence where crews were isolated prior to receiving papers, normally around 30 minutes prior the flight starting which each of the routes having around 15 plotting points, allowing 2 minutes per plotting point to prepare the map, the cockpit during this period normally a frenzied affair.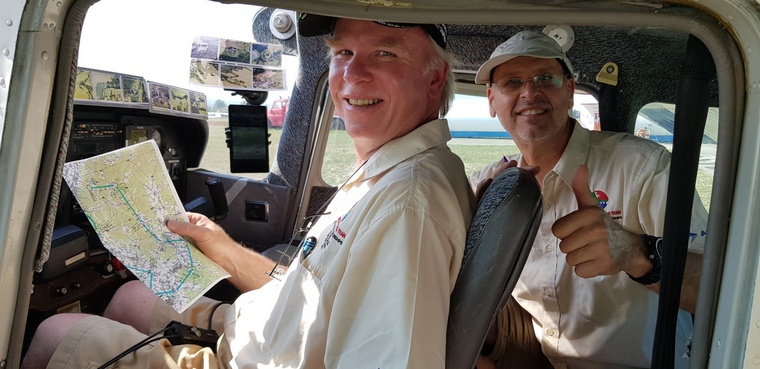 Team Rob Jonkers and Martin Meyer

As Monday 6th August dawned, the week's weather prediction was good with the latter part of the week with possible rain and wind, with four routes to be flown, one per day, where only three count as towards the competition results, the first day is generally excluded or only used if there were difficulties in completing the rest. Thus the teams set-off on the first Green route which was mostly south across a mix of high ground and next door valley, with two arcs to fly, and given the results of this first day some of us would be happy to have this day excluded from the results.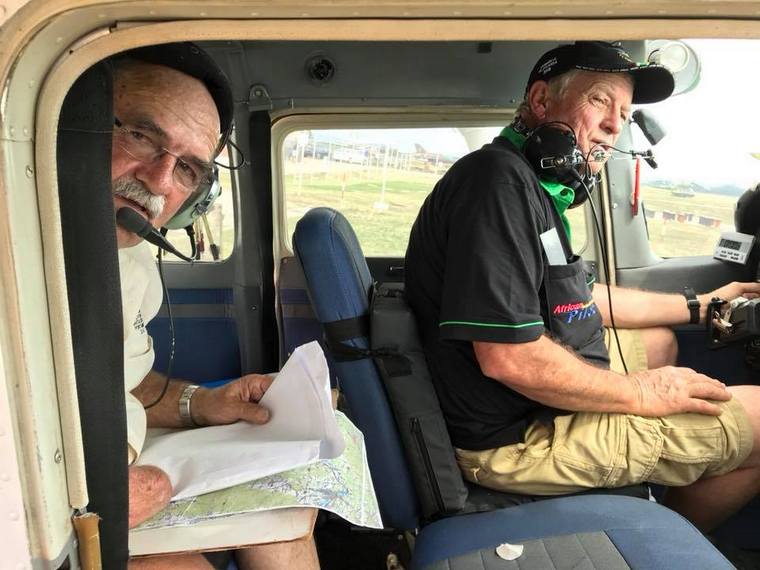 Team Thys vd Merwe and Ron Stirk

On Tuesday we flew the Yellow route, which was also towards the south, and did a little better, with Wednesday the infamous Red route which proved to be as difficult as the practice Red route in the busy eastern area, and the wind was around 20 kts pushing many off course, what we found especially in this terrain area, that flying at higher altitudes gives better view and perspective but makes the timing over check points more difficult to achieve within the 2 second window. Some teams drifted off course into the Czech Republic, so I guess most would have wished the Red route would be forgotten. As it turned out with many teams complaining that high wind conditions were not declared for this day, that the day needed to be annulled, which the organisers duly did.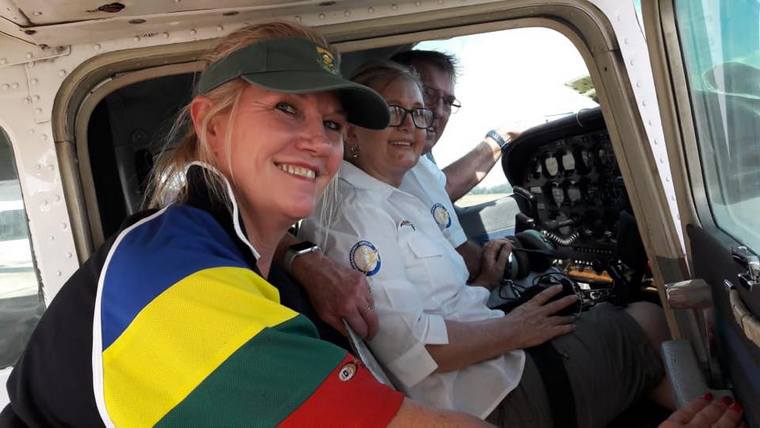 Team Frank & Cally Eckard with Team Manager Mary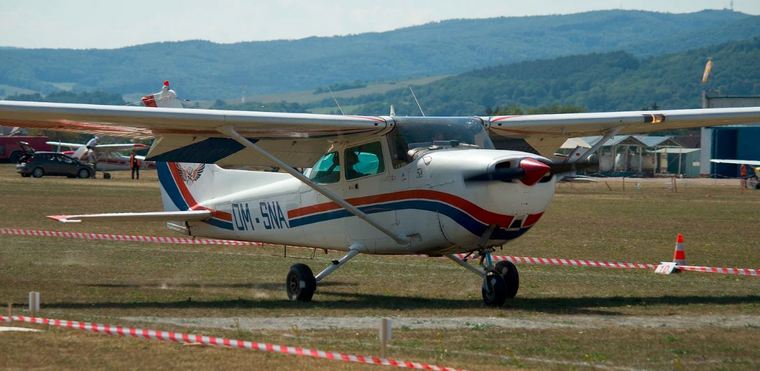 Attempting Spot Landing in SNAP


Thursday was the last competition day for the Blue route, with again high wind conditions predicted, at around 15+ kts, the plots and timing were given with a wind compensation factor, so that is was somewhat easier to fly in terms of consistent speed, although headings would remain a challenge to maintain. With this route most of our teams started to improve on our scores, especially the photo recognition and finding the elusive white markers, so just as we were finishing up on the competition, so we started to get a real feel for the landscape.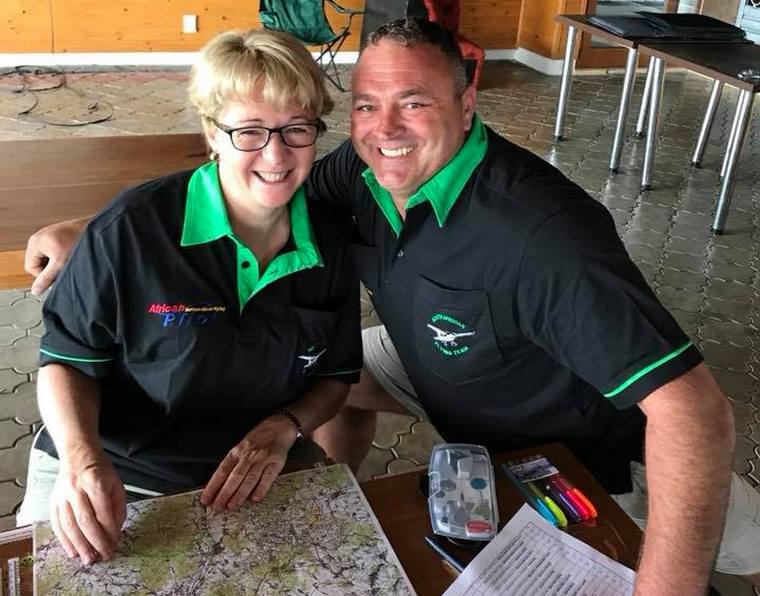 Team Jonty Esser & Sandi Goddard

With the competition flights done, team SA organized the traditional international drinks evening at the field, making "melk tertjies" shooters with the Germans, Italians, Russians, Norwegians bringing their traditional hooch. Needless to say, good fun was had by all. Our supporter Dr Thys Geldenhuys was the designated drinks judge, and judged Germany the best team, and Norway the best food team having brought their traditional Norwegian Salmon all the way from Norway.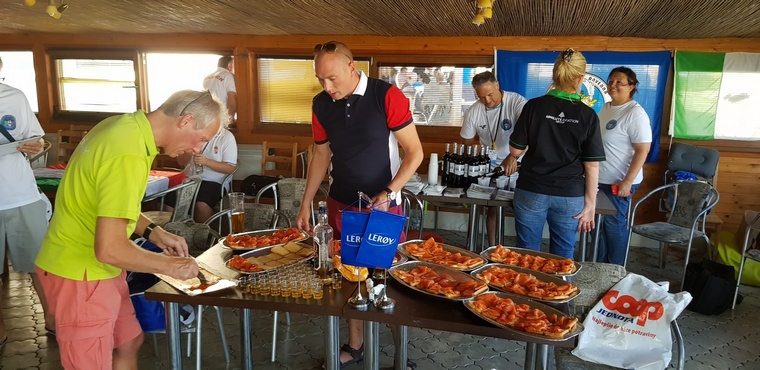 The Norwegians preparing their salmon snacks


Friday was packing up day and the closing ceremony and prize giving held at the Airfield, with most of us going for a day outing for some sightseeing before dressing up for the closing ceremony. This day is also when the heavens opened with torrential rain waterlogging many places including the airfield. The top prizes went to the Czech Republic, Poland and France, with Poland winning the country team prize, Team SA were in tenth place, and with landings were able to achieve 4th place.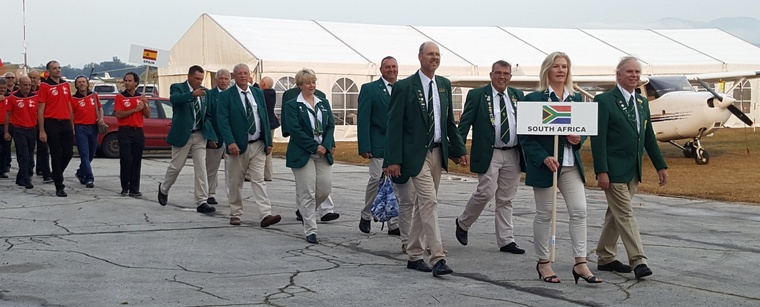 The SA Flying Team at the closing ceremony parade of nations
It is clear that our teams to compete at the level displayed by the Polish and the French need way more practice and experience, and sponsorship would of course also help, and with the next competition being held in South Africa in Stellenbosch in 2020, we have an excellent opportunity in the intervening 2 years to get more teams to take part and improve our level of competitiveness.


Many thanks to our SA supporters that watch us from afar, also thanks to African Pilot and Absolute Aviation for the team clothing sponsorship, we always are the best dressed team with the best team spirit.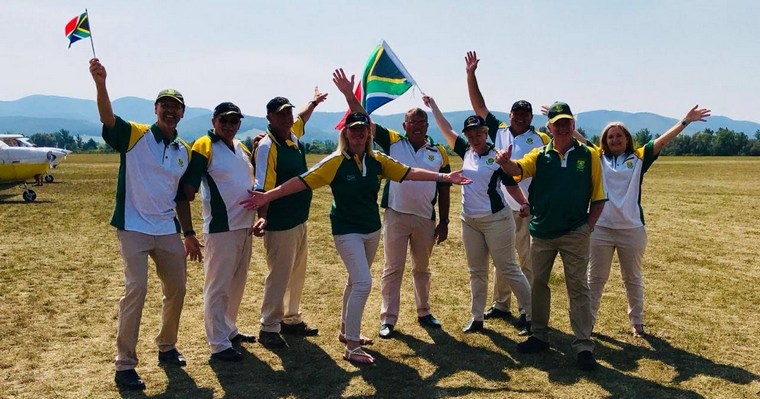 The SA Flying Team

For those who have adventure in their blood, where you can sit in an airplane ready to go anywhere without a clue where the route will take you, and figure it all out in the air and find your way around with only a map and eye-ball Mk1, then take up the challenge and join the sport of rally flying.
---
---
Fun Rally at Hoedspruit - 21 July 2018
By Cally Eckard
Two years after the first SAPFA rally was held at Hoedspruit, another very successful one was held over the weekend.  Last year's event was cancelled due to weather, so we were all hoping for conditions to be good for this popular event. 
Local organiser and Chairman of Hoedspruit Flying Club, Wynand Uys, roped in 12 teams to participate.  He is a very keen advocate of the sport, believing it to be an essential part of any pilot's training in safety and competence.  He and his wife Maritinka kindly hosted SAPFA rally organisers Frank and Cally Eckard.
The weather was perfect, but unfortunately the Military Airfield was celebrating their Freedom of the Town of Hoedspruit on the same day, so the rally had to be delayed until mid-morning.  The advantage was that we were treated to a few low-level helicopter fly-bys from the nearby base.
The Competitors
Ten aircraft eventually took off, and flew along the road North to Phalaborwa, then towards the Blyde River Canyon mountain range, and along their foothills, through the agricultural lands of Hoedspruit, crossing the Blyde River and Sandspruit, and using them as navigation points of reference.  The tasks were kept very basic, and included only one observation photo to be recognised per leg, and most teams found about half of the photographs, which is very commendable. 
4th Place Tom van der Meulen & Juan Gerrits
The landing at the end of the rally was included in the final results, and overall winner Don Clark was the winner of the Landing Competition, flying a Cessna 172, and with a score of only 4 points, he landed a mere four metres beyond the landing line.   
Wynand often holds informal "rallies" and flour bombing, which must explain the high level of skills held by these local pilots. 
Keen rallyers Uys van Rensburg and Thys Scheepers joined the infamous "One Minute Club" by setting their clocks one minute too late.  They flew a near-perfect route, and their times were excellent, but unfortunately one minute out all the way around the course - a very valuable but heart-wrenching lesson.
2nd Placed Team Willie du Plessis and Joggie & HJ Prinsloo
Winner Don Clark teamed up with co-organiser Cally Eckard because his own navigator cancelled at the last minute.  However, his win was definitely a well-deserved one, as he is a very precise and conscientious pilot and navigator.  Cally left the map-preparation to him, as well as most of the photo-spotting and navigation.
Winners Don Scott and Cally Eckard with organisors Wynand Uys and Frank Eckard  
Mention must also be made of Charlot Engels flying the Commander, the first woman to ever be trained as a pilot in the Netherlands navy.  She has participated in several rallies in Europe over the years, and is an intrepid pilot – always up for a challenge and an adventure. 
First-timer and seventh-placed Maritza de Kock, who flew with Jenny Newenham, is a very keen and competent balloon pilot, with Sun Catchers Hot Air Balloon Rides in Hoedspruit.  She said after the competition that she had learned so much during the flight, and is keen to participate in future events. 
Results: 
| | | | | | |
| --- | --- | --- | --- | --- | --- |
| Place | Pilot | Navigator | Aircraft | Landing | Total Score |
| 1 | Don Scott | Cally Eckard | Cessna 172 | 4 | 166 |
| 2 | Willie du Plessis | Joggie & HJ Prinsloo | Cessna 210 | 80 | 245 |
| 3 | Charlot Engels | Percy Hanskins | Commander 114B | 28 | 288 |
| 4 | Tom van der Meulen | Juan Gerrits | Gyro | 32 | 352 |
| 5 | Jaco Scheepers | Anelle Vermeulen | Jabiru 2 | 200 | 396 |
The Albatos
The South African rally team will be participating in the World Rally Championships in Dubnica, Slovakia in early August.  Please follow them on Facebook and on the SAPFA website. 
The next Fun Rally will be held at Grand Central on 8 September.  Please watch the SAPFA website for more details.  All welcome. 
The end of a Great Day
---
President's Trophy Air Race 2018

Hosted by

Bloemfontein Flying Club

New Tempe

 

Bloemfontein Flying Club
PTAR_2018_Results.xls   /   PTAR_2018_Results.pdf
SPONSORED BY
Brought to you by
---
Message from the Race Director
The President's Trophy Air Race hosted by the Bloemfontein Flying Club last weekend was, without doubt, one of the nicest ones we have had in a long time.
Firstly, a huge debt of gratitude is owed to Andre Grobler and his team at the Bloemfontein Flying Club for working tirelessly for a year to get it all together on the race weekend.
The fact that we were down to 40 odd entries was a blessing and caused me to have a massive epiphany. 40 entries made everything easier to manage. There weren't long queues for food and refreshment. Results came out quicker and everything ran like clockwork. There was a noticeable air of friendliness and mutual respect between competitors and officials alike with a distinct lack of acrimony.    
The final result was amazing to watch and to see once the downloads has been done. The most noticeable being the fact that, not too many years ago, the winner would come over the line 15 or 20 minutes ahead of the rest of the field. By comparison, now that we are applying the algorithm, the last 3 years comparison can be seen as
2016 Bethlehem               top 10 aircraft over the line in           4 : 17 secs 
2017 Springs                   top 10 aircraft over the line in           2 : 12 secs 
2018 New Tempe            top 10 aircraft over the line in              : 92 secs
Now for my epiphany............. Maybe chasing a huge quantity of entries is not such a good idea.  Maybe we should limit our entries to say 60 which will serve to elevate the race to its former prestigious status which is a non commercial event recognised by FAI and giving the opportunity to win provincial colours. It involves Flying Clubs whose objective is to promote sport aviation at grass roots level.
Something to think about..............?
On behalf of my fantastic and hard working committee I would thank each and every one of the competitors who made this race the amazing event it was
Keeping the blue on top
Robin Spencer-Scarr
---
Presidents Trophy Air Race 2018
By Cheryl Smit, Willie Bodenstein and Rob Jonkers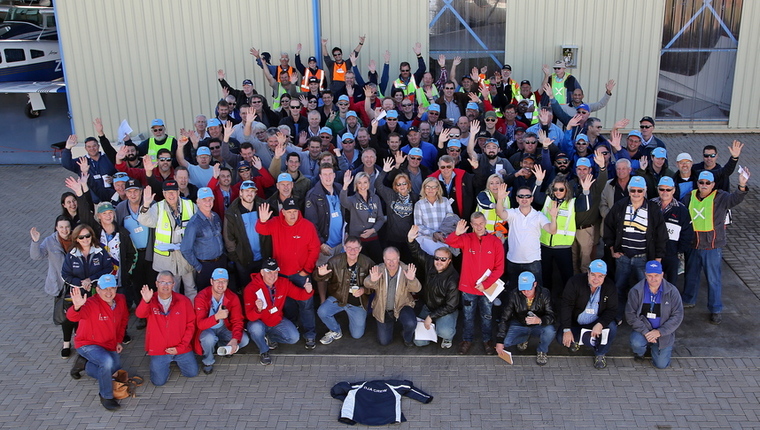 This year's PTAR which celebrated its 81st Anniversary, was hosted by the Bloemfontein Flying Club at New Tempe Airfield and it was heartening to see; by a show of hands at the Friday briefing, that more than half of the entrants were first timers and also that a large number of younger pilots had entered the iconic air race. 



Liesl Damstra who did her PPL with Westline Aviation and currently resides in Bloemfontein but originally hailed from Nelspruit was one of only two lady pilots who crossed the startline. It was Liesl's first PTAR and she flies a Cessna 182 for fun. Navigating for her was Pieter Burger.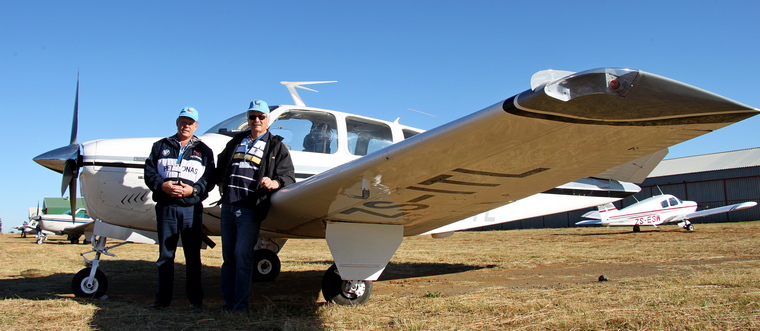 This was Willie Visser's 31st PTAR.  They are both based in Postmasburg.


The Governor General's Cup which became the State President's Air Race and then the President's Trophy Air Race has been run since 1937 with only a couple of breaks during the war years but pretty much has been the leader in the world with this type of amateur air event. It invites anyone with a pilot's licence and a bit of experience to test their skills in accurate flying and navigating at the maximum speed their aircraft is capable of doing.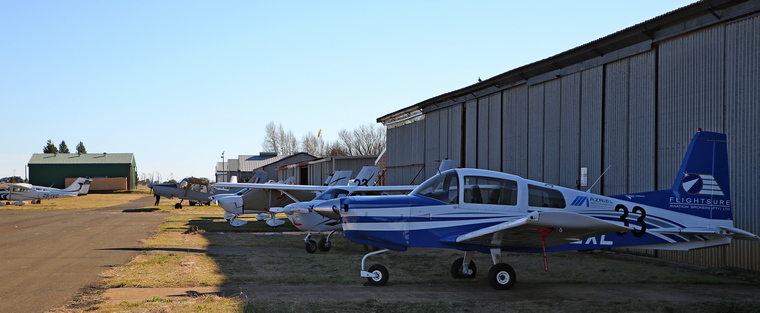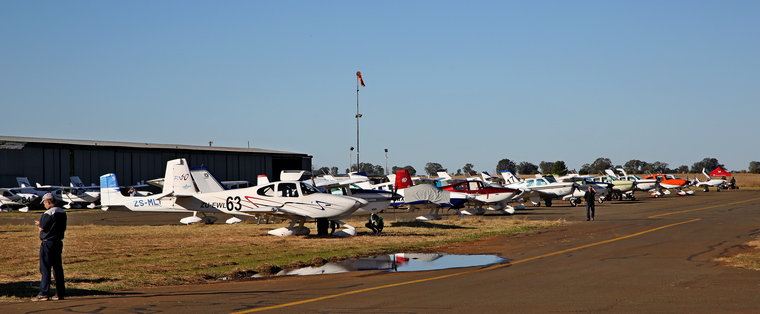 Competing aircraft at Tempe on Thursday afternoon


It is the one event that allows the weekend warriors to spend three days amongst friends and peers and to experience the adrenalin rush of flying as fast as possible whilst testing their skills against those who would beat them to the line. This year there were 48 entrants, with 43 on the starting grid for day 1, where unfortunately five having had to withdraw with technical problems.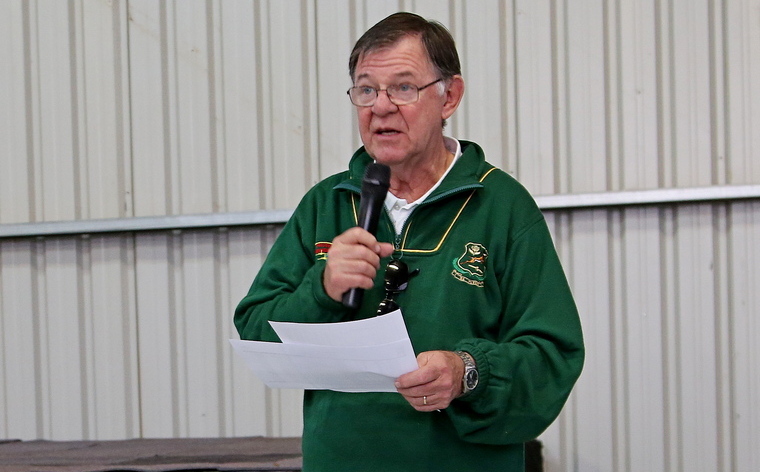 Race Director Robin Spencer-Scarr


A week or two before the race, Race Director Robin Spencer-Scarr addressed an email, "To GPS or not to GPS" to all entrants asking for their opinion on the use of GPS during the race. A number responded and the general feeling is that the GPS system should not be allowed during the race. This opinion was confirmed during the briefing when an overwhelming majority of 99.9% who voted by a show of hands to retain the current format.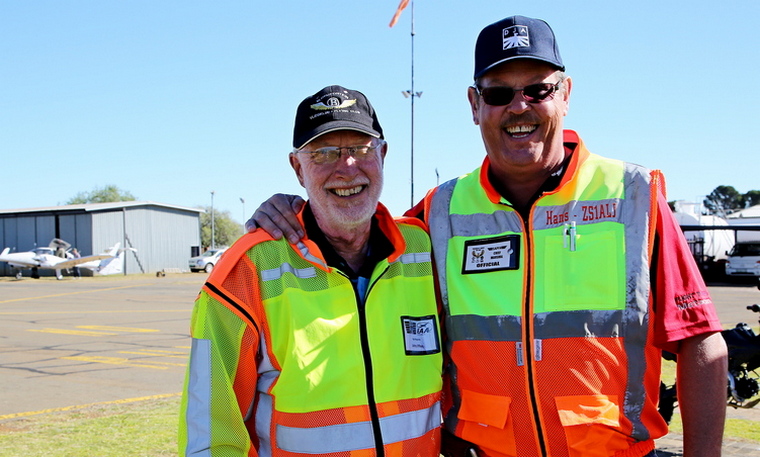 Safety Officer Nigel Musgrave and Chief Marshall Hans Potgieter


Race Secretary Sharon Potgieter

Sharon Potgieter Race Secretary has always been an unsung hero behind the scenes of the PTAR Air Race for more years than I can remember, it's the way she prefers it to be. Race Secretary has a tremendous responsibility towards the successful organising of the Race including to ensure that everything is in place for registration at the Race as the pilots and navigators arrive, including to assist with obtaining sponsors for the Race and then doing the actual registrations as the pilots and navigators arrive on the Thursday, which includes handing out their sponsor bags and accreditations at the event.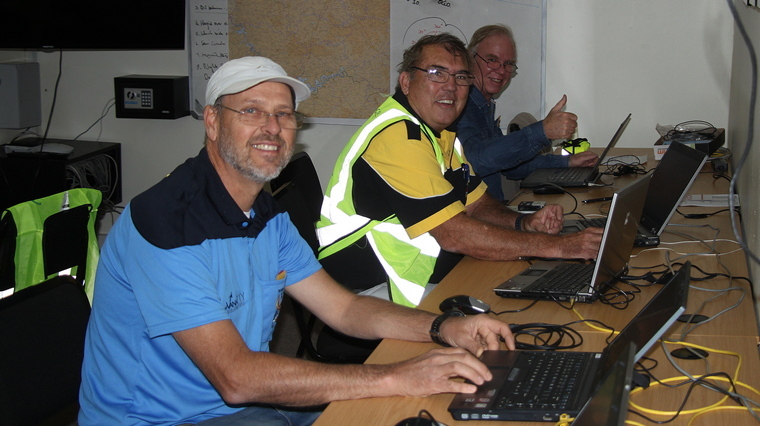 Martin Meyer, Frank Eckard and Rob Jonkers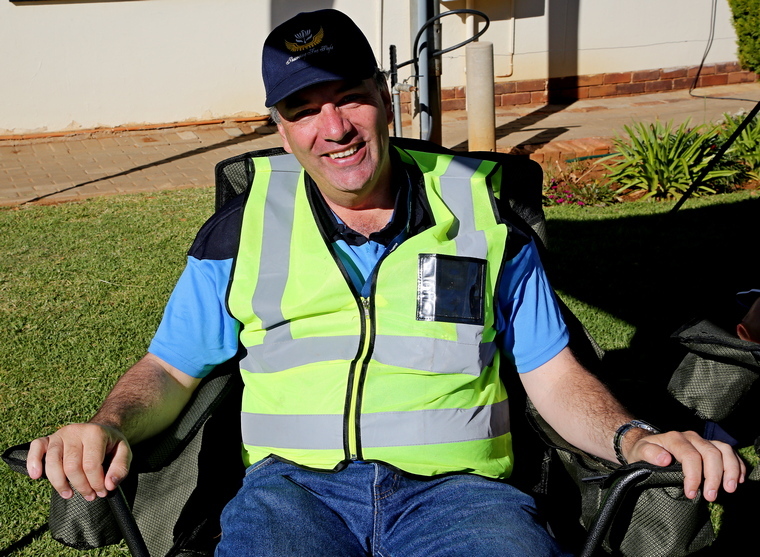 Aero Club General Manager Alan Evan-Hanes


When we arrived Thursday midday the field was a hive of activity. Sharon Potgieter, Race Secretary was kept busy with confirming entries and issuing entrants with the sponsor's gift bags, caps, race shirts and meal tickets.





A large number of entrants were cleaning and polishing their aircraft to try and get that elusive knot that will give them the edge over their competitors whilst others were socialising with friends under the large marquee.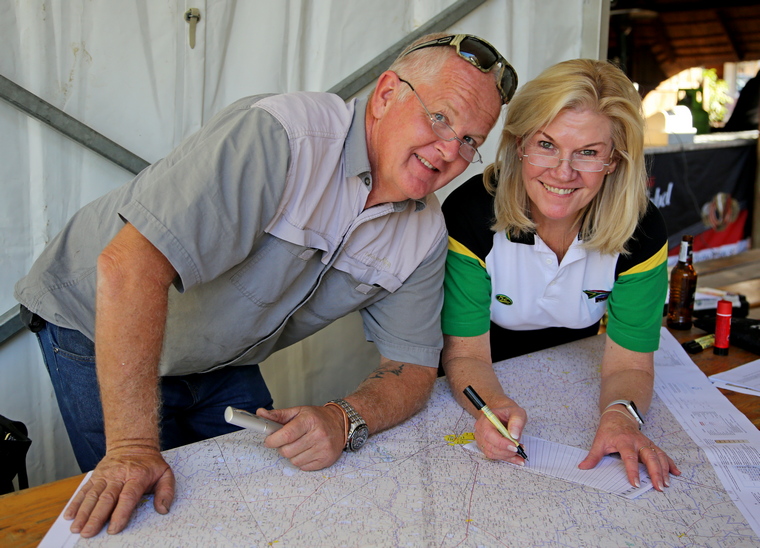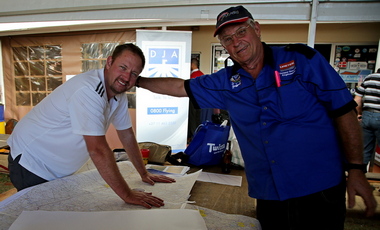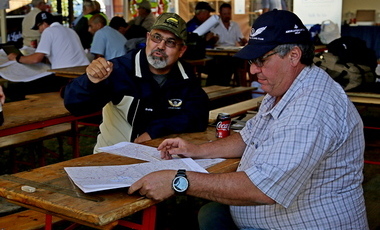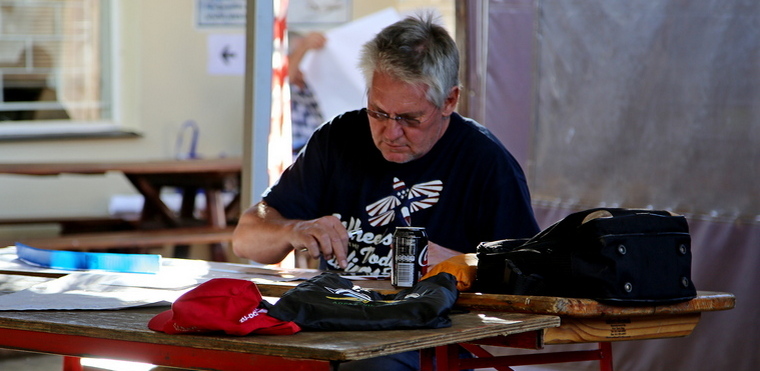 The Safety briefing, led by Robin Spencer-Scarr took place in one of the hangars where after some contestants got busy with route planning whilst others relaxed. 



Those that remained on the field were entertained on both Thursday and Friday night by Zak Steyn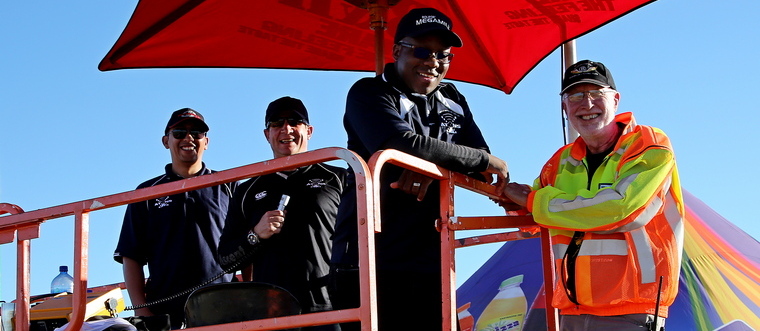 Ensuring safety were the ATC Special Events Team of from left to right Peter, Ricardo, Kane and Safety Officer Nigel Musgrave


Race One. Friday 25th.


The weather predicted for the race weekend were near perfect conditions, clear skies with high pressure system over the mid country, and virtually no wind, the morning starting off at less than 5 knots, and at midday to around a maximum of 10 knots, this made for more accurate and easier flying and of course getting everybody to achieve their handicap speed without to much effect of the weather.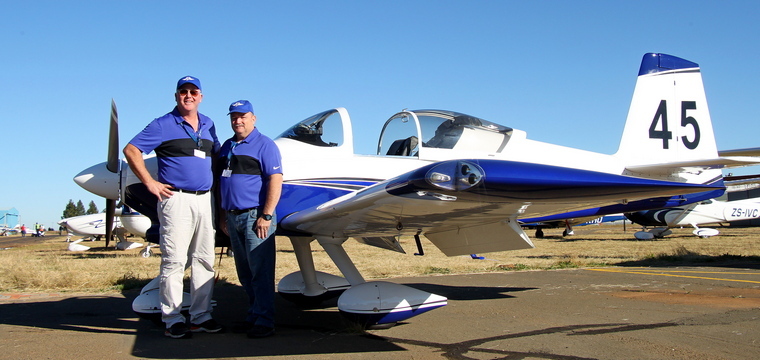 Race 45 the Vans RV7A ZU-LAX Flown by Eric Addison with navigator Mario Fabbraio finished 13th overall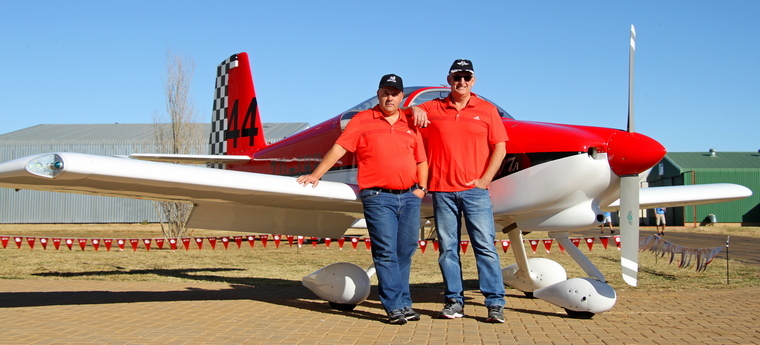 Johan van Eeden and Cor Esterhuizen, Race 44 ZU-IHH Vans RV7A was placed 7th overall


The route for day one took contestants from Tempe to Boshof. The turn point at Boshof was a brightly coloured gazebo at which they had to turn left whilst staying above 200feet AGL and then head towards Gariep Dam. Another Gazebo erected on the shores of an Island in the middle of the dam was the next turnpoint. Another left turn and then head in the general direction of Bethulie keeping the Orange River in their sights. A third Gazebo at the end of the bridge on the Orange River was the next turn point. Turning left yet again they would then head home being mindful too keep below the TMA and the CTR boundary.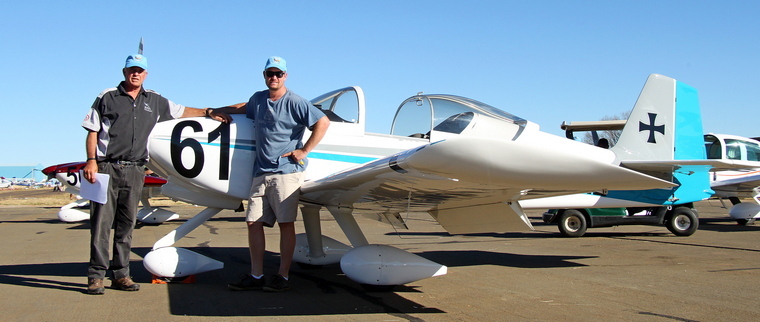 Steve and Thys van der Merwe Race 61 in ZU-FHZ the Vans RV6A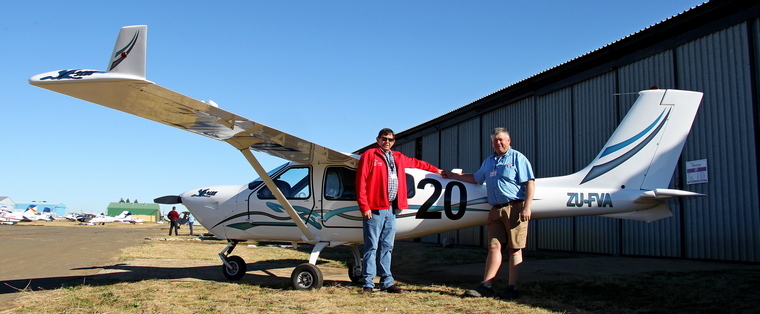 Willie Uys and Frans Maeder Race 20 in the Jabiru J430 ZU-FVA

This course was a simple four corner route, and even though it was relatively easy over the flat terrain of the Freestate, there were a few competitors having got lost or temporarily unsure of their position, and most were able to regain their track and find their way home. One competitor happened to find the Big Hole of Kimberley an interesting diversion by the number of circles flown over it before a SAPS helicopter helped them on their way to the first turning point of Boshof. 



Before contestants were allowed depart they, as well as their aircraft were thoroughly searched for any devices that may assist them in navigation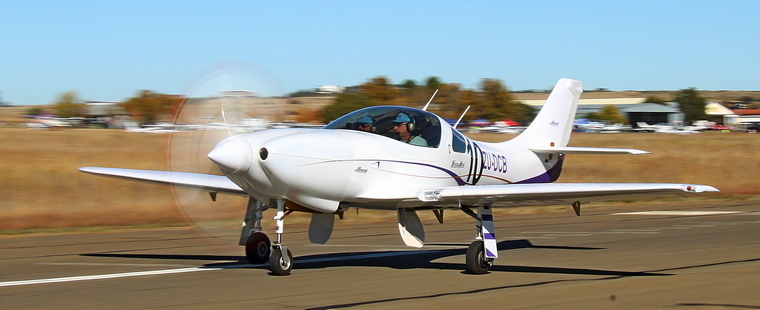 At 10h00 Robin Spencer-Scarr waved Dieter Bock and Dale de Klerk in Dieter's Lancair Legacy away and the PTAR has officially started.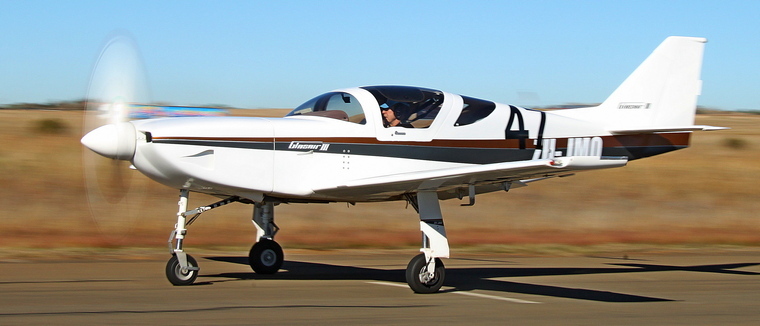 Next to leave was Jack Onderstall and Nicholaas Janse van Rensburg in Jack's Glasair III. 



Following the Glasair was the Cirrus SR22 with Shaun Baron piloting and Steve Watkins navigating



Another Cirrus SR22 with Simon Abbott at the control and Chris Shillaw navigating was the 4th to depart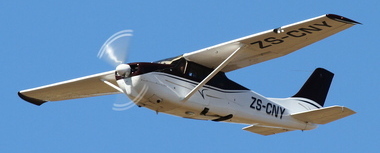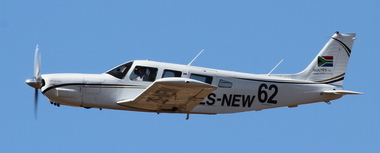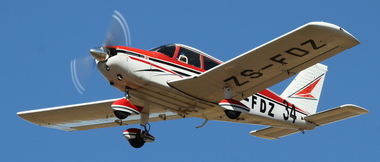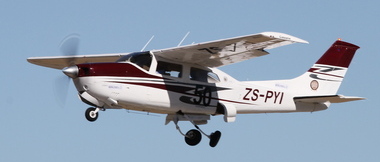 Other day one arrivals overhead the airfield


The first five places adjusted by handicap after the day one race was as follows:


1st Race 32 ZS-ACA Cirrus SR22 Steve Abbott and Chris Shillaw



2nd Race 56 SU-SAX Vans RV10 Stephan Fourie and Derek Bird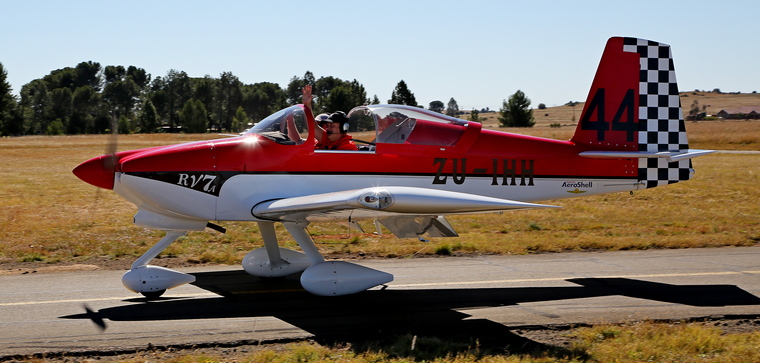 3rd Race 44 ZU-IHH Vans RV7A Johan van Eeden and Cor Esterhuizen


4th Race 84 ZU-KKL Jabiru Clive Louw and Leonard Hawkins


5th Race 39 ZS-KOB Piper PA-28-235 Mark Bristow and Quinteon Warne


Day two. Saturday 26th.


Day two took participants to Bultfontein. Contestants had to be mindful to keep the CTR boundary to the east. The turn point at Bultfontein was a Gazebo erected at the side of a pan near the Protespan Railway Station from where they headed towards Boshof where they again had to turn left staying above 200 feet AGL and head towards New Tempe for the cross over and then head for Jagersfontein where the turn point again was an orange Gazebo. From Jagersfontien they turned left and headed for Edenburg where they were required to turn left and head back home.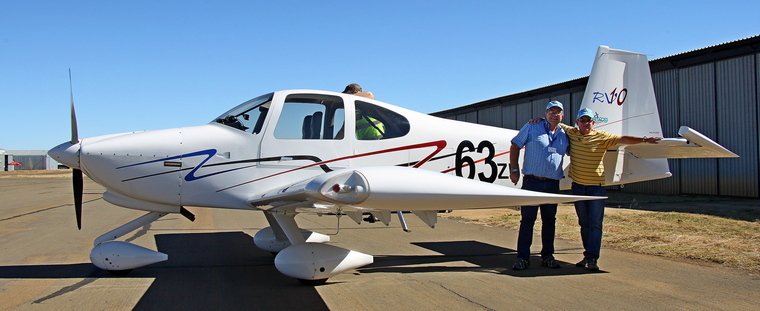 Race 63, ZU-EWL the Vans RC10 flown by Boetie Herhold and Johan Greyling was placed 12th overall



Gustave Bester and Helius Smit Race 58 finished 10th in ZS-NFI the Beech A36

With everybody now having had practice on day 1, the accuracy of navigation and flying improved dramatically on day 2, with hardly anybody having wandering tracks, and even with the Bloemfontein CTR and TMA boundaries being close and with good briefings to remain well clear, the airspace was well managed by the competitors, with ATNS having issued transponder squawks, they were fully aware of everybody's position at all times. To give an idea of how close the race was on day two, the first 20 or so competitors were within around 20 secs of each other. The handicap system which is always a controversial topic, with this year being the 2nd year where the handicap algorithm has been used, the narrowing down of accuracy is seen to be improving given the closeness of the race results.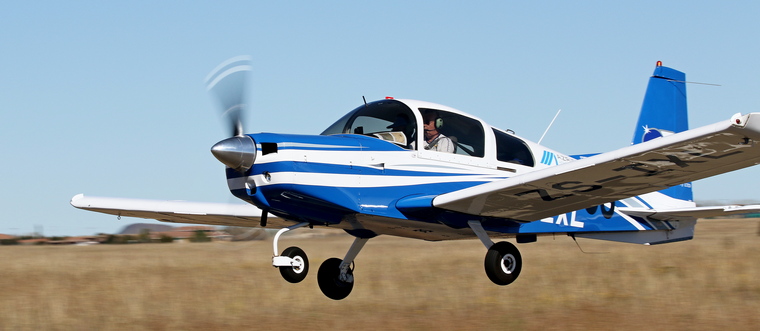 First to depart were Race 33 Kevin Reeves and Ken Hawkins in ZS-IXL Grumman AA-5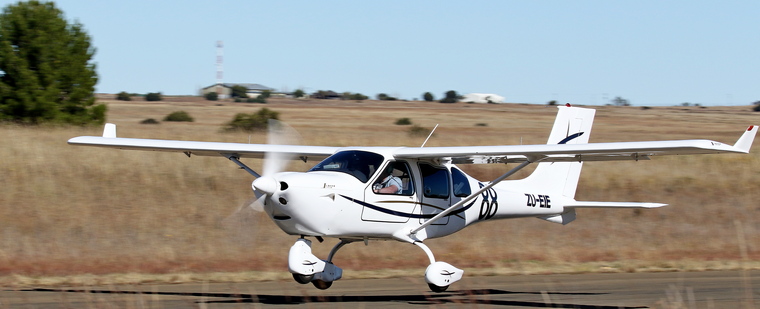 2nd Race 88 Danie and Yvonne Kritzinger in their Jabiru J-430 ZU-IEI



3rd Race 25 Ivan and Martin Marx in ZU-ACY Aermacchi AM 3C


The line-up on day two is where the slowest aircraft is off first and fastest last with the attempt to get everybody over the line at the same time, and some of the aircraft had very close start times of 8 seconds apart, just enough to provide take-off spacing, quite a sight to see as each was released to go.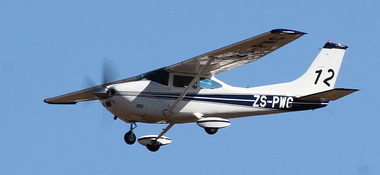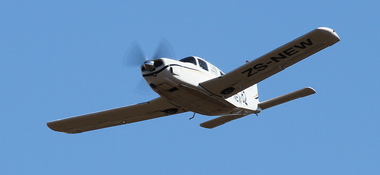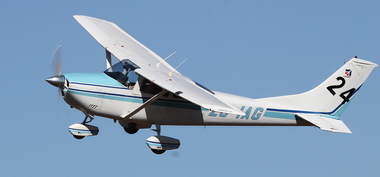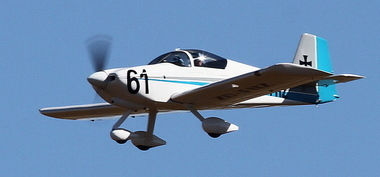 Other arrivals overhead the field


Normally the race ending is planned for a 13h00 finish time, this year it was moved to 13h40 to accommodate Bloemfontein scheduled traffic timing, and at the planned time the first aircraft came over and within the first minute around 20 aircraft had crossed the finish line, quite a sight to see as they came over.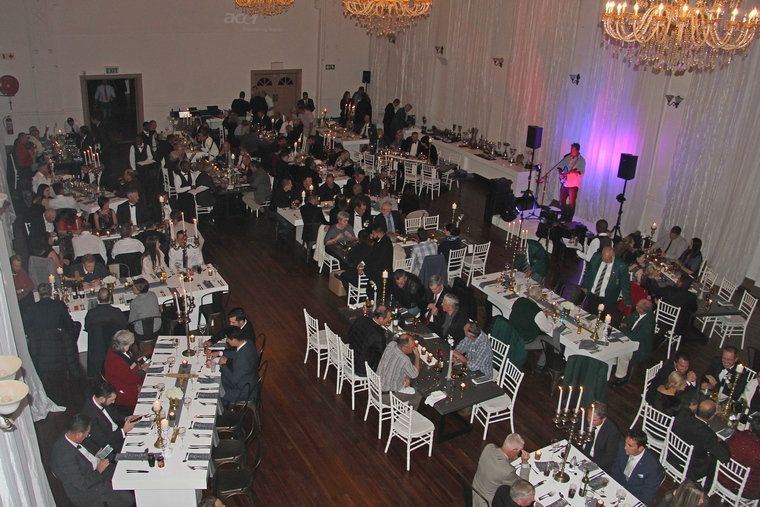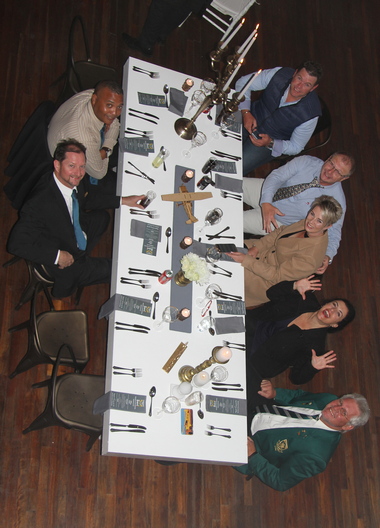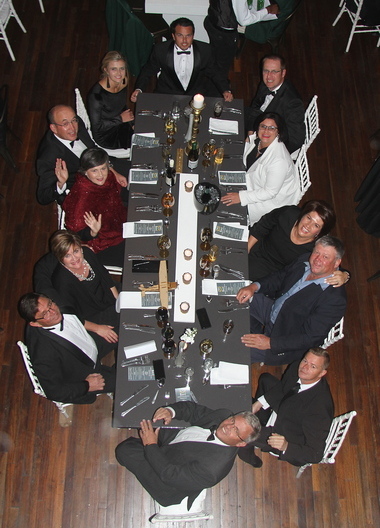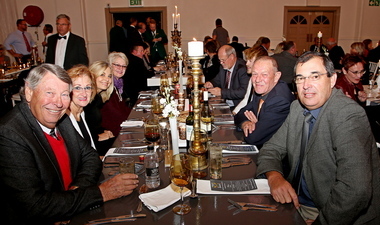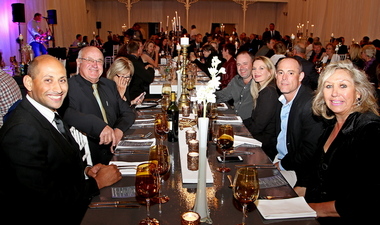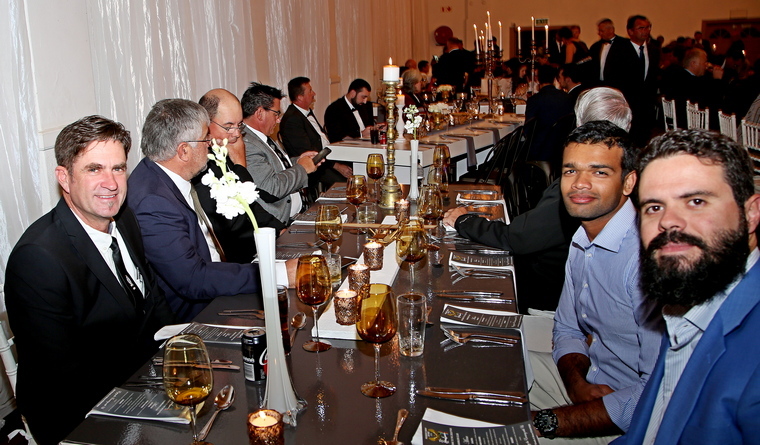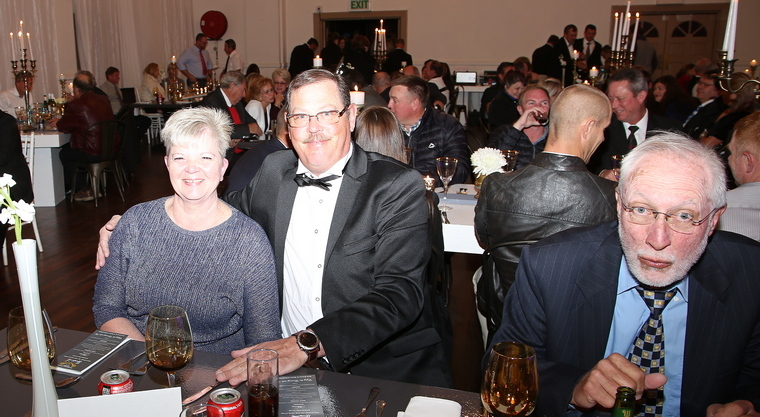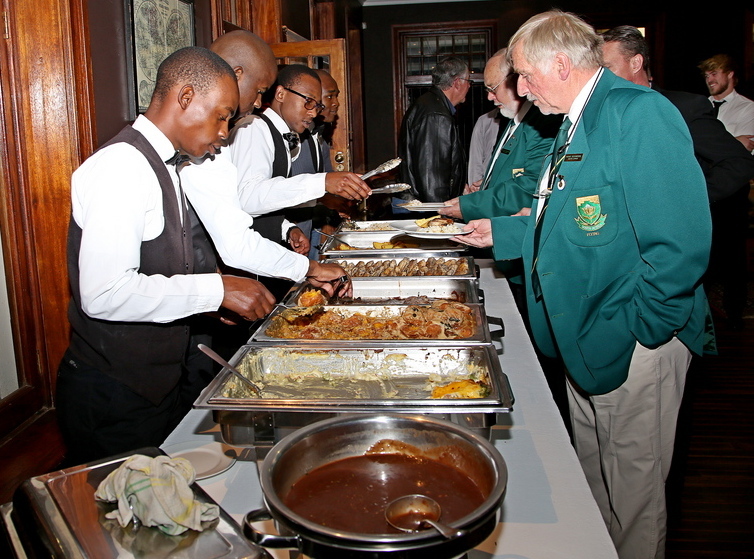 The Awards dinner, sponsored by Puma Energy, was held at the legendary Ramblers Club in Bloemfontein and what a lavish affair it was and the meal was awesome.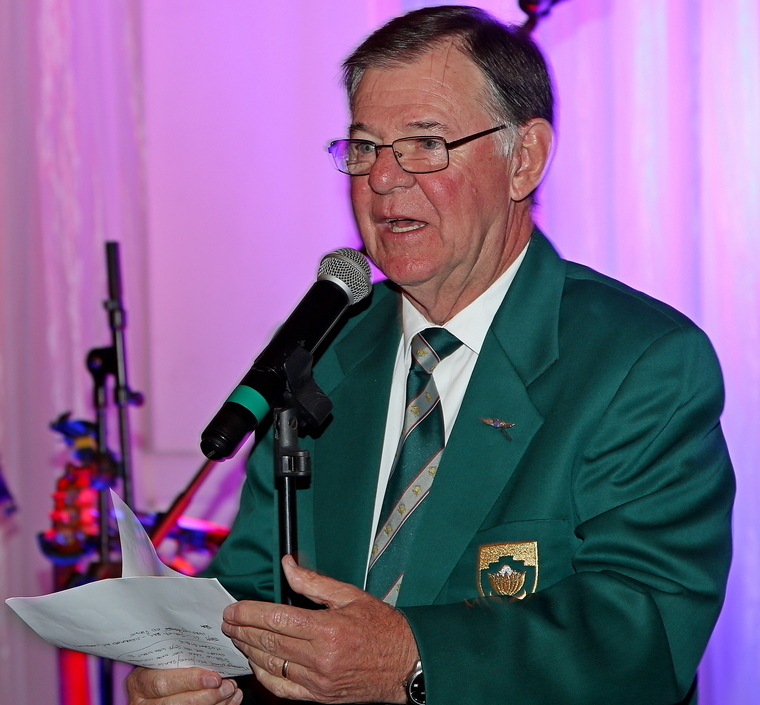 Master of Ceremonies Robin Spencer-Scarr
had those attending in stiches with his quips and jokes before getting down to serious business, the announcing of the prize winners and the results.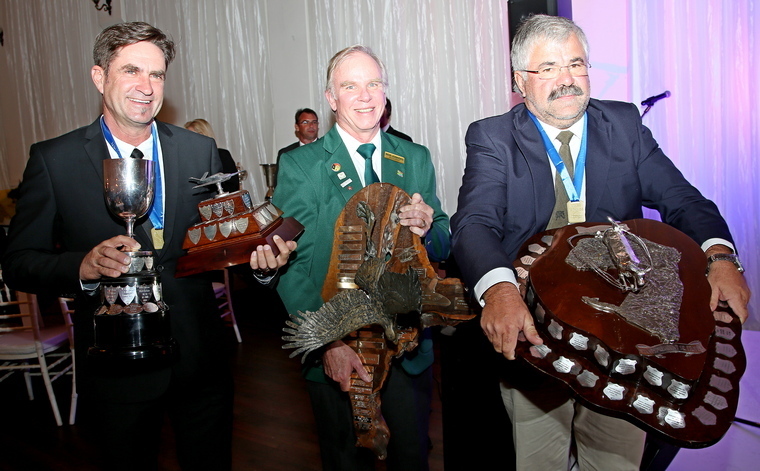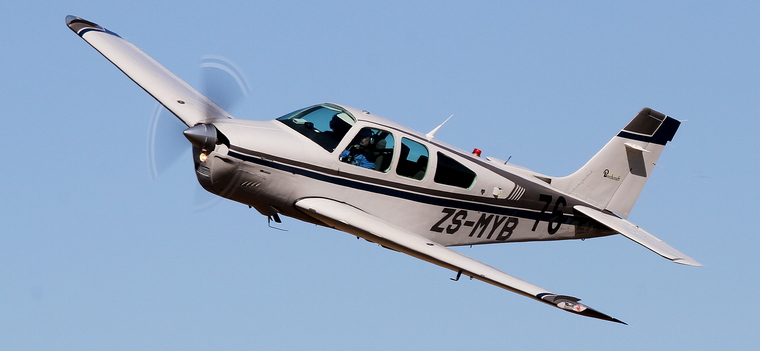 The Presidents Trophy awarded to the aircraft and crew gaining the most time on handicap went to Race 76 the Beechcraft BE 33 ZS MYB flown by Joggie Prinsloo and navigator Rufus Dreyer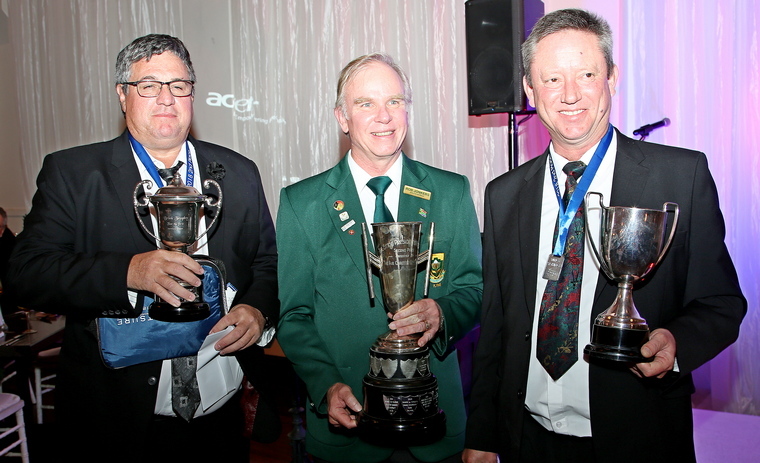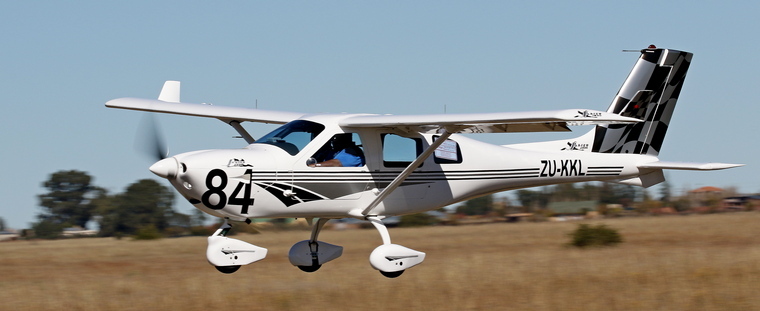 The Air Charter Trophy awarded to the second place crew went to Race 84 the Jabiru ZU-KKL piloted by Clive Louw and Leonard Hawkins who navigated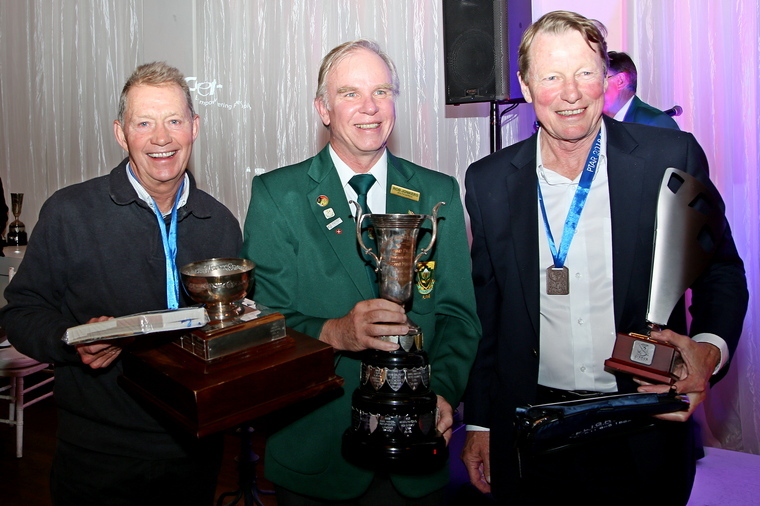 Third place finishers Simon Abbott and Chris Shillaw Race 84 who flew the Cirrus SR22 ZS ACA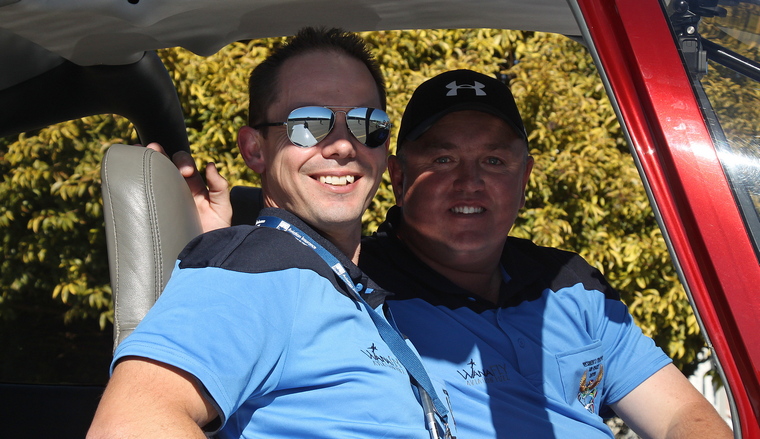 4th Stephan Fourie and Derek Bird in Race 56 ZU-SAX Vans RV10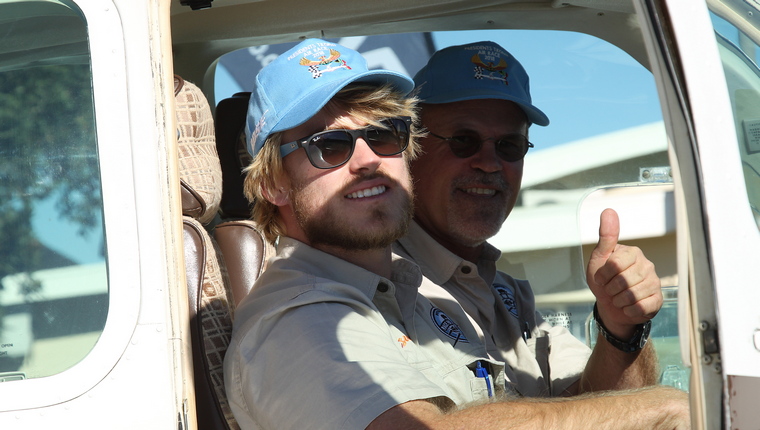 5th Hennie and Dandre Bisschoff in race 64 ZS-BNA Beech F33A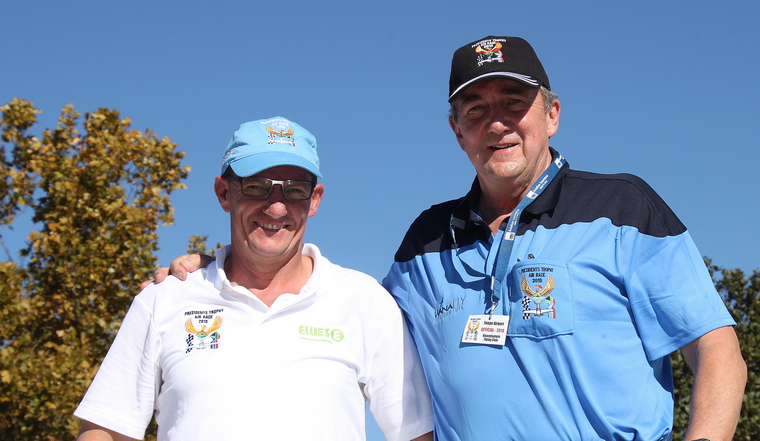 6th Mark Bristow and Quinton Warne Race 39 ZS-KOB Piper PA-28-235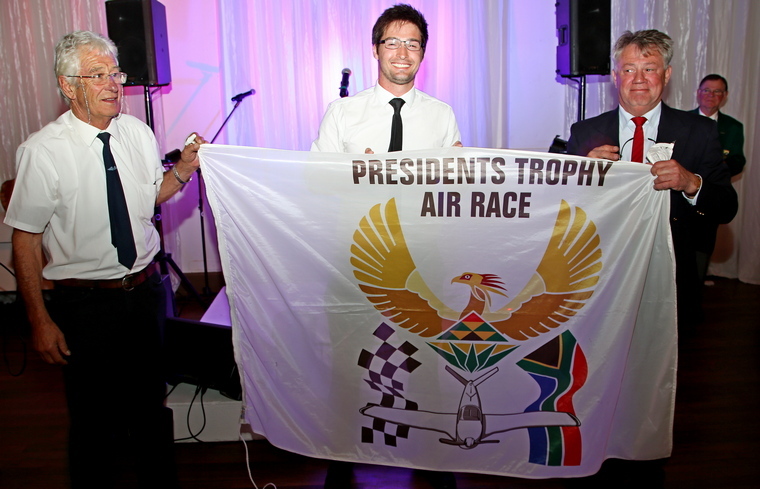 The Saldanha Bay Flying Club will host the 2019 PTAR


Extremely well organised organised by the Bloemfontein Flying and made possible by the generous support of Puma Energy, DJA, Wings and Things, Aviation Direct as well as Comet Aviation Supplies the 2018 was incident free and lived up its name as one of the world's premier air races. Pilot's Post looks forward to report at the 2019 Saldanha Bay Flying Club.
---
---